Storylines Abound at 2021 Pro Worlds in Utah
Storylines Abound at 2021 Pro Worlds in Utah
How to Watch the 2021 PDGA Professional Disc Golf World Championship
Monday, June 21, 2021 - 01:28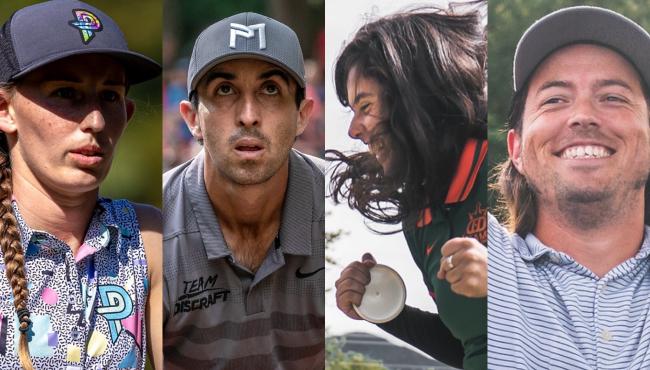 A PDGA World Championship title is a life-changing and career-defining achievement.
With that crown comes notoriety, a place amongst disc golf's best. Every tournament after that victory, the player will be announced as a World Champion. Their name will be etched into the history of the sport forever.
But first, the battle must be won.
Beginning Tuesday, the PDGA Professional Disc Golf World Championship returns after a year hiatus due to the COVID-19 pandemic.
What awaits is a disc golf landscape that has grown exponentially since the 2019 champions — Paige Pierce and Paul McBeth — were crowned. There are more eyes on the sport than ever. There are more competitors than ever. The stakes seem even higher.
Everything is bigger.
2021 PDGA Professional Disc Golf World Championship Main Page »
From McBeth and Pierce chasing their sixth titles to Kristin Tattar, Silver Latt and Albert Tamm representing their home nations, to an FPO field that includes Juliana Korver and Des Reading and an MPO field full of players looking for their first crown, the 2021 Pro Worlds are set to deliver compelling storylines throughout the five-round tournament.
It will take a mastery of every style of golf to reach the pinnacle as the players battle the wooded and technical track at The Fort as well as the open, OB-laden Mulligans Course in Ogden, Utah. Every throw, every decision will be magnified in the marathon event that will test players both physically and mentally through Saturday's final putts.
From live coverage to six post-production teams, every inch of the action will be covered as those stories of triumph and heartbreak unfold before our eyes.
It's time to crown a World Champion.
Here's everything else you need to know about how to follow the 2021 PDGA Professional Disc Golf World Championships:
Tee Time & Round Ratings
Official scores, tee times, and round ratings can be found at the official event page on PDGA.com.
In-Person Spectating Limited
The 2021 PDGA Professional Disc Golf World Championships will be operating in Phase 3 of the COVID-19 Requirements and Best Practices for PDGA Elite Series Events.
Instant Scoring
Stats on stats on stats. Keep an eye on UDisc Live all weekend for the in-the-moment moves from the tournament field.
Live Video Coverage 
Disc Golf Network | Subscribe 
The Disc Golf Network (DGN) is the new home of live disc golf. Built by the Disc Golf Pro Tour, the DGN is a subscription streaming and on-demand platform much like Netflix or Disney+. Covering the world's best players competing in the sport's most elite tournaments, a subscription includes post-produced coverage of select disc golf tournaments as well as exclusive disc golf shows, touring pro interview series, podcasts, and other segments only available on the Disc Golf Network. The DGN offers a PDGA Member discount of 50% to all active members bringing the cost down to $4.49/month.
Round One FPO Feature Card
Paige Pierce
Kona Star Panis
Kristin Tattar
Juliana Korver
Round One MPO Feature Card
Calvin Heimburg
Garrett Gurthie
Eagle McMahon
Paul McBeth
There will be two live broadcasts beginning Tuesday. Coverage begins at 10 a.m. MT / 12 p.m. ET for FPO. For the MPO field, coverage resumes at 3:30 p.m. MT / 5:30 p.m. ET with the feature card teeing off at 4 p.m. MT / 6 p.m. ET.
DGN Press Conference | Watch
Hear from some of the player before the action gets going during a press conference from 2-4 p.m. MDT on Monday, live on the DGPT's YouTube channel. Here is the tentative schedule for the press conference (all times MDT):
2 p.m.: Jade Sewell
2:10 p.m.: Todd Lion
2:20 p.m.: Jeff Spring
2:30 p.m.: Paul McBeth
2:40 p.m.: Paige Pierce
2:50 p.m.: Ricky Wysocki
3 p.m. Catrina Allen
3:10 p.m.: Eagle McMahon
3:20 p.m.: Hailey King
3:30 p.m.: Calvin Heimburg
3:40 p.m.: Sarah Hokom
3:50 p.m.: Chris Dickerson
4 p.m.: Kristin Tattar
4:10 p.m.: Simon Lizotte
4:20 p.m.: Juliana Korver
4:30 p.m.: Nikko Locastro
4:40 p.m.: Kona Star Panis
4:50 p.m.: Brodie Smith
5 p.m.: Missy Gannon
5:10 p.m.: Gregg Barsby
5:20 p.m.: Emerson Keith
5:30 p.m.: Adam Hammes
Post-Production Video Coverage 
Jomez Productions | Subscribe 
MPO Lead Card / MPO Feature Card
Ricky Wysocki
Paul Ulibarri
Emerson Keith
Jeremy Koling
FPO Lead Card / FPO Feature Card
Catrina Allen
Holly Finley
Ohn Scoggins
Heather Young
Gatekeeper Media | Subscribe 
MPO Chase Card / MPO Feature Card
Simon Lizotte
Chris Dickerson
Albert Tamm
Kade Filimoehala
MPO Second Chase Card / MPO Feature Card
Joe Rovere
Avery Jenkins
Steve Rico
Gregg Barsby
Ace Run Productions | Subscribe
FPO Chase Card / FPO Feature Card
Valerie Mandujano
Ellen Widboom
Alexis Mandujano
Sarah Hokom
FPO Second Chase / FPO Feature Card
Lisa Fajkus
Missy Gannon
Rebecca Cox
Hailey King
Articles
Check back to PDGA.com daily for a recap of all of the action from the 2021 Elite Series.
PDGA Social Media