Queen Advances to Finals With Hammes, McBeth, Gibson
Queen Advances to Finals With Hammes, McBeth, Gibson
2021 DGPT Championship - MPO Quarterfinal Recap
Sunday, October 17, 2021 - 00:12
The pressure and emotion picked up in a big way on Saturday at the Hornet's Nest in Charlotte.
It all sets up for a thrilling finish at the 2021 Disc Golf Pro Tour Championship presented by Guaranteed Rate.
Drew Gibson came up clutch in back-to-back-to-back shots to end the semifinal round. Nathan Queen, the Cinderalla story of these championships, let all of the Queen City know he was still in contention on hole 18.
Meanwhile, Adam Hammes torched the course from the top card, as did Paul McBeth.
They will all compete for the record-setting top prize of $30,000 on Sunday.
"I knew I needed that shot on 18," Queen said. "Clutch drive, clutch putt."
Queen, the 28th seed, let out a roar when his drive on 18 flipped up and faded into the circle. He nailed the putt, setting off another powerful celebration of fist pumps and yells.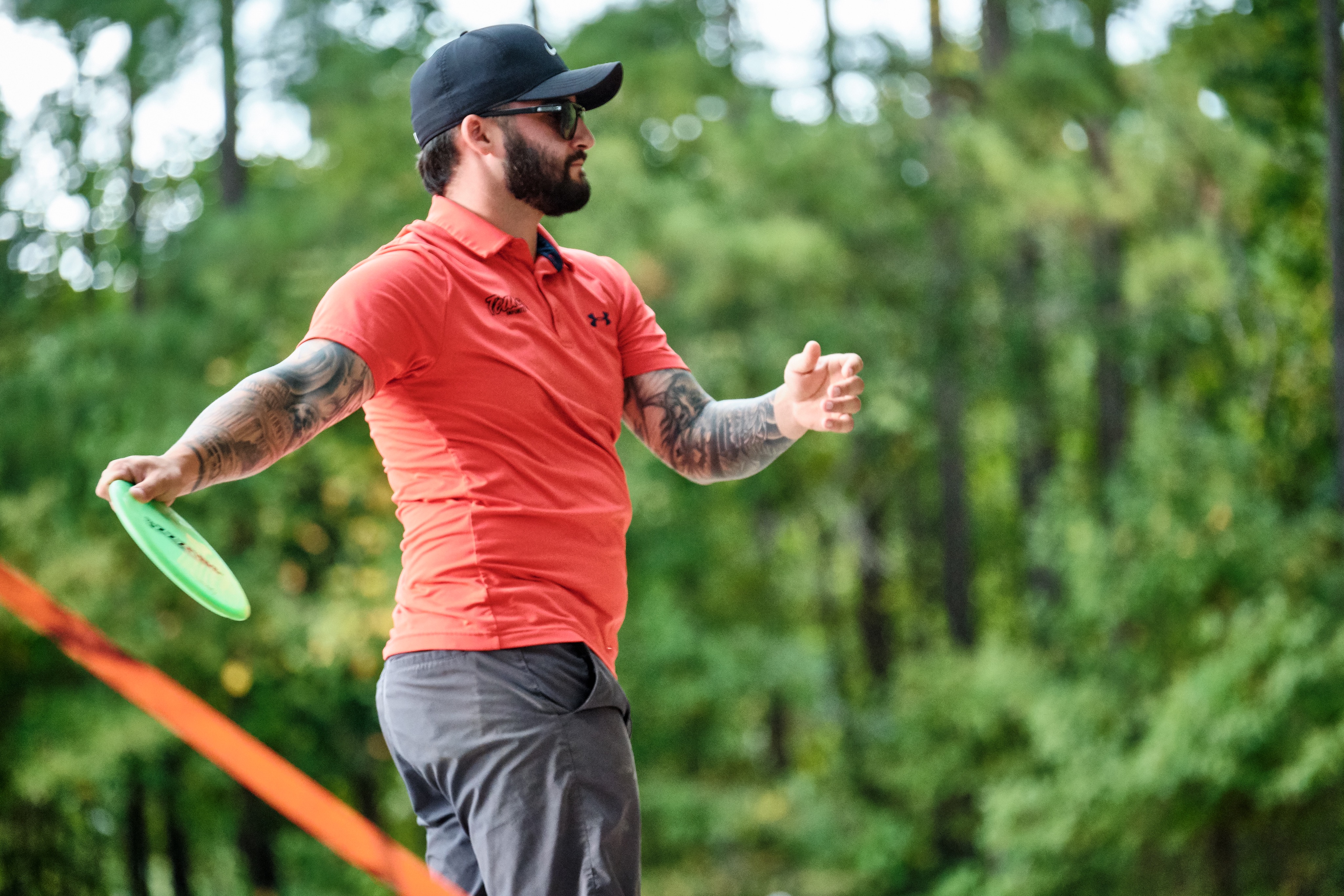 Gibson's emotion showed one hole early as he canned a bogey-saving 45-foot putt on 17.
"If you're going to make one putt, make this one," Gibson told the Disc Golf Network's Jamie Thomas of his putt on 17. "I hearted it, dead center of the basket."
Like Queen, he parked 18 and connected on the putt, sealing his spot on Championship Sunday.
Earlier in the round, Gibson followed up a 49-foot birdie with a 231-foot throw-in on hole 5 and added another Circle 2 birdie putt on hole 6.
Hammes got it going early in a big way, finishing 7-under on the front nine with solid numbers in all of the major stat categories. He finished with the hot round of 8-under par, one stroke better than Queen, Gibson and McBeth.
"It felt good," Hammes said. "My game plan was to come out strong and birdie the first couple of holes and I did just that. I had the confidence to push all the way through the round."
No MPO player has turned in a bogey-free round at Hornet's Nest yet.
McBeth overcame two bogies with five-straight birdies in a six-out-of-seven run through the middle of the round.
Buckle up, it's anyone's game as the scores reset and the pressure picks up even more with 18 holes left to go in the professional season.
Live coverage of the 2021 DGPT Championship kicks off at 2:30 p.m. ET on the Disc Golf Network.