Pierce Looks to 'Set a New Story' Before BSF Final
Pierce Looks to 'Set a New Story' Before BSF Final
Four-time world champion reflective about 2018 heartbreak
Sunday, June 9, 2019 - 11:39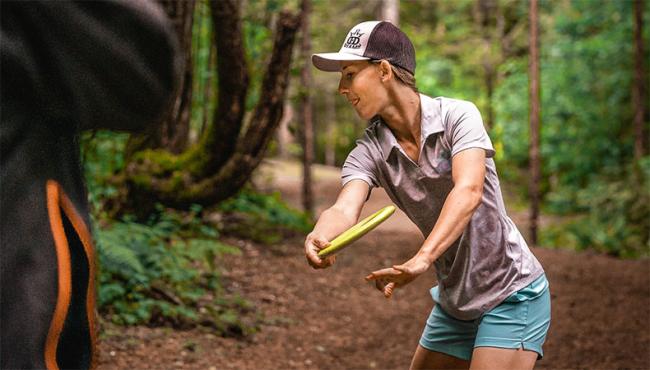 ESTACADA, Ore. -- After taking a one-shot lead into the final round of the 2018 Beaver State Fling, Paige Pierce only needed a 10-foot putt on hole 18 at Milo McIver State Park's West Course to clinch back-to-back titles in Oregon.
She missed that putt, then fell to Catrina Allen in a one-hole playoff.
Now heading into the 2019 Beaver State Fling with a seven-shot cushion after, Pierce has a chance to put the past even further in the rearview mirror.
The four-time PDGA World Champion's 1-over par 62 Saturday at Milo's East Course brought her 54-hole total to a 4-under par 179, while Jennifer Allen's 1-under par hot round put her in second place at 3-over for the weekend. Catrina Allen shot an even-par round to hold onto third place at 4-over and Paige Bjerkaas moved onto the final round lead card with her own 61 that brought her three-round tally to a 6-over par 189.
Pierce is putting 10 percent better than her season average this weekend, and her 88% circle 1 clip Saturday was her best of the tournament so far.
"I missed one shorty today, but other than that I feel like I made everything I should have," Pierce said. "I don't think I made any big ones, but I got myself into the circle quite a bit closer, so I didn't have as many long putts as I did yesterday."
Jennifer Allen's 983-rated hot round put her average rating at 971.66 for the weekend, just over 20 points above her normal mark. She's also in third place in the FPO field for fairway hits (53%) and leads in both circle 1 (33%) and circle 2 in regulation (39%).
"My drives all week have been great -- I'm really proud for how I've been throwing my drives, Allen said. "For putting I'm trying to get my confidence up, and it's been here and there."
Vanessa Van Dyken struggled in Saturday's lead group, carding a triple-bogey 8 on the 1,196-foot 14th as she dropped to fifth place with a 7-over par total. Zoe Andyke moved into sixth at 9-over, while Madison Walker made one of the field's biggest moves by climbing up four spots and into seventh place. Callie McMorran and Maria Oliva are tied for eighth, and Missy Gannon's seven-place jump put her into a tie for 10th alongside Sarah Hokom.
Now, Pierce heads into Sunday not so much dwelling on last year's heartbreak, but instead using it as a point of reflection.
"It's very emotional for me, for sure. I actually cried, and that's kind of rare for me," Pierce said. "I just kind of disappointed myself missing such a short putt to seal the deal. It was mine -- all I had to do was take my victory lap -- and to give it away on such a short putt that I've made tens of thousands of times was very disappointing for me.
"I do think about it occasionally, but mostly just thinking about how much better I've gotten," Pierce continued. "You have to be critical of yourself to learn...Instead of just thinking about it as disappointing, just thinking like, 'OK, that was 2018 Paige. Let's set a new story this year.'"