Pierce Gets Redemption With BSF Victory
Pierce Gets Redemption With BSF Victory
Catrina Allen takes home runner-up slot
Monday, June 10, 2019 - 10:29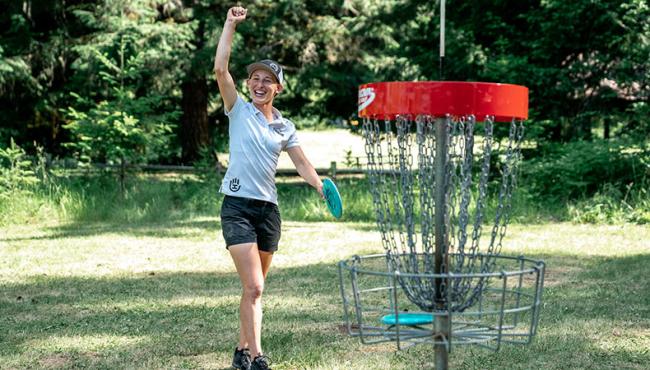 ESTACADA, Ore. -- As she walked up to her final lie Sunday afternoon at the Beaver State Fling, Paige Pierce couldn't help but think back to the putt that cost her the title at Milo McIver State Park just one year before. After all, her approach on the 509-foot, righthand bending closer at the West Course landed in the same spot as 2018.
"Really, really crazy," Pierce said. "I have a very visual memory, so I've replayed that putt countless times, probably a hundred-plus times. It was same side, same distance, same everything."
Everything, that is, except for the score. Instead of a one-shot advantage like in 2018, Pierce entered the hole with three in her favor. Still, that wasn't providing the four-time PDGA World Champion with much comfort.
"My nerves were there, and a little bit of not confidence, so walking up to that it was my chance to redeem myself and prove to myself that I've putted this putt hundreds and thousands of times," Pierce said. "I can make a putt. Just do it."
That's exactly what she did, as Pierce made a clean connection to secure her second career Beaver State Fling title with a 1-over par 245 total after three days at Milo. Catrina Allen finished in second place with a 4-over par 248 weekend, and Jennifer Allen took home third with an 8-over par 252.
Pierce collected $2,250 in prize money for her efforts, and it marked her second consecutive victory of the season.