Pierce Among Major Champions Crowned at USWDGC
Pierce Among Major Champions Crowned at USWDGC
United States Women's Disc Golf Championships Day 3 Recap
Monday, May 24, 2021 - 12:20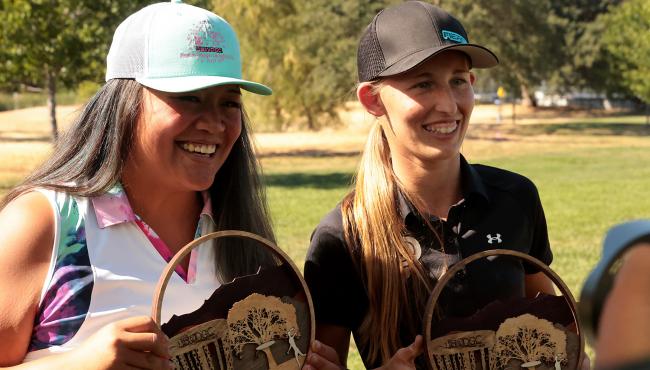 NORTHERN CALIFORNIA — Twenty-two years ago, Juliana Korver won an upstart event, created to celebrate women's disc golf that 21 women attended.
On Sunday in Northern California, Korver, with strong emotion showing, walked down the fairway on the 54th and final hole of the record-setting 2021 United States Women's Disc Golf Championships, the first PDGA Pro Major event of the season.
A few hours later, Paige Pierce took that same walk. Over the course of the three-day event, 263 women, from Therese Cuevas in the FJ12 division to Patti Adams in the FA70 field, took that same walk.
"I'm feeling more emotions than I thought I would feel — yeah, I'm thrilled," Korver said. "I didn't know if I had any more Major titles in me. I know this is age-protected but I think that last Major I attended was in 2006. So, yeah, it is definitely nostalgic to think back on some of the other wins that I've had and how we've grown as a sport, as an organization, as a division — all of it.
"It's amazing."
Complete coverage from the 2021 USWDGC »
Like the sport, this event–a celebration of women's disc golf that drew competitors from coast-to-coast–has grown at an incredible pace over the past two decades. Moreover, the three-day event encompassed one of the key elements of the sport: community.
"I remember that first event – I remember it really, really well," Korver said. "I remember being so excited that they were doing something special for us. I was torn because the USDGC was at that same time, and I had qualified but I felt like I needed to support the women. After the first day, I wish I had played the USDGC. Of course, none of us knew how magical the USDGC was going to be.
"But I felt a little magic out here this weekend. It felt bigger than I was expecting."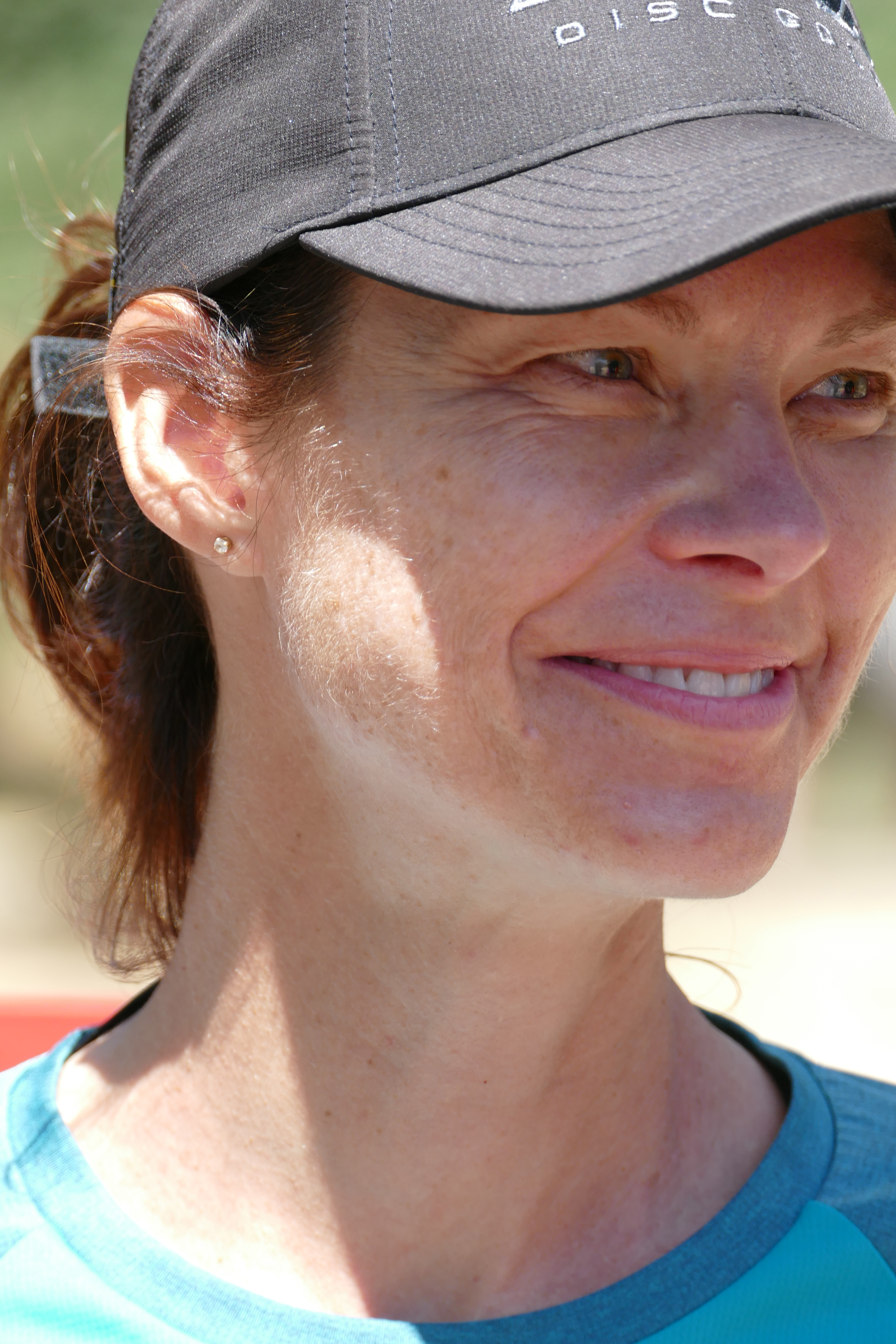 After wrapping up the eighth Major title of her career, Korver joined the gallery as Pierce took little time to wrap up her 16th Major championship. Competitors joined her in the gallery. Fathers brought their daughters to watch. Young, old and everywhere in-between watched, marveled and smiled.
"It was awesome," Pierce said. "Looking around and seeing all of the women, especially the women that weren't playing. There were a lot of young, young girls out here with discs in their hands. I know they're not competing yet but they like disc golf and they're going to get into it soon.
"It's really great to see."
Korver entered Sunday's finale with a one-stroke lead in the FP40 division and played clean, using her mantra of 'throw it like you mean it' to build an early lead on the way to a five-stroke victory. Sally West, Jennifer Allen and Jenny Umstead finished in three-way tie for second with West taking the trophy in a playoff.
In the FP50 division, Lorena Dostal fired-off the hot round of 60 to take a one-shot win over Nancy Shillinger. Andi Young, a Disc Golf Hall of Famer from Houston, Texas, rolled in the FP60 division and Laurie Cloyes-Chupa, of Las Vegas, is the FP65 USWDGC champion.
Melody Castruita capped a wire-to-wire win in FA1 while Danielle Kleidon took second. Serenity Madison took down the FA40 title by eight strokes and Holly DeWit overcame a five-stroke deficit for the FA50 title.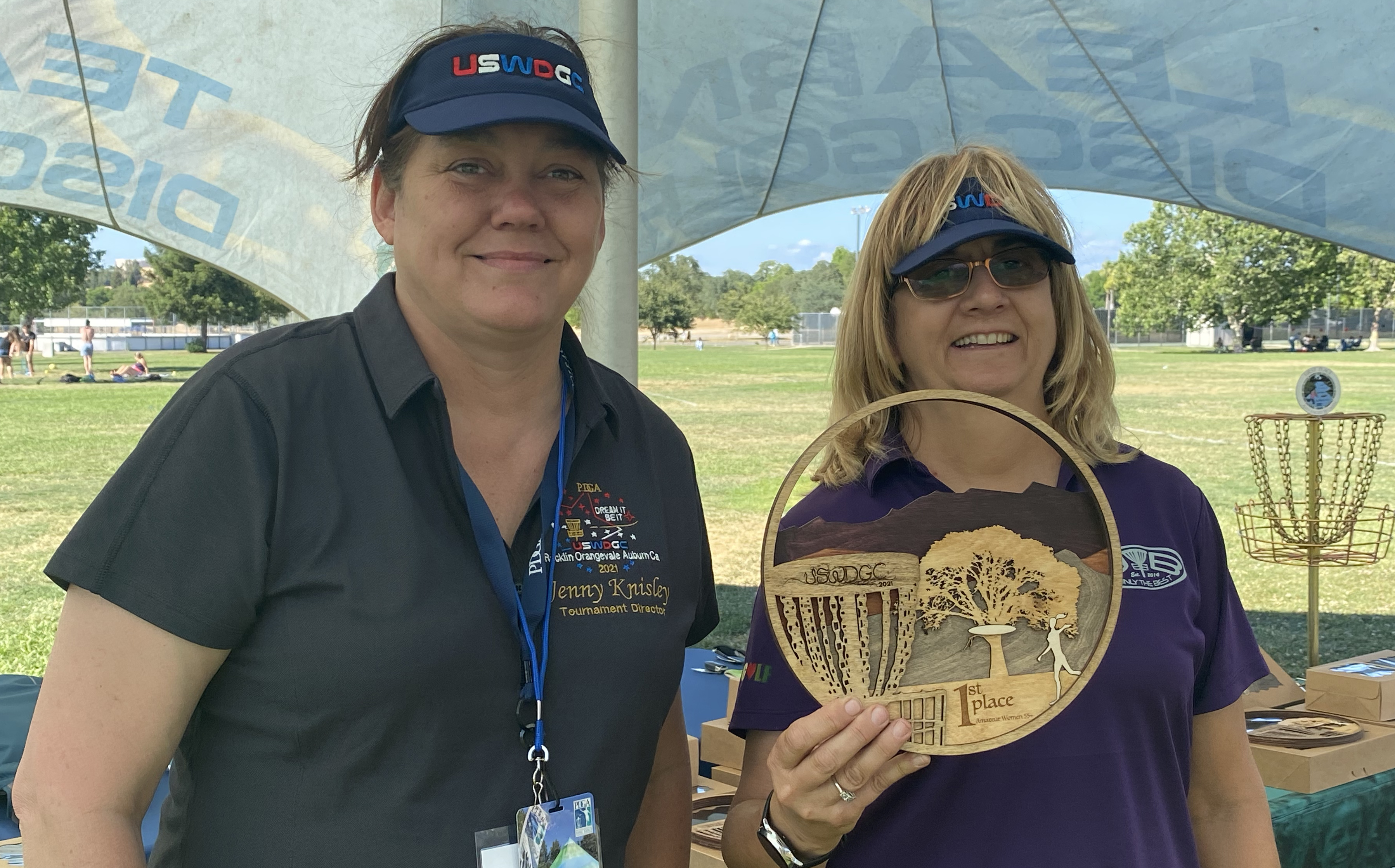 Sue Perales wrapped a dominant win in FA55 and Ginger Bowman held off Marcia Focht in FA60 for a two-shot victory. The two were separated by one stroke entering Sunday.
Stephanie Ma is taking a first-place trophy back to San Francisco after besting Ronit Taggart in a playoff. Rachel Shanks, of Houston, Texas, was one shot back in third place in FA2.
Virginia's Amy Shaw is a U.S. Women's champion in FA3 with a one-shot win over Krista Giron and Erin Halk. Gabi Sigafoo took down FA4.
In the junior divisions, the names to remember include Atlanta Krueger (FJ18), Darlo Razato (FJ15) and Therese Cuevas (FJ12). Remember Jordan Linn, too. She was one shot back.
Bigger than trophies, this weekend was highlighted by community and celebration.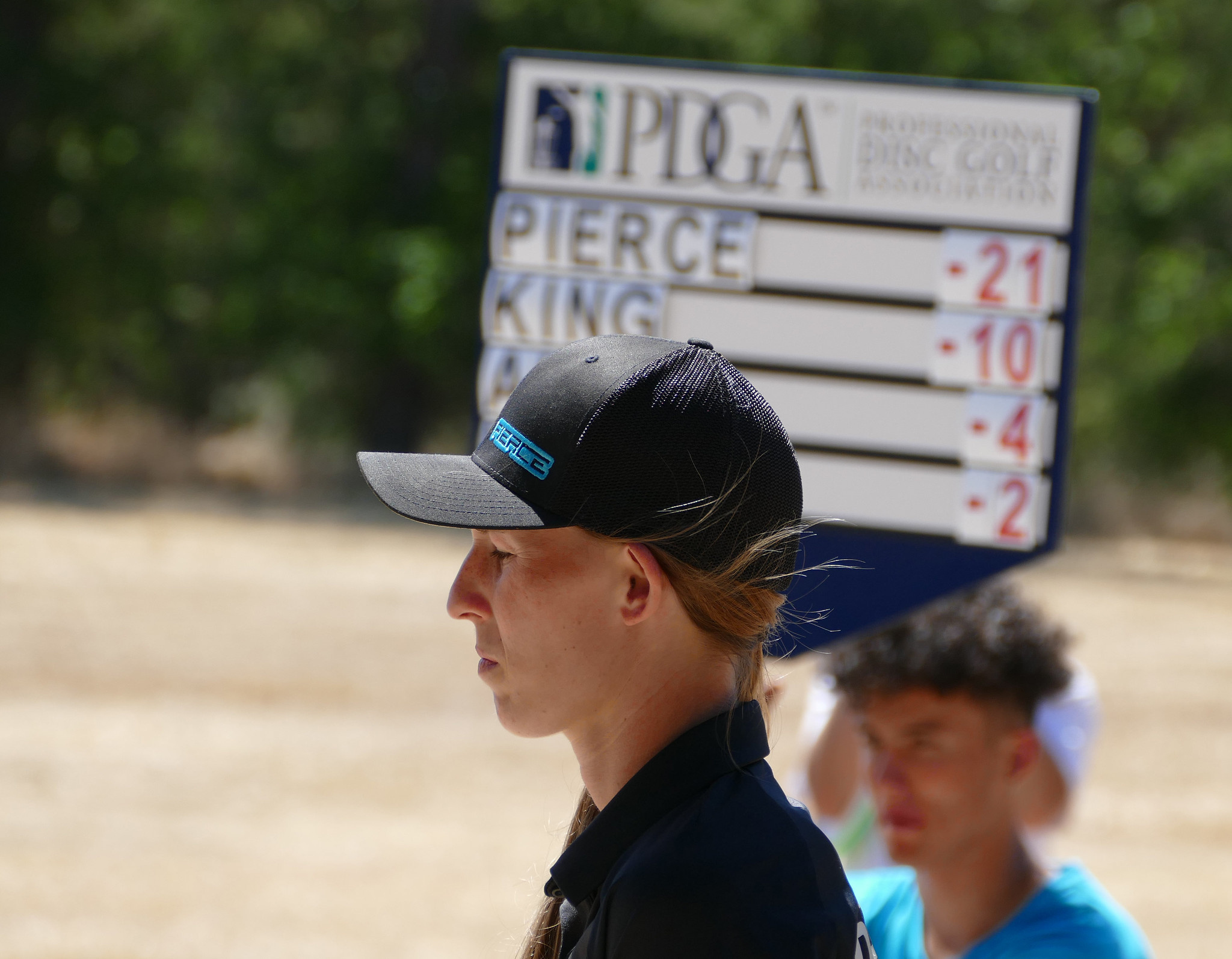 Pierce Dominant From The Start
She had nerves and her heart was racing, but, at the same time, the confidence was peaking.
And showing.
Bringing a two-shot lead into Sunday's final round, Pierce set the pace on the very first hole – parking it to spark a dominant roll through Rocklin Disc Golf Course and becoming the first four-time winner of the USWDGC and claiming her 16th Major title.
In the end, it was a 13-shot win for Pierce.
"I was nervous, and my heart rate was super high," Pierce said of the start of Sunday's round. "But that start really separated it. I couldn't feel better. The putt and the mental game have been holding me back for a few tournaments. This really puts a statement that I'm capable of anything."
Pierce wrapped up a sterling and jaw-dropping 100% C1X mark through the three-round event. She led in strokes gained tee-to-green at 22.21, according to UDisc.
It was the start on Sunday, however, that slammed the door. Pierce opened 4-for-4 as her closest threat, Hailey King, stumbled out of the gate.
But King, who owns the hottest round of the weekend with a 1038-rated romp through Shady Oaks on Sunday, finished strong with a birdie on 18 to seal second place.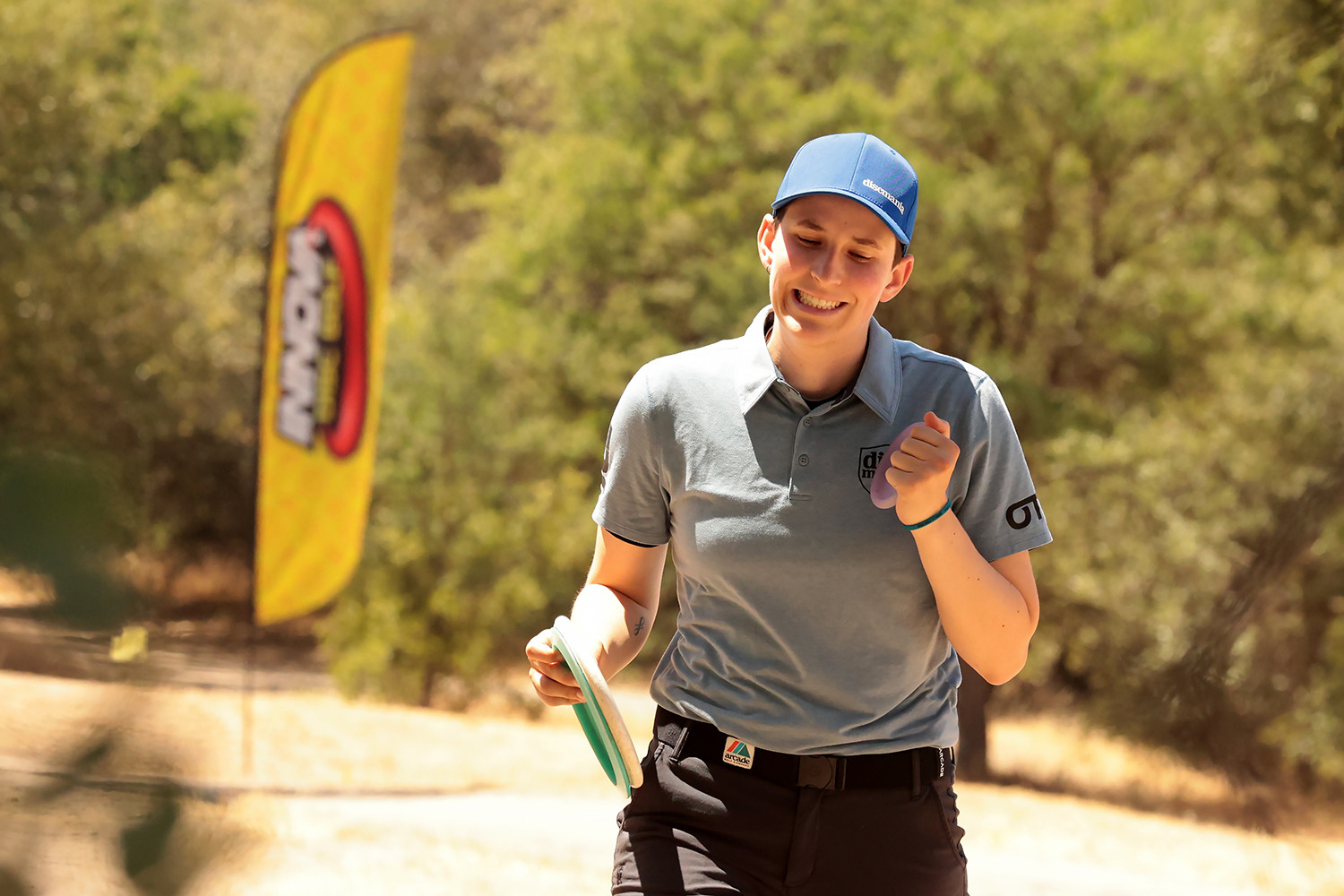 Rounding out the podium was Ella Hansen, who has taken the scene by storm this season. Hansen's third-place finish at the USWDGC is the best finish of any Open player's – male or female — competing in their first career Major dating back to 2011, according to StatMando on Twitter.
The lone blemish came on 18 for an 8-under overall finish for Hansen, one stroke behind King.
Missy Gannon turned in the only clean scorecard at Rocklin for fourth place and Holly Finley and Catrina Allen finished fifth.
PDGA Elite Series action continues this weekend at the Santa Cruz Masters Cup, the third stop on the PDGA National Tour.