A Penchant for Playoffs
A Penchant for Playoffs
The Beaver State Fling looks to continue the drama this weekend
Wednesday, June 5, 2019 - 14:10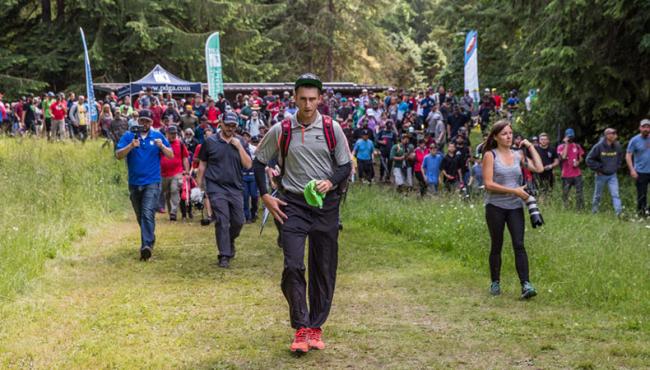 ESTACADA, Ore. -- In 2015, the showdown featured Will Schusterick and Paul McBeth, with the latter emerging victorious after two extra holes at Milo McIver East.
In 2016 it was Catrina Allen and Paige Pierce's turn, with Allen only needing one hole on the West course to oust her longtime rival.
2017 found McBeth back at it, only this time taking on defending PDGA World Champion Ricky Wysocki. A pair of birdies and a backhand sky roller later, and Wysocki was walking away with the hardware and his second consecutive win at the tournament.
And finally, in 2018, it was Allen and Pierce experiencing some deja vu, with another single-hole battle crowning Allen the victor.
For four straight years, the Beaver State Fling has featured a playoff, and those iconic battles have only added to the lore of the fourth stop on the 2019 PDGA National Tour, an event beloved as much for its scenery as its showdowns. Save Pierce's 16-shot runaway win in 2017, the Fling annually trends tightly, with the Open division sporting an average margin of victory of 1.8 strokes since 2013. But why is it that Milo McIver State Park's pristine fairways and skyscraper evergreens are often the canvas for such disc golf masterstrokes?
Even as a three-time BSF Champion (2012, 2016, 2018), Allen couldn't immediately pin down the tournament's playoff penchant. "I kind of have been thinking about that: Why does that happen? I don't know," she said.
After a moment of reflection, she attributed it to the fact that the 8,596-foot East track and the 8,681-foot West course -- both of which clock in with a par of 61 -- don't present the same kinds of hazards as, say, Blue Lake just down the road.
"There's really no place to take that big number," Allen said. "It can happen...There's some OB, but it's manageable. You kind of just, like -- you get a par, a birdie, or a bogey. In my personal opinion, it's very rare -- that's the only thing I can think of. There's not these huge swings very often."
"I'm actually thinking about it -- I think the courses are fair," Co-Tournament Director Jeff Hagerty said. "It's the courses. It's the courses, and they balance out and you're playing four rounds. You're playing two rounds on each course, and so it averages out in the end. If you have a bad round or a mediocre [one] you've usually got time to fight back."
But not too much time, according to Wysocki. He said getting off to a hot start on Friday, when competitors will play two shotgun-start rounds, was imperative, as Milo's lack of scoring separation makes digging out of a hole tricky. That's because the composition of the par-4s made them end up being easier to birdie, he said, and the stats bear that out: Four of the five par-4s on each course ended up in the upper half of ease of average scoring during rounds three and four during the 2018 Fling. Add to that some challenging par-3s, and it makes it difficult to make up ground.
"I think it's a recipe for playoffs and close scores," Wysocki said.
No one seems to think the lack of scoring spread, though, is a problem. Combined with Milo's natural beauty and a Portland-area community that delivers one of the largest galleries on tour, the Beaver State Fling is a perennial must-play.
"Everybody loves a playoff besides the person who loses it," Pierce said. "...So it's better for the fans, it's better for the division to have a tight battle. It's all-around good for disc golf."
So if Sunday rolls around and scores are close once again, don't be surprised. It's technically the Open division's turn for extra holes this year, but Co-Tournament Director Jeff Mittl likely won't complain regardless of who's playing.
"When you're winning by double digits, I think it takes away from the thrill, if you will," Mittl said. "When you have a tight match and they're [matching scores] hole after hole, and then you get some playoffs -- it just feeds into the whole [experience]. Iti just happened on the Disc Golf Pro Tour, it happened at [2014] Worlds, and then it happened the past x-amount of years here."
Indeed, Portland is a playoff paradise.
Beaver State Fling | 2019 PDGA National Tour