McMahon Repeats As Beaver State Fling Champion After Dizzying Final Showdown
McMahon Repeats As Beaver State Fling Champion After Dizzying Final Showdown
Paju's late heroics come up short as he takes second place
Monday, June 10, 2019 - 10:49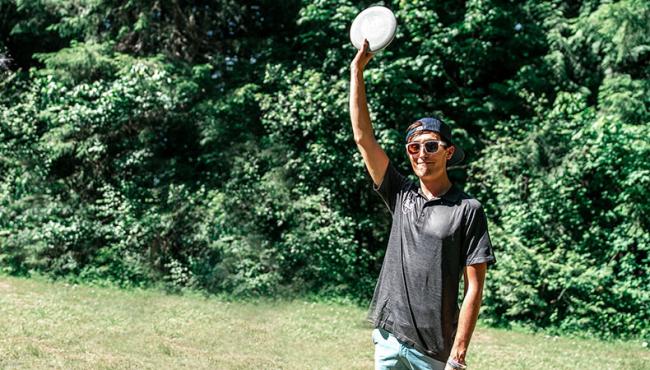 ESTACADA, Ore. -- There was a point in time Sunday at the Beaver State Fling where it seemed like Eagle McMahon was going to enjoy a victory lap.
The 21-year-old entered play with a four-shot lead over Finnish pro Seppo Paju, and he quickly added the second of two early insurance strokes after a stunning, 50-foot uphill birdie connection on hole 2. At a tournament known for its final round drama, McMahon was now ahead by a half dozen strokes, and a wide grin stretched across his face as he shook his head in disbelief, not quite able to believe his good fortune.
It wouldn't be long, though, before that smile turned to consternation, then stoicism, and -- finally -- relief.
The Beaver State Fling failed to deliver on its usual playoff promise, but Milo McIver State Park still served as the backdrop for a late-round rollercoaster ride. And when it ultimately came to its merciful end, McMahon lay sprawled on the soft grass on the East Course's 18th green, recovering from the dizzying final holes that tested his will but rewarded him with a repeat championship at this PDGA National Tour staple.
McMahon's 5-under par 56 Sunday brought his final tally at the Fling to a 35-under par 209, netting him his fourth victory of 2019 and a $5,000 payday. Paju finished with his career best at an NT, a 34-under par 210 in which he proved why he is one of European disc golf's brightest lights. Ricky Wysocki finished his steady weekend climb in third place with a 29-under par showing, while James Conrad secured fourth place at 28-down. A.J. Risley, Jordan Castro, and Simon Lizotte shared top 5 honors with their 27-under par 217 totals.
After falling in a playoff the prior weekend at the Portland Open, McMahon was mystified that he almost endured a similar fate just down the road.
"I can't believe what happened at the Portland Open happened, and I felt like it was gonna happen again, and for it to got the other way was just the biggest weight taken off my back ever," McMahon said. "When I tapped my putt in after Seppo missed, I legitimately felt emotional. I still feel -- i feel incredible, and it's just a true honor.
"What's that saying? 'You're not a true champion until you defend your title?'" McMahon continued. "That makes me so proud in order to say that."
McMahon was in the driver's seat for much of the round, even as Paju chipped away at the lead with a smooth roller on hole 3 for birdie and a 60-foot connection for deuce on the 404-foot 6th. Paju took back one more by dissecting hole 11 with ease while McMahon sprayed his drive right, and the gap was at three going into hole 12, a 400-foot island hole that has proved consequential year after year. In 2018 it was where McMahon hit the pin on the way to the win, and this year it was Paju dialing up the aggressive play and sticking his drive just in bounds on the backside of the island. McMahon then attempted to lay up, content to only yield one shot off his lead, but he overcooked his MD3 shot and it skittered off the grass and into the OB road.
"That really was just a terrible moment," McMahon said. "Knowing that Seppo parked it -- that's why I laid up."
McMahon couldn't save par from 35 feet away, and Paju tapped in for a two-stroke swing to whittle the lead all the way down to one. Stonefaced on the tee of 13, McMahon was able to add a shot back after hitting a 20-footer from the right-side brush, then perfectly executed a forehand approach on the 1,196-foot "Monster" hole 14 to add another as Paju had to backhand roll his way out of danger. McMahon opted not to run his putt from the left on hole 15's mound green, and Paju again struck from long range, jamming a 50-footer to put the lead back at two strokes.
The pair pushed on 16, giving McMahon a pair of strokes with a pair of holes between he and another win.
"It felt pretty comfortable going into 17," McMahon admitted. "Seppo had kind of an errant drive  to the left side, and usually if you're up there it means you're getting a bogey."
McMahon took what he called the "Sexton" approach to the 450-footer, throwing a forehand wide right in an attempt to play for par. Paju scrambled to the edge of the woods with his second shot, and McMahon tossed his approach 25 feet wide of the pin. Paju was still out and somehow found a window through the trees, crashing the chains from 50 feet for yet another huge momentum shift to save par.
"I thought I had nothing to lose," Paju said. "So I just jammed it in."
McMahon needed a relatively simple conversion to save par, but he cracked and hit his putt off the top band to take a bogey.
"I felt the pressure -- Seppo big-putted me," McMahon admitted. "It was probably about 25 feet, which is absolutely unacceptable for an upshot. Missed that putt and I just felt like the world was crumbling around me."
McMahon was still up by one heading into 18, which meant he could still control the situation. Paju played a high spike hyzer toward the pin, and McMahon followed suit to land shorter. He easily tossed his putt toward the pin on the sloping green, content to lay the tournament at Paju's feet.
"I just figured, Seppo was just outside the circle, and I know from experience when I'm in a situation like that my body locks up," McMahon said. "It's hard to do anything.
"...I figured, I better at least get a playoff out of this," McMahon continued. "There's a lot of pressure on that putt, a putt to push a playoff that is absolutely no joke. I just figured I would put it in Seppo's hands to see what he would do."
On a day where he had made so many big putts to keep himself in it, Paju simply needed one more heroic feat to send the tournament to overtime. But his jumper came out nose down and dove into the ground, leaving McMahon to tap in for the victory.
"I really in my head I was like, 'This is going in.' I was 100 percent sure it was going in," Paju said. "Just had a bad release angle on it."
Even amidst the disappointment, Paju found the silver lining from his best career National Tour finish.
"Eagle was six ahead of me after two holes during the final round, so I'm really happy about my performance," Paju said. "Little bummed, currently, for second place finish because I could have put that last putt in the basket, but I'll be happy with it."
After picking himself up from the grass and spending a good 15 minutes signing autographs, McMahon reflected on not only how important that putt on hole 2 was -- "That putt was huge looking back," he said -- but also how much a Milo repeat meant to him.
"It's absolutely incredible," McMahon said. "I love this place so much, I mark it on my calendar every year. It's my favorite course in the United States. It might be my favorite course. I don't know, just something about Oregon, this greenery, the river here. It's just a really special feeling out here."