Lizotte Headlines Final Round Air Show At Beaver State Fling
Lizotte Headlines Final Round Air Show At Beaver State Fling
McMahon, Gibson, Gurthie within two after rain-soaked Saturday
Sunday, June 10, 2018 - 10:11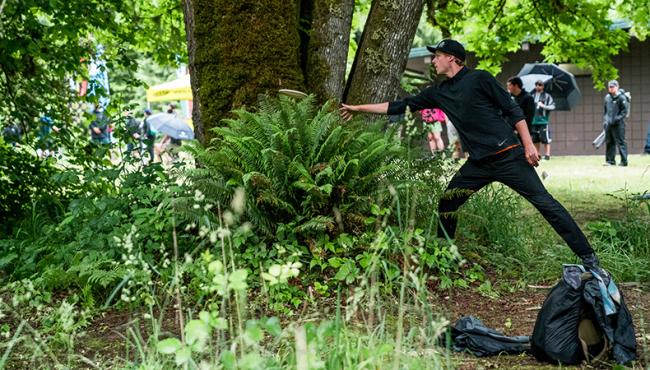 ESTACADA, Ore. – For someone who had just shot a 9-under par round to take the lead at the Beaver State Fling, Simon Lizotte wasn't terribly excited. Dressed head to toe in black, his sartorial choice matched his somber mood.
"If I could finish rounds, I'd be really good," he said, resignation in his voice.
For Drew Gibson, whose 4-under par 57 dropped him to a second-place tie on the leaderboard, the highlighter yellow vest on his shoulders belied his own darkened attitude.
"I suck," he said.
Such was life after a soggy second day at Milo McIver State Park, where off-and-on rain and thunder brought upheaval to the standings and helped moving day live up to its name. Lizotte's 24-under par 159 gives him a slim margin over Gibson and Eagle McMahon, who are knotted up at 23-under. Garrett Gurthie, who shot a 1074-rated 11-under par hot round, shares fourth place with Chandler Fry and Paul Ulibarri with 22-under par 161s, while Seppo Paju, Kevin Jones, and Nate Sexton are tied for seventh place at 20-under.
Just like on Friday, Lizotte scorched Riverbend East's early stretch, parking five shots en route to seven birdies on the front nine. This came after he had trouble finding parking and only tossed a few warmup putts to get started. Apparently, it was a recipe for success.
"Not a single throw before the round, and then discs start flying straight," Lizotte said. "I don't know why or how."
As it started to rain more consistently on the back nine, though, Lizotte cooled off with the air temperature. He admitted that checking the scores on his phone may have gotten in his head – "I should be way beyond the point of my career where that affects me," he said – but often had long looks for birdie. Still, he couldn't connect on anything from beyond the arc and was left waving at his putter in frustration any time it sailed past the basket.
"All my 50-footers – usually I'm good at running those. Not only hitting them, but at least they're like close if they don't go in," Lizotte said. "But [today] they're all airballs and it feels very bad."
Gibson also lost the hot putter he carried during his day one performance. After hitting from 40 and 50 feet for birdies on holes 2 and 5 – the latter of which was the lone deuce on the lead card and put him up four over the group – he couldn't manage to hit from long range when he was off the fairway. He said the backups that came from the weather and the tournament's split tee times got to him, but mostly he was just down on a second half of the round that featured zero birdies and one bogey.
"That back nine just sucked, it purely just sucked," Gibson said. "There's nothing else to say. I played bad, I putted bad, I drove bad. I did everything bad."
The despondent duo only makes up half of the final round lead card, and its other participants took a sunnier disposition from day. Throwing the highest rated round of the tournament will always help with one's mood, as will playing among the beautiful scenery at Milo.
"Being a Floridian, you don't get to see this terrain or any kind of golf style," Gurthie said. "…I think it's just pretty, manicured for the sport of disc golf. I love it out here. It shows."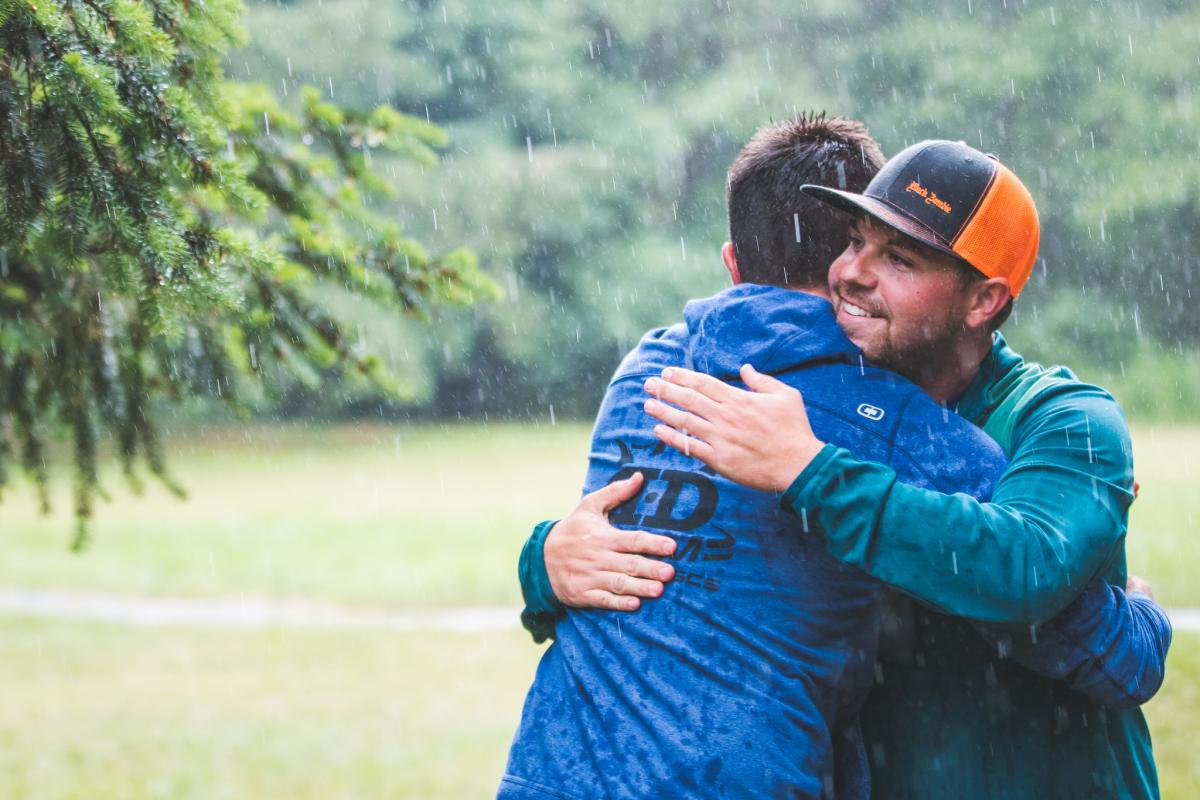 Gurthie's back-to-back eagles kickstarted his round, with the first coming after he threw his second shot long on the 850-foot 6th. Looking at an 80-foot approach, he put a Sonic on an anhyzer and tossed it in.
"It was kinda sick," Gurthie said. "The next hole I heard Jerm [Koling] went for it and threw it center of the fairway, the [587-foot] peninsula island hole. He had the best drive. I was like, 'Well, there's not really wind out,' so I threw it down the road and hit the road and skipped in front of the tree and under the basket."
"It was a good conservative play," Fry joked.
"I said I was gonna play conservative," Gurthie said. "But that wasn't conservative."
Add McMahon to the list of players taking positives from the round. His 7-under par, bogey-free performance found him in the rough more than is customary, but he was able to scramble with 100 percent effectiveness and only missed one putt inside the circle. The steady showing was all he needed to be in striking distance heading into Sunday.
"Umbrellas were going in and coming out, and that's just kind of hard on your head, mentally," McMahon said. "You're never able to get into a real groove. I knew no one was really gonna do anything too special today. Just maintain your spot on moving day going into tomorrow."
Ulibarri, meanwhile, was looking to capitalize on his own good standing. The Arizona pro skipped the San Francisco Open to go home and work on some timing issues, and now he says he is throwing as well as he ever has. He's third in the field in both fairway hits (77 percent) and circle 2 in regulation (72 percent), but has yet to connect on anything beyond the 10-meter circle.
"I haven't been in position in a big tournament to make a run in a long, long time," Ulibarri said. "So I'll be going for it." 
The rain will be back for the Open division's final tilt with Riverbend East, but that won't be the only thing falling from the sky. With Lizotte, McMahon, Gibson, and Gurthie at the top, there might be some thunder and lightning, too.
"That's the farthest throwing card ever," McMahon said. "Oh my gosh. You can't draw it up better than that."