A Little Help From His Friends
A Little Help From His Friends
Heimburg rallies in Vegas for first PDGA National Tour win
Monday, February 25, 2019 - 17:43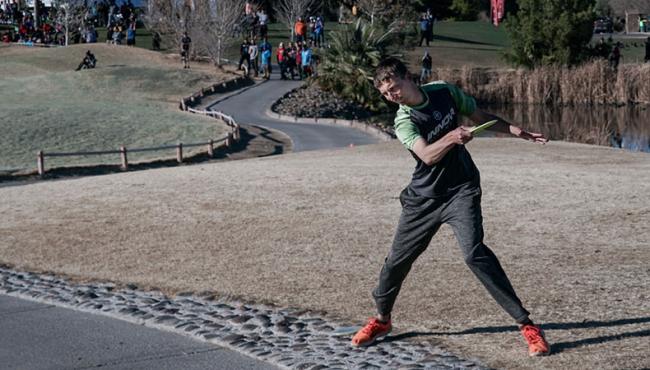 HENDERSON, Nev. – Calvin Heimburg needed a friend.
The stoic slinger was unshakable as he took the Las Vegas Challenge's first three rounds by storm, rarely showing any emotion as he staked a six-shot lead into Sunday's final at Wildhorse Golf Club's Innova course. But the last 18 of a PDGA National Tour event is a whole different animal, and while Heimburg didn't show any distress on his face, he did with his game.
First, he missed hole 3's island green. On 4, he slammed a makeable putt low off the cage. On hole 5, he basically threw his drive into the ground, but it skipped up and rode for extra distance. Hole 7's hillside green bit hard, as his neon green Destroyer rolled off the backside and the penalties piled up.
Suddenly, his six strokes were no longer, and he was on the verge of collapse.
Luckily, Heimburg has a strong support network of fellow competitors, and two of them played an instrumental role in a fierce back nine that helped the 23-year-old rally back to secure his first career PDGA National Tour title.
Heimburg birdied eight of the last nine holes to finish the tournament with an 8-under par 53 that took his four-round total to 44-under par 198, good for a $3,500 payday and the most significant title of his career. 2018 Las Vegas Challenge Champion Eagle McMahon made a final day push from the third card, launching a 1088-rated 15-under par 46 to climb back into the runner-up slot. Cale Leiviska, playing in McMahon's group, tossed a 13-under par 48 to jump up to third place, where he tied Josh Anthon at 40-under for the weekend. Kevin Jones made his own charge on Sunday before some mid-round hiccups, but ultimately took home fifth place with a 39-under par 203.
"Still processing it all," Heimburg said. "I'm happy I won, but yeah – that round was a roller coaster of emotions."
For Heimburg, it took breaking his own personal rules for him to break his bad luck. The Florida native said he makes it a point to not check his phone during rounds, opting to focus on the action in front of him. But sensing that the round was getting away from him, he took it out and saw a text from fellow southerner Zach Melton.
"He told me something I always say when I'm practice putting: Put the pizza in the oven," Heimburg said.
That reminder, plus the mid-round addition of caddie Madison Walker, altered his fortunes.
"Madison kept it lighthearted, kept me laughing a little bit," Heimburg said. "Just changed my mood a little bit and definitely kickstarted my back nine."
Heimburg parked his second shot on the par-4, 741-foot 10th for a tap-in birdie, then took Melton's advice an connected with a 40-footer facing the hazard on 13.
"I kind of knew at that point I needed to be birdieing everything. I was like, 'If you chuck it in the bunker, you chuck it in the bunker – just go for it,'" Heimburg said. "Yeah, it was big. It was big."
He connected from circle's edge on 14 and 15, then once more on 17 to add some much-needed insurance.
"I knew it would be really useful to get the birdie there to take some pressure off on this hole, but that's also tricky hole to where you can hyzer out of bounds," Heimburg said. "I saw Eagle's scores and I just kind of knew I had to attack every hole, because not attacking and then messing up [by] not attacking – that would be a huge regret later on."
McMahon was shredding, starting off his round with four straight park jobs and five consecutive birdies. He missed just long and went OB on hole 6's island, then saved birdie from the bunker on 7. One more shot in the sand on 10 led to his only par of the round, and he ended the day with a 75 percent putting performance from circle 2. The close result at the end surprised him.
"I never really felt like I had a shot," McMahon admitted. "All I kept telling myself was, 'You have to keep your head down and keep birdieing.'"
That ultimately didn't matter, as Heimburg took a one-shot lead into hole 18, then put that same neon green Destroyer that betrayed him earlier on the pin to collect the win.
McMahon wasn't the only competitor to go down without a fight. Jones went 7-down through the first nine, but his second drive on the par-4 10th leaked OB. On 11, he landed behind a shrub and was forced to turbo putt. He missed and, in a moment of negative prophecy, audibly predicted he would spit-out on his par attempt because he had experienced a similar sequence during round two. Lo and behold, the five-footer bounced right back at him, effectively derailing his run.
It was Dustin Keegan, though, who was first to apply the pressure. He started off the round by keeping his putter hot with a 40-footer for deuce, and by hole 8 had erased Heimburg's sizable lead. That hot putter finally went cold on the back half, though, culminating in a brutal rollaway on hole 16's hillside pin that rolled OB, leading to a double-bogey 6. Keegan, though, finished strong with back-to-back birdies to end up in sixth place, his best finish at a PDGA National Tour event in his nine-year pro career. 
It's Heimburg's first full season on tour after a promising 2018 finish, and he came into the event with the field's fourth-best player rating. Still, the result defied his expectations – to a point.
"I didn't think I would win this tournament," Heimburg said. "I was definitely confident in placing well out here. This being my first time and not really getting to play as many rounds as I wanted on these courses – yeah, I mean, it's a little surprising, I guess, to actually be here and know I won. But it's not super surprising, I guess."