'Just Keep Fighting'
'Just Keep Fighting'
Allen endures for wire-to-wire Delaware win; Tattar runner-up for second straight year
Monday, August 26, 2019 - 13:15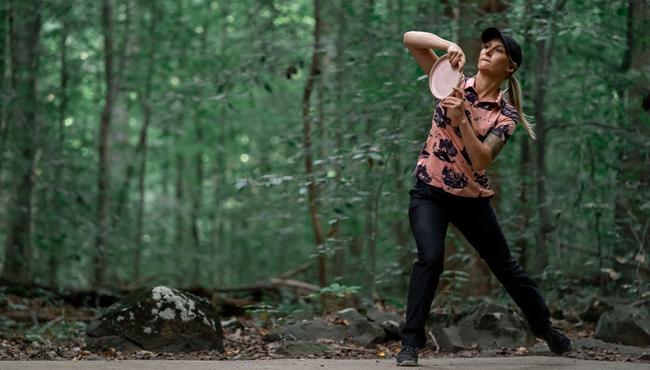 Catrina Allen had pulled out to a six-shot advantage through 11 holes Sunday at Iron Hill Disc Golf as she looked to finish off a wire-to-wire, rebound win one week after dropping to third place at Pro Worlds. But as anyone in the Open division can attest to, the final stretch of the Delaware Disc Golf Challenge is punishing and never ensures that a lead is safe.
Though she was far from Indiana—home of the fictional setting for one of Netflix's most popular binge-worthy shows—Allen couldn't help but feel there was an odd pull on the final round grouping when they reached the par-4, 520-foot 12th and needed 29 strokes between the foursome to complete the hole.
"I don't know if it was like a Stranger Things [situation] that happened, or what," Allen said with a laugh. "I felt like, 'What is happening?' Because it wasn't just happening to me. It was happening to the entire card."
The entire card, that is, minus Kristin Tattar. The Estonian pro was able to manage the card's lone bogey to pick up two strokes on Allen. She then took back another with a birdie on 13 and was looking for a late-round surge—but she needed to recover mentally from a literal handful of missed opportunities up to that point.
"I felt like I still had a chance to win," Tattar said. "I tried my best to push and not think about all the missed putts or missed shots and concentrate on the shot that I had to make."
She continued that push with a two-shot swing on hole 15, but ultimately Allen's closing instinct kicked in.
The Minnesota native played clean golf down the stretch with a par-par-birdie finish to take down her third PDGA National Tour victory of 2019 with a final tally of 5-under par. Tattar finished in the runner-up slot for the second year in a row at Delaware at 2-down for the weekend, while Sarah Hokom defended her 2018 Iron Hill title valiantly and jumped up to third place at 1-over.
For Allen, the finish was all about keeping her head down and not worrying about the flurry of scoring going on around her as the holes started to run out. Even after that big number on 12, she never let her mindset veer south.
"I told myself before the tournament started no matter what happened out there to just keep fighting," Allen said "…I just tried to go to the next tee box with some confidence and a short memory."
She took that thinking all the way to hole 18, where she held a two-shot advantage after Tattar again missed inside the circle. Allen said she didn't know she had that cushion because she was still so focused on the shots ahead of her, but that when she asked her friend Sara Sinclair for some advice while walking up the fairway that she got the green light that she had the tournament mostly sealed.
"That's kinda when I was like OK, I think it's done," Allen said with a sigh of relief.
Tattar was pleased that she had taken home the runner-up slot, but was still looking for some improvements on the green as she continues her stateside sojourn with next week's MVP Open.
"I'm happy that I got the second place because I didn't feel like I played my best the last round," Tattar said. "I guess I just have to practice putting because I missed six inside the circle putts. It was tough. It was frustrating to play."
Allen tightened her grip on the PDGA National Tour points standings lead. Her 395 points put her nearly 30 points ahead of Paige Pierce, who skipped Delaware. Hokom stayed in fifth place on the leaderboard with 346.33 but closed the gap on Paige Bjerkaas and Jennifer Allen, neither of whom played in Delaware.
Still, there is one more NT to play: The Ed Headrick Disc Golf Hall of Fame Classic closes out the series October 11 at the International Disc Golf Center in Appling, Georgia. Allen is the defending champion.
Updated August 26, 2019 at 4:20 p.m. ET: A previous version of this article incorrectly tallied the current National Tour points standings. We regret the error.