It's Anybody's Game as MPO Showdown Looms in Tyler
It's Anybody's Game as MPO Showdown Looms in Tyler
National Tour - Texas State Disc Golf Championship Day 2 MPO Recap
Sunday, March 28, 2021 - 10:15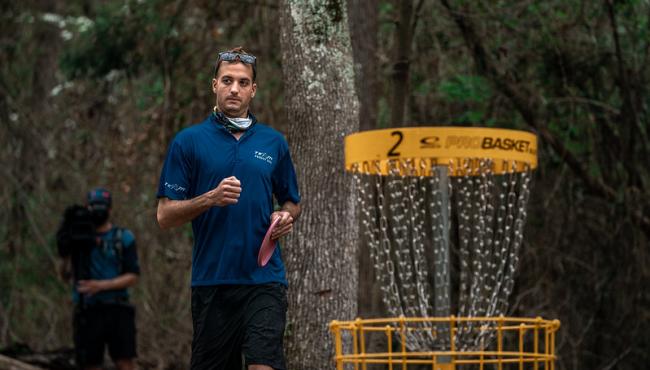 The best players in the world don't like to leave anything up to chance. Sitting atop the mountain, they'd prefer to just let the best man win.
The Dogwood course, site of the 26th Annual Texas Disc Golf Championship, has other ideas. With walls of trees and twisting narrow fairways, Dogwood delivers more than enough surprises to thwart even the most meticulously prepared competitors.
And if this weren't enough, Saturday's second round delivered one more wildcard: a heavy rainstorm that blew in as the lead cards moved through the back nine.
When the rain cleared and all was said and done, Ricky Wysocki and Matt Orum found themselves holding a precarious one-shot advantage over a tightly packed MPO leaderboard that has 11 players within four shots of the lead.
Wysocki came out of the gate like a man on a mission, bagging six consecutive birdies after making par on hole one.
"I knew it was going to take a lot of birdies out here," Wysocki told PDGA Media's Hayden Henry. "There's a lot of birdies to be had, so I just wanted to get out to a hot start—maybe put some pressure on the leaders and then see what happens."
When his drives started missing the fairway on the back nine, Wysocki scrambled for par without fail, finishing with a bogey-free ten-under-par.
"Once you get off the fairway, you've really got to try to save par out here," he said. "I think that scrambling is probably the most important thing if you want to score well."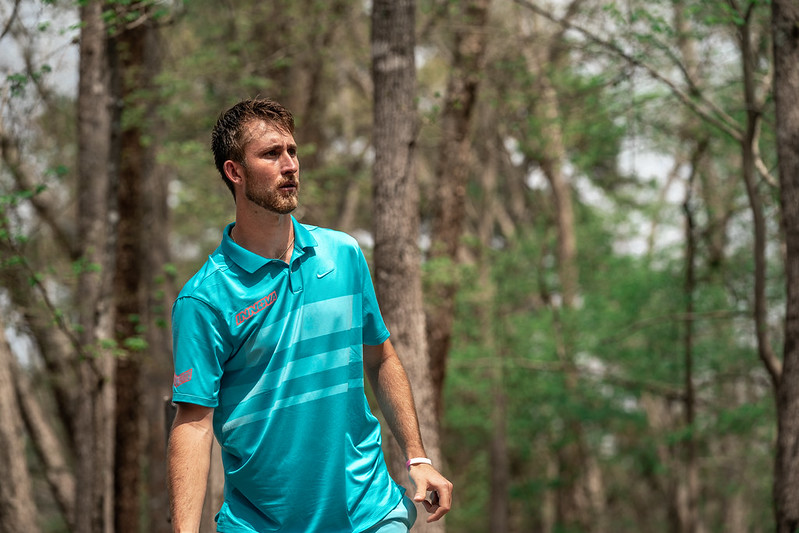 Orum matched Wysocki with a bogey-free 10-under par, although his was less pressure-packed as he hit 83% of the fairways off the tee (to Wysocki's 50%) and had to scramble far less often.
Should Orum go on to win the tournament, it would be a hard-earned maiden National Tour victory for the popular Alabama veteran who has been a staple on the pro scene since he won his first A-tier in 2004. The wooded Dogwood track may be the perfect place for him to make it happen.
"I feel more comfortable on this course than any other course on tour," he said after the last putt dropped. "It looks most like home. Me and my buddy Cameron Colglazier always play good here so we always have confidence."
Rounding out Sunday's lead card will be Chris Dickerson and Casey White, who sit one back of the leaders at 16-under par.
White, a tour rookie who grabbed a share of the lead after blazing to a 10-under in the opening round, proved a lot to himself and his fans when he backed up Friday's performance with an equally impressive showing on Saturday. It was his first time playing live on the Disc Golf Network, as well as his first round filmed by Jomez Pro.
"I'm feeling great," White said after turning in his scorecard. "I was comfortable with the course and I knew that all I had to do was stay away from bogeys. I managed to do that for the most part. I'm ready for another lead card, I'm ready to get out there on the live broadcast and just keep doing what I'm doing."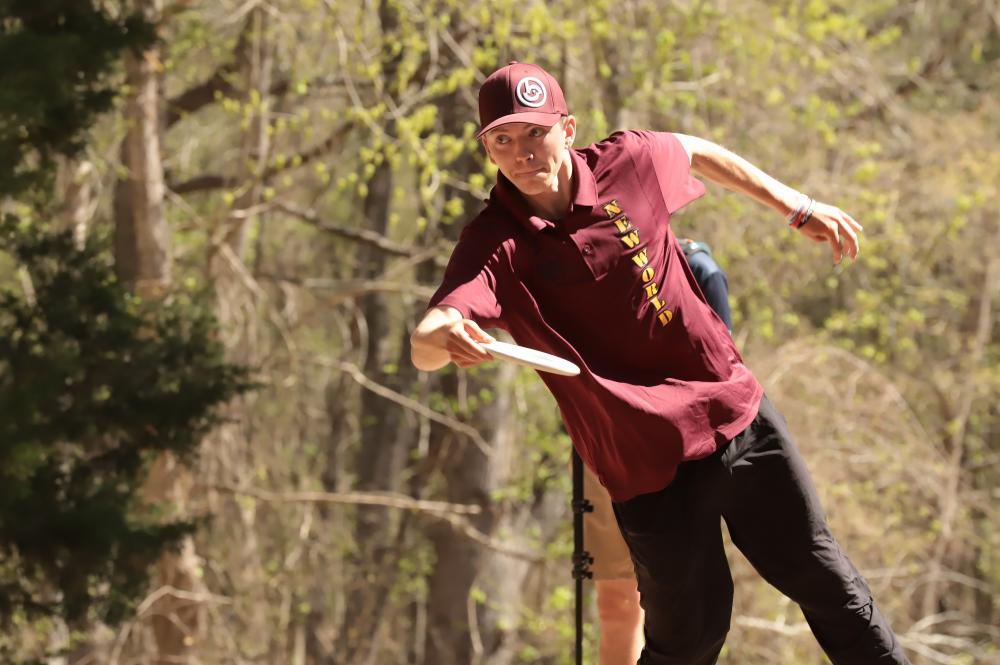 Dickerson, by contrast, looked the part of the steely tour veteran as he battled White after round one co-leader Jeremy Koling fell off the pace.
It wasn't entirely smooth sailing for the 2020 USDGC champ, who got out to a hot start but then cooled off as he struggled to find birdies on the back nine. If he was feeling frustrated, it didn't show. A big step-putt on 16 broke him out of his slump, and he followed it up with another birdie on 17—just enough to punch his ticket onto the final lead card of the weekend.
The leaders won't have much breathing room Sunday as a stacked chase card featuring Kevin Jones (-15), Paul McBeth (-14), Emerson Keith (-14) and Calvin Heimburg (-14) tries to close the gap.
Jones shot a course-record tying 51 that included the tournament's only eagle on the 519-foot 13th.
It was on the same Dogwood course in 2017 where a course-record setting 51 by Bradley Williams thwarted Jones' attempt to lock-down his first A-Tier win at the 14th Annual Piney Woods Open.
Predating the UDisc live scoring era, Jones thought he had come in with the winning score only to find out that Williams had jumped from the fourth card all the way to the top.
This time, it will be Jones—now with his own share of the course record—that will be looking to jump the lead card and add another title to his collection.
Live coverage of the final round of the 26th Annual Texas State Disc Golf Championship kicks off at 1:30 p.m. CT on the Disc Golf Network.