How to Watch the DGPT - Portland Open
How to Watch the DGPT - Portland Open
A New Venue Debuts on the PDGA Elite Series
Wednesday, June 2, 2021 - 14:13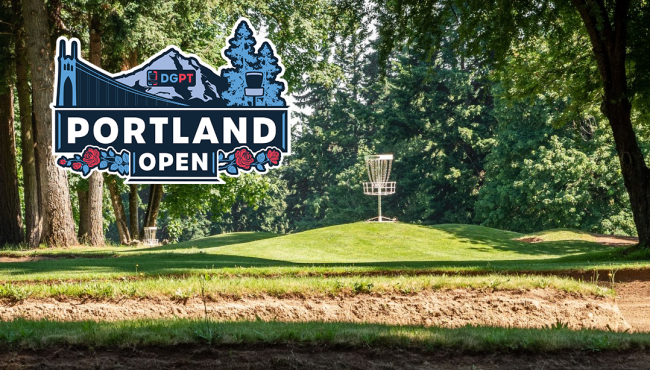 It's time for some disc golf in the Pacific Northwest.
A few days removed from the PDGA National Tour - Santa Cruz Masters Cup, the Disc Golf Pro Tour resumes with the 2021 Portland Open with the action kicking off Friday for the three-round event.
Debuting this year at the Portland Open is the Glendoveer Golf Course, a golf course track that features towering trees and picturesque fairways. It also features distance. The MPO layout checks in at 12,969 feet at Par 67 and the FPO field will battle a 10,522-foot, Par-70 layout.
The course, which replaces Blue Lake Regional Park due to COVID-19 restrictions in Portland, was designed by professional course designer and touring professional, Dustin Keegan.
Drew Gibson and Paige Pierce are the reigning Portland Open champions from 2019 and both will face a stacked field this weekend to defend their titles.
Gibson is fresh off a fifth-place finish at the Masters Cup, his fourth Top 5 finish at an Elite Series tournament this season. Gibson won the inaugural 2019 event in a playoff over Eagle McMahon.
Pierce, meanwhile, made it three-straight wins with her fifth Masters Cup and 25th PDGA National Tour title this past weekend in Santa Cruz, which followed her 16th PDGA Major title at the United States Women's Disc Golf Championship. Pierce took a shot-win over Catrina Allen in 2019 at Blue Lake, site of the 2014 PDGA Professional Disc Golf World Championship.
But the field is stacked, including Masters Cup MPO champion Adam Hammes and Simon Lizotte, who is set for his second Elite Series tournament of 2021. James Proctor, who finished second in Santa Cruz, is also back in action. On the FPO side, Catrina Allen is in the mix and Juliana Korver returns to the FPO field for what promises to be an exciting weekend in Portland.
It's time once again for some disc golf in the PNW.
Here's everything else you need to know to catch the action this weekend:
Tee Time & Round Ratings
Official scores, tee times and round ratings can be found at the official event page on PDGA.com.
Live Video Coverage 
Disc Golf Network | Subscribe 
The Disc Golf Network (DGN) is the new home of live disc golf. Built by the Disc Golf Pro Tour, the DGN is a subscription streaming and on-demand platform much like Netflix or Disney+. Covering the world's best players competing in the sport's most elite tournaments, a subscription includes post-produced coverage of select disc golf tournaments as well as exclusive disc golf shows, touring pro interview series, podcasts, and other segments only available on the Disc Golf Network. The DGN offers a PDGA Member discount of 50% to all active members bringing the cost down to $4.49/month.
Friday's MPO Feature Card live on DGN will feature Ricky Wysocki, Drew Gibson, Ty Love and Calvin Heimburg
Paige Pierce, Madison Tomaino, Zoe AnDyke and Ella Hansen will be on the live FPO Feature Card.
Live coverage begins at 2 p.m. PT with the MPO feature card teeing at 2:24 p.m. PT and the FPO feature card hitting the course at 4:05 p.m. PT.
In addition to the DGN, the live broadcast for both divisions will be simulcast free on the DGPT YouTube channel for the final round only on Sunday, June 6.
DGPT Press Conference | Watch
Hear from some of the players before the action gets going during a press conference from 2-4 p.m. PT on Thursday live on the DGPT's YouTube channel. Here is the tentative schedule for the press conference (all times PT):
2 p.m.: Jeff Spring
2:10 p.m.: Drew Gibson
2:20 p.m.: Paige Pierce
2:30 p.m.: Eagle McMahon
2:40 p.m.: Catrina Allen
2:50 p.m.: Adam Hammes
3 p.m.: Ella Hansen
3:10 p.m.: Dustin Keegan
3:20 p.m.: Zoe AnDyke
3:30 p.m.: Ricky Wysocki
3:40 p.m.: Juliana Korver
3:50 p.m.: Break
4 p.m.: Kona Panis
Instant Scoring
With more stats than you can shake a stick at, keep an eye on UDisc Live all week for in-the-moment moves from the tournament's stacked DGPT field. 
Limited In-Person Spectating Allowed
The Portland Open will be operating in Phase 2 of the COVID-19 Requirements and Best Practices for PDGA Elite Series Events, which allows caddies and limited in-person spectating.
Post Production Video Coverage 
Jomez Productions | Subscribe 
Open Lead Card / MPO Round 1 Feature Card: Eagle McMahon, Nikko Locastro, Simon Lizotte, Dustin Keegan
JomezPro will be on hand at every DGPT event in 2021 to bring their eye-catching stylings to the Open feature and lead card each day, putting post-produced coverage of the world's best disc golfers in front of more than 280,000 subscribers.
Gatekeeper Media | Subscribe 
Open Chase Card / MPO Round 1 Feature Card: Chris Clemons, Scott Withers, Paul McBeth, Joel Freeman
Get ready for some Rewinds! Gatekeeper Media will be on hand throughout the 2021 season providing coverage from the MPO chase card.
Open Women's Lead Card / Round 1 FPO Feature Card: Catrina Allen, Erika Stinchcomb, Juliana Korver, Hailey King
GK Pro will be covering the lead women's cards for the DPGT this season. Paige Pierce is back in action after an up-and-down start to the season. Will Pierce grab the win in Stockton? It'll be on GK Pro. 
Open Women's Chase Card / Round 1 FPO Feature Card: Cynthia Ricciotti, Ohn Scoggins, Amy Lewis, Missy Gannon
Bird-Watch Productions —or BDub Pro for short — is making their post-production debut on the Elite Series and will be providing coverage from the women's chase card every round.
Articles
Check back to PDGA.com daily for a recap of all of the action from the 2021 Elite Series.
Or, you can head to the Disc Golf Pro Tour's home on the internet for daily coverage, too.
DGPT & PDGA Social Media
Disc Golf Pro Tour
DGPT Media will be on the ground all week bringing the sights and sounds from the event. Whether it's behind the scenes shenanigans on Instagram stories or photos and interviews on Facebook, they'll be communicating across all of their platforms for the week. Plus, be sure to subscribe to the Disc Golf Network and the DGPT YouTube channel, where the live coverage will be simulcast as well!
PDGA