Pierce Captures 25th National Tour Win in Drama-Free Finale
Pierce Captures 25th National Tour Win in Drama-Free Finale
National Tour - Masters Cup FPO Day 3 Recap
Monday, May 31, 2021 - 14:45
SANTA CRUZ, California – When, two holes into the 24-hole finale of the Santa Cruz Masters Cup, Paige Pierce missed a circle 1 putt to let Kona Star Panis back within two shots of the lead, it looked like we might have a battle on our hands.
But on the very next hole—a straight corridor shot with dense sloping rough on either side of the ridge leading up to the famed 'top of the world'— Pierce would make birdie while Panis struggled to keep her disc on the fairway and ultimately missed a circle 1 putt of her own to make double bogey.
It was a three-stroke swing and—just like that—the drama had left the building.
Hopes for a comeback flickered for a moment. On hole 4—the 'top of the world'—Panis absolutely parked her 516-foot drive after Pierce had landed just inside circle's edge. A miss by Pierce would have given one back, but it was not to be—Pierce hit center chains from 27 feet.
Pierce did give one back on hole 5, missing again from circle 1, but Panis returned the favor and then some on hole 6, carding a triple bogey after opting to re-tee when her drive stood up and rolled several hundred feet down the hill.
2021 National Tour Points Series Standings »
From there on out Pierce was never really threatened despite a mediocre round that was weighed down by a 36% putting performance from C1x (granted—some of those misses were intentional layups as Pierce minimized risk while cruising to victory).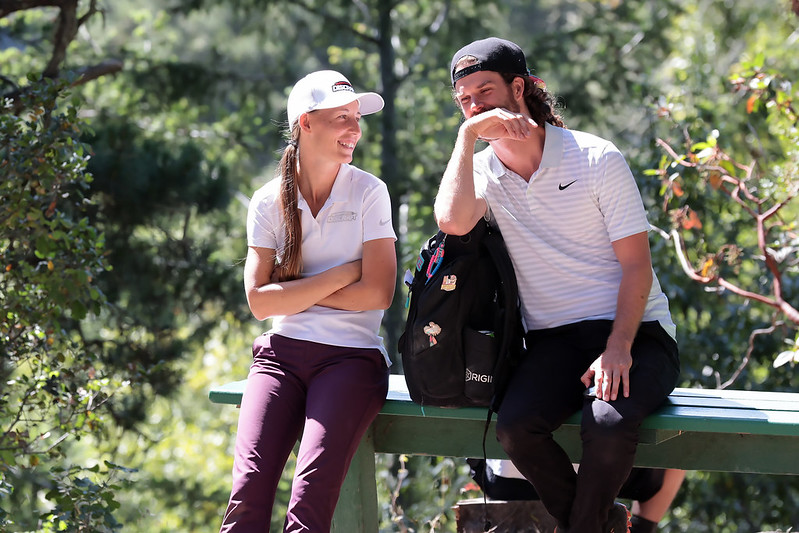 She finished with a 4-over 79 for the round to earn a 5-stroke victory over Catrina Allen, who matched the day's hot round at 1-over.
"It's kind of bitter-sweet," Pierce said after lifting the trophy. "It's a win, but today was not an acceptable performance. I got lucky today that nobody really put up a good score. Nobody shot under par at all, so I was able to walk away with the win. I think any other day, things would have gone another way.
Complete coverage from the National Tour - Santa Cruz Masters Cup »
The win marks the third-consecutive victory at Elite Series or PDGA Major events for Pierce following a brief hiatus from the tour in April, a streak which she thinks will put her competitors on notice as the tour begins to turn towards Pro Worlds, which is set to take place June 22-26 in Ogden, Utah.
"It's more of a statement piece for my competitors more so than me," she said. "I know that my game is feeling good and I don't necessarily need the win to feel that. It's that intimidation factor where, 'Oh, Paige has won three in a row, I don't know if I can beat her.' So, that gives me a huge advantage if my competition is feeling that way. So, whatever it takes to get an edge—that's what I'm shooting for."
Pierce will have a chance to make it four-in-a-row as the tour heads north for the DGPT-Portland Open, June 4-6.