Hammes Snags First Big Win, Joins Elite Company in Santa Cruz
Hammes Snags First Big Win, Joins Elite Company in Santa Cruz
National Tour - Masters Cup MPO Day 3 Recap
Monday, May 31, 2021 - 19:38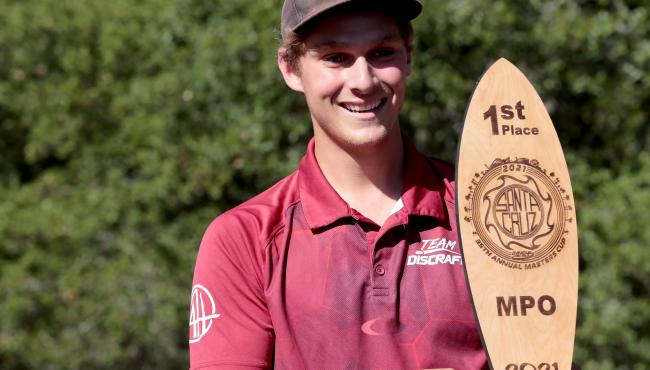 SANTA CRUZ, California – Adam Hammes showed no emotion when things were going good or bad with his sights set on the biggest win of his young and blossoming career.
Sure, there were minor fist pumps and the occasional look of disgust when things went sideways, as they can often do at DeLaveaga.
But once the final putt was tapped in and he was the champion of the 35th Annual Santa Cruz Masters Cup presented by Innova, a PDGA National Tour event, that all changed.
"It's amazing – it's kicked in now," Hammes said, taking a moment to gather himself. "To be able to have my name with the list of players and former champions from this course and everything that goes with this tournament. Just like the history of DeLa and to be amongst those top players that have won in the past is unbelievable.
"It's a dream come true."
DeLa takes a complete golf game – the shot shaping, the angle control, the speed control and the finesse. It also takes, perhaps with an even bigger impact, the mental game with the rollaways, the cliffs, the trees and the roots that can punish the slightest miscues and attempt to derail a round.
Hammes handled all of that with the poise of some of the names that accompany this tournament in MPO Ken Climo, Paul McBeth, Steve Rico and so on.
Complete coverage from the National Tour - Santa Cruz Masters Cup »
His putting was superb throughout but particularly in Sunday's finale, of which he entered in a tie with Kevin Jones.
He followed a 60-foot birdie on hole 2 with a 49-foot jam on three. He added birdies on 18 and 19 after two bogies allowed Jones to catch back up and James Proctor, surging from the chase card, to enter the conversation.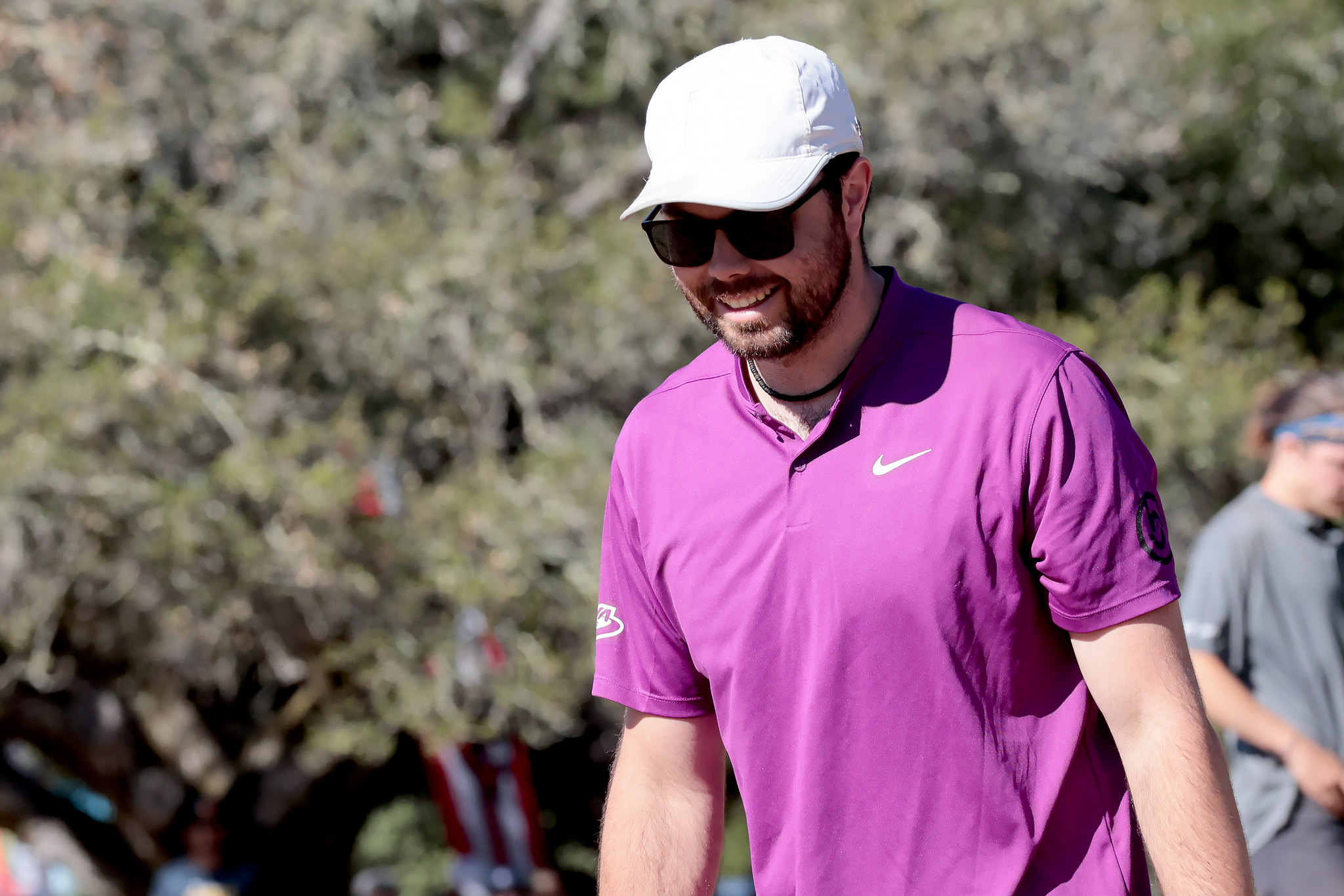 \
"No moment to breath out here," Hammes said. "It doesn't matter if you're up two, three, four, five, six out here. I was up six in the second round and Kevin tied me up going into the final. No lead out here is safe. You're never comfortable, that's for sure."
The two biggest putts, however, didn't go on the scorecard as birdies. On 20, the Gravity hole, DeLa tried one last attempt to get the wire-to-wire leader. A rollaway on this birdie attempt dropped Hammes back to Circle 2. He cashed it.
On 21, with the steepest of cliffs maybe on the entire track dead square behind the basket, Hammes faced a par putt of 38 feet. Money, once again.
"I was just trying to take it shot by shot," he said. "If you throw a bad tee shot, once you get to the lie then you focus on the putt. Take an extra deep breath, just like I said all week. Trying to stay smooth, because smooth is good out here."
Those two putts sealed it for Hammes, who snagged his first Elite Series victory, by a single stroke and 33-under total. Proctor fired the hot round of the finale on Sunday at 13-under to finish in second. Jones rounded out the podium at 30-under.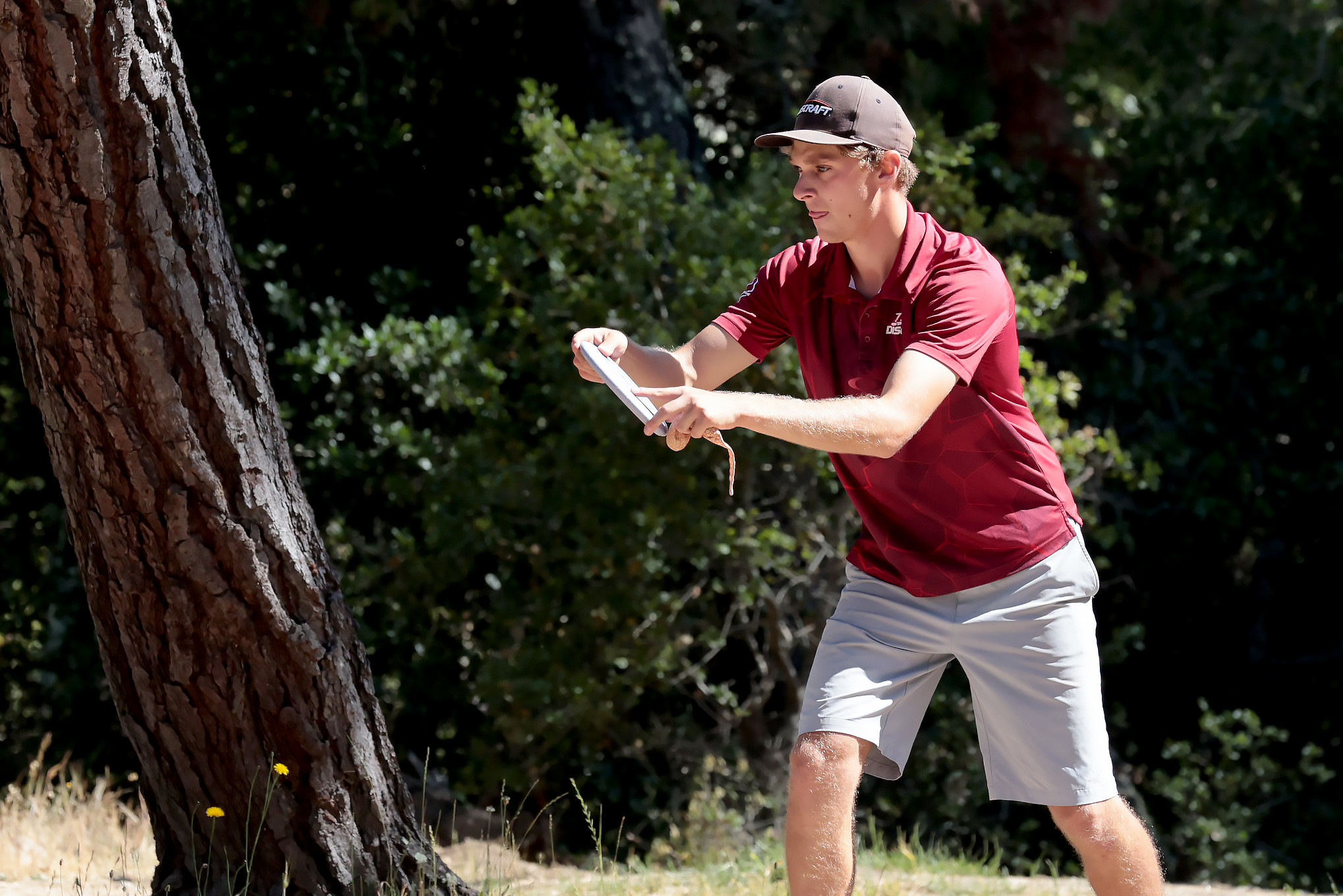 \
Paul McBeth jumped four spots into solo fourth place at 29-under. Gregg Barsby rose seven spots with a 12-under finale to round out the top five at 27-under with Drew Gibson and Kyle Klein.
Hammes led the field in C1X putting at 92% on the weekend, hit on 33% percent from Circle 2 and was first in strokes gained putting at 9.69, according to UDisc.
He birded half of the 72 holes, which means it's safe to say that he conquered DeLa and earned his spot in Masters Cup history.
But, if you listened to Hammes throughout the week as he was blistering the course, he was just as proud of his composure as he was of his golf.
Those two things are required for champions on the hill that overlooks Santa Cruz.
"This is huge for me, this is exactly what I wanted to do," Hammes said. "Just being calm on the course and not getting angry. I've been known for that in the past. Just staying calm, starting the round positive and finishing the round positive has been a big thing for me lately.
"That's what I wanted to come out here and do, and I did it."
Pierce Captures 25th National Tour Win in Drama-Free Finale »