Hot Putter Keeps McBeth On Track In Delaware
Hot Putter Keeps McBeth On Track In Delaware
Paju holds in second, while Wysocki overcomes mental hurdles to move to third
Saturday, September 15, 2018 - 21:57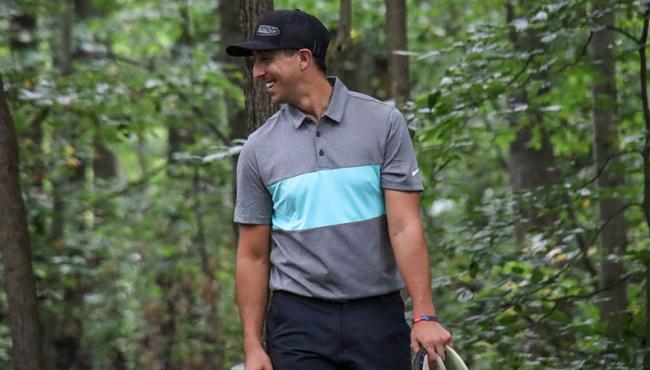 There was plenty to talk about with Paul McBeth after another 11-under par 61 at Iron Hill Disc Golf Course kept him on top of the Delaware Disc Golf Challenge leaderboard. There was the fact that his round was bogey-free but that, as opposed to Friday's back-nine birdiefest, the scoring came in chunks. Then there was the status of the foot he injured during round one.
But something else was at top of mind for disc golf's highest rated player.
"I just want you to note the five outside-the-circle putts," he quipped.
Yes. Those were impressive, too.
McBeth takes a two-stroke lead into Sunday's final with a 22-under par 122, while Seppo Paju held onto second place with his own 11-under that moved him to a 20-under par total through two rounds. Eleven was also the lucky number for Ricky Wysocki, who tossed the same score as McBeth and Paju to move up to third place with a 19-under par 125, while Paul Ulibarri slipped to fourth place after an 8-under par 34 put his 36-hole total at 17-down.
Before McBeth could take to the course, there was the matter of his left foot to tend to. He struck it on the corner of hole 2's tee pad on Friday, but he said that once he got out of bed and got moving Saturday morning he knew it wouldn't be a problem during round two – even if that same teeing surface proved problematic.
"Everyone on the card did slip on hole 2 again," McBeth said, "even though it was completely dry out here."
With pain never a factor, McBeth instead inflicted some on the chains. The four-time world champion was locked in with the putter from the outset, starting his first stretch of birdies with a 40-footer on the 660-foot, par-4 3rd, but quickly followed by taking it out of the equation with park jobs on 5 and 6. He called upon it again on hole 7, though, firing from 60 feet and connecting for a much-needed par save.
"It's always different, it's always changing at each course," McBeth said of his long-range accuracy. "It's something you don't think about tournament to tournament…You don't get to practice [outside-the-circle putts] a lot. That was my issue – I wasn't practicing them a lot. After Worlds I was like, 'Oh crap, I need to turn this around. I need to get that dialed.'"
McBeth added three more 40-footers on the back nine to bring his circle 2 round percentage up to 71; he's leading the tournament by hitting 58 percent total from beyond the arc. Even as that means some of his drives and approaches haven't been close enough to put him into easy birdie territory – although his 25 percent parked rate also paces the field, and he's landed in circle 1 in regulation on half of his holes – he was taking advantage of a mantra an old friend drilled into his head back in his early touring days.
"It's 'give yourself a look,'" McBeth said. "I was with Dan Sisk…he would write it up on the wall when we stayed together: 'opportunity equals victory.' And that's what it is. No, you might not park it every time, but if you give yourself a chance to make a putt you're gonna give yourself a chance to win."
Wysocki, who did the same on the green as his closest rival, echoed a similar refrain. The Ohio native connected on three putts from circle 2 as he lit up Iron Hill's opening stretch, including a 50-footer – per live scoring stats, at least – for eagle on the par-5 5th to go 6-under through the first handful of holes. Wysocki, though, said his Explorer tee shot and second shot with an Enforcer put him closer than the scoresheet said.
"I was basically inside the circle," he said. "I just had to clean it up. It wasn't like I was scrambling at all – I threw two perfect shots."
Wysocki was on pace to break the course record of 59 after his turkey on holes 8 through 10, but he fell off during a sluggish back nine where he continued to get looks from circle 2 but couldn't convert. He closed with a bogey on the par-4 18th, but wasn't planning on taking the blemish with him into the final.
"I think all in all I played well. The only hole I'd like to take back is 18," Wysocki said. "Just got a really bad kick – that's just how Iron Hill is."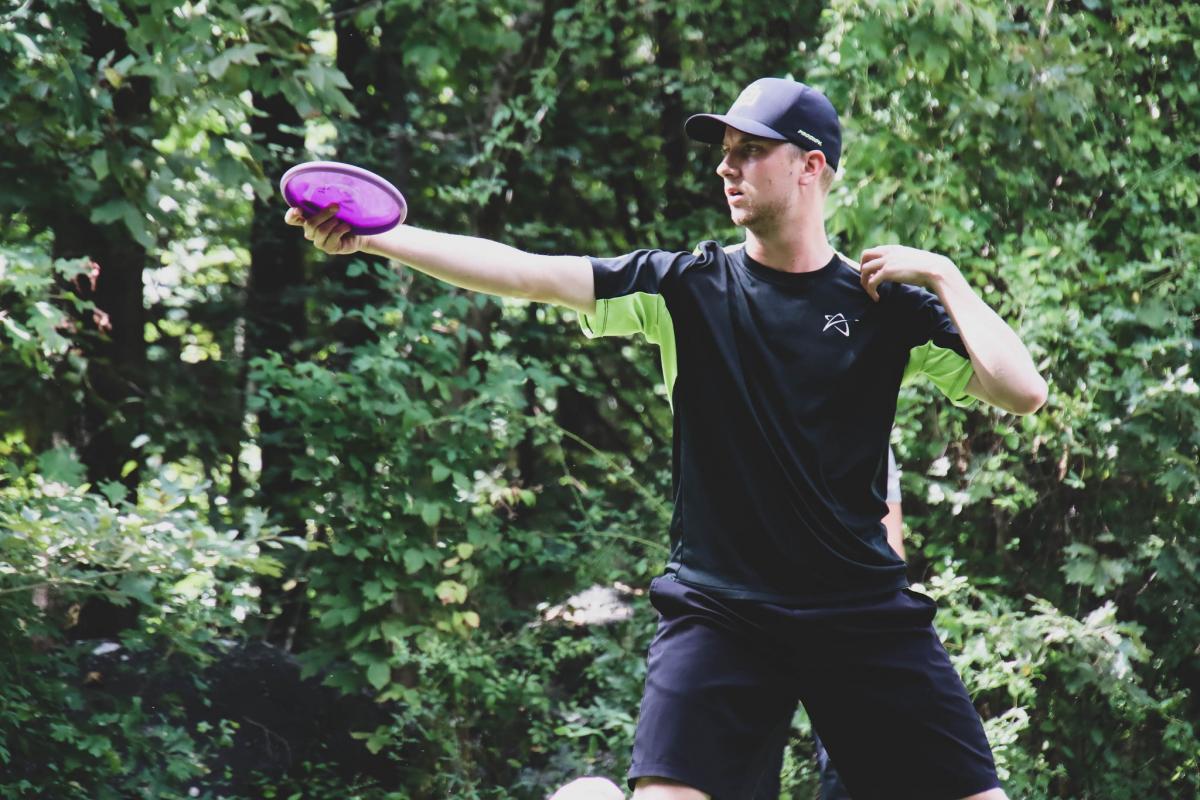 Paju, meanwhile, said his round came easily. After offsetting an opening hole birdie with a bogey on 2, he fired off six straight shots under par. On four of those six holes he was inside circle 1 in regulation, and he leads the field in that measure with a 56 percent clip for the tournament.
That all makes sense for the player Wysocki called a "genius thrower," and Paju was appreciative of the high praise.
"It does feel nice," Paju said. "In the last two Majors – in the only two Majors this year – I've been number one in all the throwing statistics…It's proven to me, and it's nice to hear that others are recognizing that I might be a pretty good thrower, and I think it's showing in the scores. Now that I'm getting my putting together, I think everything's starting to look better."
The rest of the top 10 saw a substantial shuffle-up on moving day. Jeremy Koling and Zach Melton both tossed 8-unders to move up one slot and into a fifth-place tie at 16-under overall. Calvin Heimburg, James Conrad, and Silver Lätt all moved up two places and into a tie for seventh place, while Eagle McMahon rocketed up seven spots and into the same position at 14-under.
Coming off a disappointing 39th place showing at Pro Worlds, McMahon said that the quick turnaround from Vermont, while "strange," gave him a "shot at redemption." His 120-footer to save par on the 600-foot 11th was a highlight, and it kept his scorecard clean through 36 holes at Iron Hill.
"I was not too happy, because I didn't have a bogey the whole tournament up until that point – I was thinking I was going to bogey," McMahon said. "I was looking at the basket, lined up and gave it a little extra juice compared to other putts…Just dead center chains."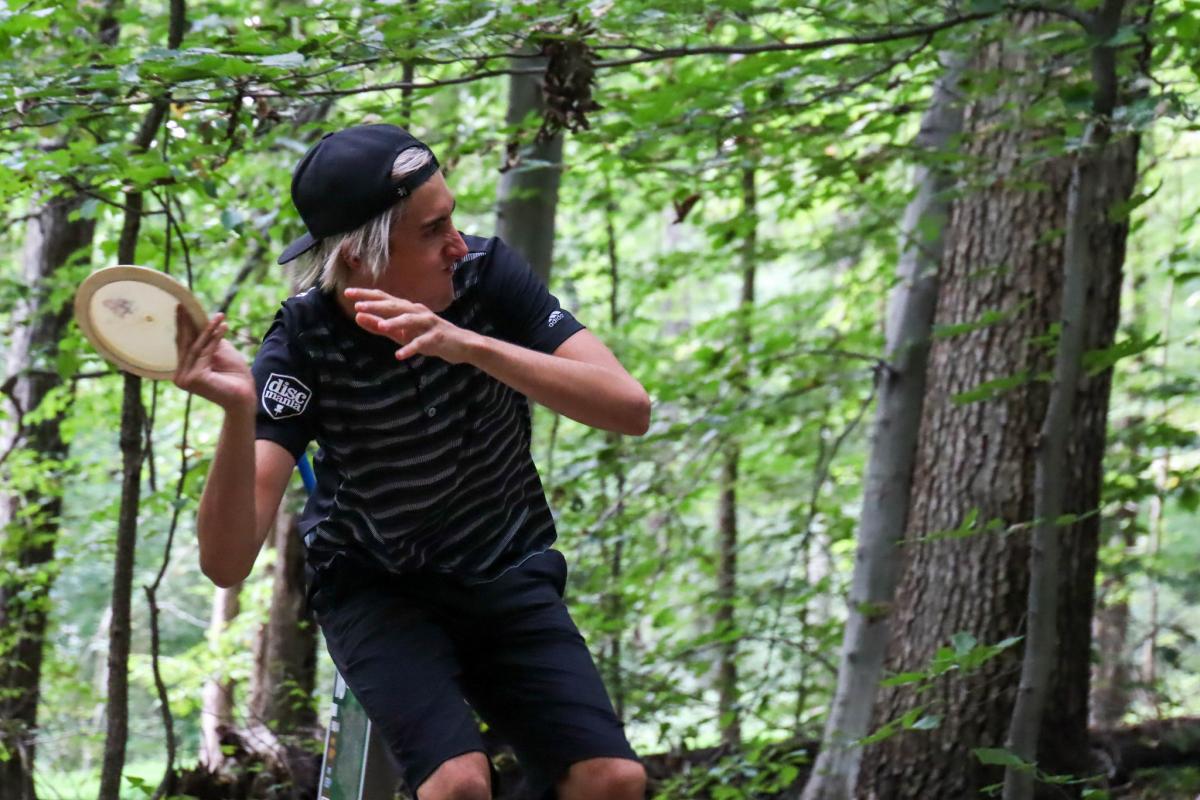 The current PDGA National Tour points leader said he is looking to make a final-round push to the podium Sunday as he tries to solidify his hold on the season-long series.
"I don't wanna put too much pressure on myself, but I know I need to get off to a hot start," McMahon said. "Every day I've missed hole 1, 2, 3, so I need to kinda get maybe a bit hotter of a start and challenge the course record if I want any chance of maybe coming in podium.
"I want to get fourth or better, because with the way the NT points work I'm in a pretty good situation," he continued. "Even if Ricky wins tomorrow I'm still gonna be ahead of him in terms of points, but I need to get better than fifth tomorrow because fifth is my worst finish. If I could get fourth or third and drop off my fifth that would be good."
For Wysocki to take that victory, he'll need to bring the right mindset. He admitted to being "burned out" the last few weeks, and that even his early-round performances in Delaware haven't been up to his standard. Still, he said he'd be prepared for yet another Sunday showdown with McBeth.
"It's like going through the motions," Wysocki said. "It's not a good thing, it's just part of the game. I'm still feeling good for tomorrow. I feel like I can have a chance to win, and that's what I show up to tournaments for: to have a chance to win on the final day. That's what keeps me coming back."
McBeth said he expected the final round to be more about head-to-head battles than course management, and that another bogey-free round would be what he needed to pull off the win. While pages have been spilled on his tilts with Wysocki over the years, Paju introduces a newer face to the mix – one that, admittedly, McBeth has a hard time diagnosing.
"He has what it takes," McBeth said. "He was beating me today. I had two strokes on him today and he was beating me at some points. So he has what it takes.
"He is pretty mild-mannered, and he's got the European mindset – you can't read them," McBeth continued. "It's really rare that you find a European player where you can read who they are… He's a Finnish champion. That speaks for itself. You don't just stumble upon a national championship."
Paju spent Saturday evening getting his mind right at the movies, although his cinematic choice – the horror flick The Nun – might not align with that even temper McBeth mentioned. Still, the 23-year-old was hoping to look not at the world champions on his card, but instead himself as he seeks his first signature victory in the United States.
"It's just gonna be playing my own game, because it doesn't help you if you start to compare yourself to others," Paju said. "I feel like if I play another 11-down tomorrow I give it a good chance. I'm just going there and trying to do my best.
"I'm not really trying to win," he continued. "I'm just trying to do my best."
The Open lead card tees off at 2 p.m. ET, with real-time scoring and statistics available at UDisc Live.