Finnish Phenom Salonen To Play Las Vegas Challenge, Memorial
Finnish Phenom Salonen To Play Las Vegas Challenge, Memorial
Deep FPO fields get deeper
Wednesday, January 16, 2019 - 13:29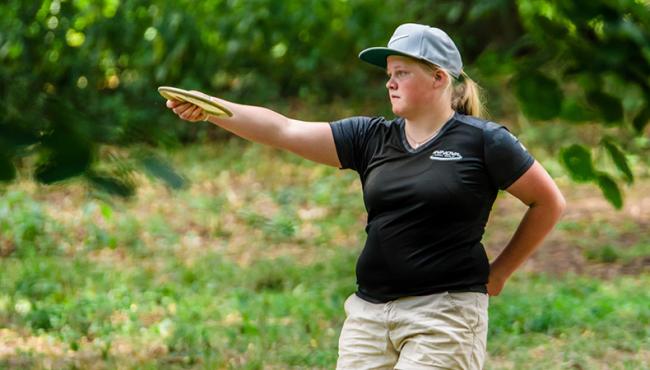 The Las Vegas Challenge and Memorial Championship are the first Elite Series tournaments of the 2019 season, and 952-rated Finn Eveliina Salonen will hop across the pond to compete in both. If you don't know why you should be excited by that, here are a few of the accomplishments the 19-year-old added to her resume in 2018:
She won the Konopiště Open, marking the first PDGA major victory by a European player (male or female) since 2010.
Of the 12 events Salonen played last year, 10 were A-tiers, one was a Major, and the other a B-tier. She never finished lower than second place and notched five victories.
Just 18 years old at the time, Salonen logged a win over Paige Pierce, the highest-rated women's player in the world, at the Skellefteå Open in Sweden.
She bested Catrina Allen, who is No. 4 on the PDGA World Rankings list, twice: once in Skellefteå, and once at Konopiště.
Salonen ended the 2018 season as the second-highest rated European woman, behind only Henna Blomroos, the lone player to beat her last year.
She is the reigning EuroPro Tour Champion.
In 2017 Salonen made a similar trip, finishing fourth in Las Vegas and sixth at the Memorial. Along with improving those results, she has other hopes for her trip this year.
"This time my goals are to play better than last time, have a nice trip, and of course learn more English!" Salonen said. "I'm most excited to see all the pro U.S. players again and compete against them on beautiful and challenging courses."
And, given that her hometown of Valkeakoski, Finland, has average highs of 25°F/ -4°C in February and 33°F/1°C in March, it's little surprise that Salonen is also "looking forward to the warm weather."
Salonen also thinks there's a possibility that good showings at these events could lead to future travels to stateside tournaments, a possibility she is very open to.
"The only thing stopping me [from touring longer] is the lack of people touring with me," Salonen said. "I am only 19, so I can't drive everywhere."
So, our question is: Who's got room on the tour bus?