Fearless Anthon Finds Masters Cup Lead
Fearless Anthon Finds Masters Cup Lead
Brathwaite moves to second, while Meintsma makes National Tour lead card debut
Sunday, May 20, 2018 - 14:50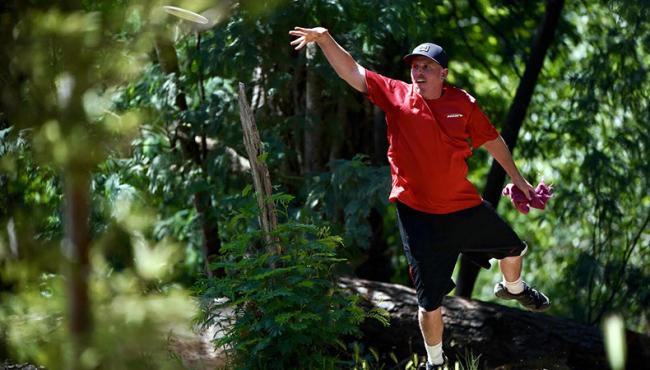 SANTA CRUZ, Calif. – Faced with a 40-foot death putt for birdie on DeLaveaga's 8a Saturday, Josh Anthon had two choices: Run it, or play it safe. One of those options was never, realistically, in play.
The Northern California native lofted a putt with a slight signature wobble out of his hand, but it careened off the basket and rolled another 20 feet in the opposite direction. Undeterred, he calmly made the comebacker, collected his bogey, and proceeded to do what many players in his position would not: continue to fearlessly run at the chains.
That approach is ingrained in his disc golf DNA, and though he ended up taking the putter out of the equation for the most of the rest of his 8-under par 64 performance, the bombastic style rubbed off on the rest of his game. Anthon now leads the Masters Cup with a 15-under par 129 after 48 holes at DeLaveaga and heads down the hill to today's final at the golf course with a one-shot margin.
Philo Brathwaite tossed a 6-under par 66 to move up one slot on the leaderboard and into a tie for second place with Ricky Wysocki, who struggled inside the circle late in the round on the way to a 4-under par 68; the pair sit with a 14-under par 130 overall. Noah Meintsma, a 20-year-old Minnesota pro, will make his National Tour final round lead card debut after his own 6-under par moved him to 13-under for the weekend and into sole possession of fourth place.
Anthon, who grew up playing a similar track at Shady Oaks near Sacramento, said his strength on the green came from a combination of guts and experience.
"You gotta have both, or it don't work," he said.
He again put both to the test, this time successfully, on the 550-foot 13th, better known as "I-5." After he pitched his second shot out of the schule, Anthon was left with a 50-foot putt through a window in some curved oak branches. He took aim and pierced the gap for a staggering par save.
"That was probably one of the best putts of the tournament," Anthon said. "That one and the first hole of the tournament, hole one. Had one little gap – smaller than making a putt – and had to go through that at the right speed to make it into the basket."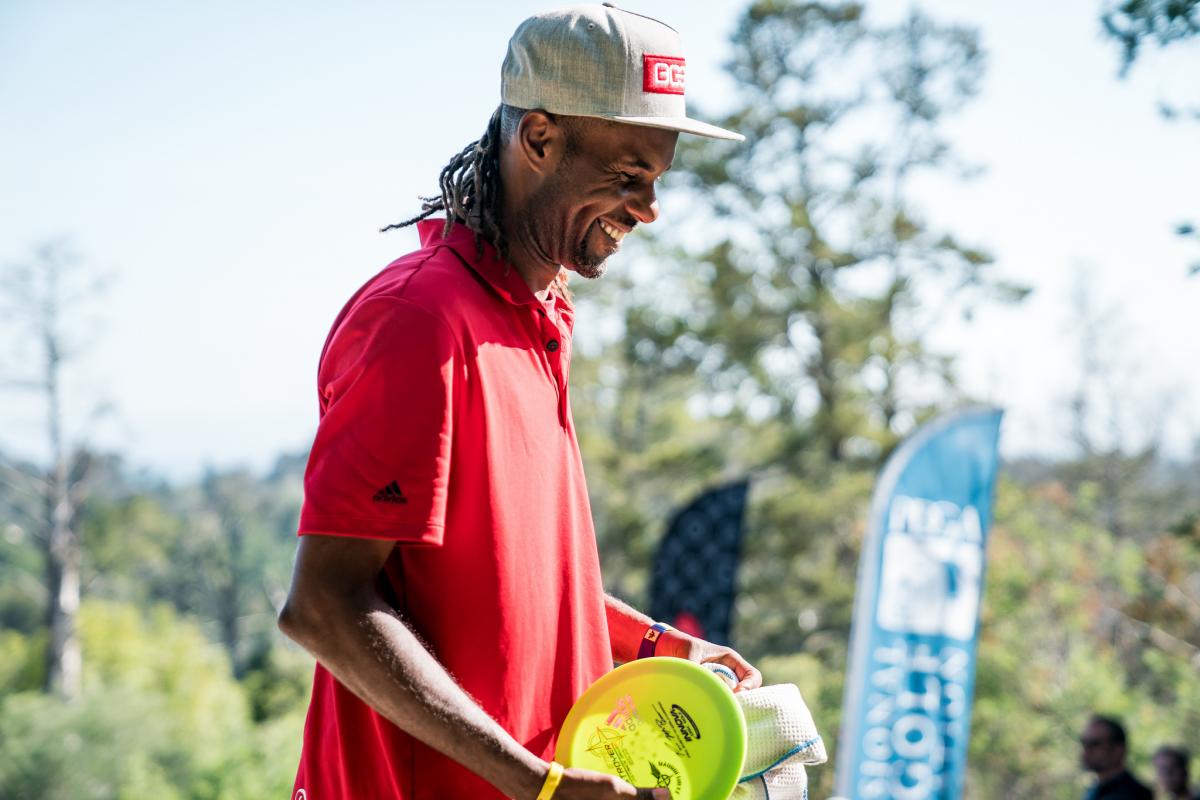 As Anthon rode that high, both Brathwaite and Wysocki found their low points at various times in the round. For the former, that came while lining up an approach on hole 10. The gallery following the chase card found a snake on the course and caused a bit of a ruckus, while Brathwaite said broke his concentration.
"It kinda threw me off of my rhythm," Brathwaite said. "I was all ready to go, and then all that commotion broke out and I didn't do a good job of settling down and refocusing, and I gave up that bogey stroke on that hole with a bad upshot. After that it was clean…I'm not gonna complain about some pars."
For Wysocki, his normal hot putting went cold in a big way as the card rounded into DeLa's second half. He missed three putts inside the circle in the last six holes and went 2-over par on the stretch to cede control of the leaderboard. The two-time PDGA World Champion spent much of his time on the late holes scolding himself, at one point slamming his putter into his bag so hard that it tipped over.
Meintsma played another accurate round, as the third-year pro hit circle 2 in regulation on 72 percent of his opportunities. The tight lines at DeLa remind him of his Minnesota home, but he said he would do his best to adjust when tackling the golf course.
"I'm not as big [of an arm], I'm more of a line player," Meintsma said. "But I think I can still manage – those par 4s aren't very long. If I can break them down – I'm not gonna be eagling those holes or running them for eagle, but I'm definitely gonna be trying to get birdies on the ones I'm attacking and play safe on some of the harder ones I played last year that bit me."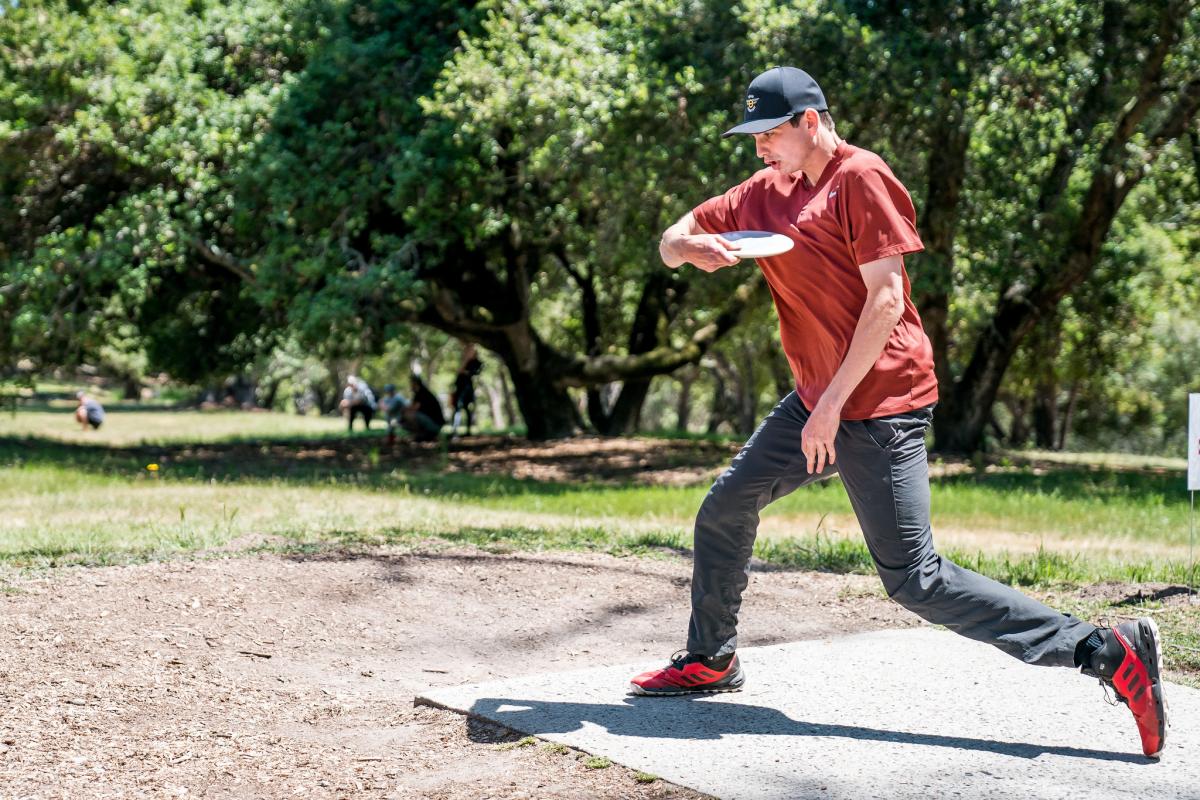 Elsewhere on the course, several players who struggled in round one recovered in fine fashion on moving day. Eagle McMahon tossed the day's hot score with a 9-under par 63 that moved him up 24 spots and into a tie for 14th place, while both Grady Shue and Nate Doss notched 8-under par showings to move into the top 10.
"DeLaveaga – this is the one reason this is such a  good tournament, and it has been for a long time – you never know what you're gonna get out here," Doss said. "…Today I didn't have any bogeys. When I come out here and play, my goal is to be bogey-free. I know if I go bogey-free I'm gonna shoot a low round."
Brathwaite lamented the fact that he couldn't take one more crack at DeLa – although he was spotted playing a round of stick-and-ball golf after the round – and was hoping to make some magic out of his trip down the hill.
"It's another golf course – you've gotta create your own destiny just like every other round," he said. "It's just a different style of golf course, where unfortunately I don't really have the long arm to make the course easy on myself. A lot of placement shots, and the second shots are gonna be real important to give myself chances to score."
Anthon, on the other hand, was confident he'd have no issues with the track and even got an extra 12 holes of practice in on the layout Saturday evening.
"It's not just wide open – there's a variety of shots," Anthon said. "There's lines you gotta hit. They really mix that course up well. I'm feeling great going in there. I can reach all the holes that need to be reached. Yeah, on some of the par 4s they might be a little bit farther down, but I can still reach it and get my birdie. That's what counts."
Anthon and the rest of the lead card tee off at 2:30 p.m. PT, with real-time scoring and statistics available via UDisc Live.