Eight Players Left Standing at DGPT Finale
Eight Players Left Standing at DGPT Finale
Disc Golf Pro Tour Championship Day 3 Recap
Saturday, October 17, 2020 - 20:54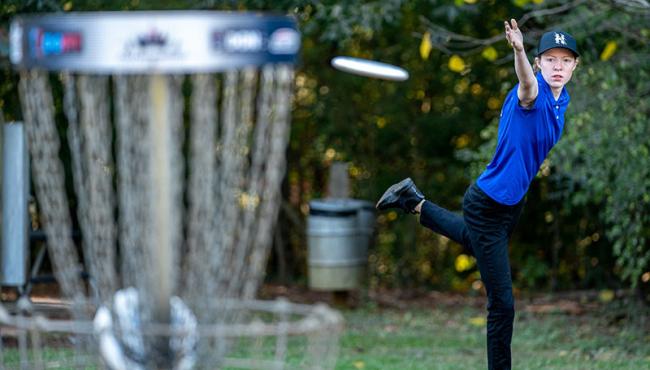 Eight players and 36 holes remain in the 2020 Disc Golf Pro Tour season.
And what a wild ride it's been.
From the Memorial, a shutdown with a restart and all the way through Saturday's semifinals of the 2020 DGPT Championship at the Hornet's Nest in Charlotte, North Carolina, this season is wrapping up the same way it started.
But's not over yet. Far from it.
Saturday featured a wild and drama-filled penultimate round until the very end as eight in the FPO field and 12 in MPO battled the track and one another for a spot in Sunday's finale.
The drama wasn't quite as high for some, like Hailey King, who built an early lead and held on for the hot round of the day, and Calvin Heimburg, who could do no wrong as he watched others scrape and claw for every stroke.
King birdied three holes on the front nine, more than any other competitor left, and finished with an even-par 55 round, two better than the trio of Paige Pierce, Catrina Allen and Lisa Fajkus.
After a 2-under through three start, King kept in the middle for the most part and played clean outside of three single bogeys. She led the field in fairway hits at 78%. Pierce and Allen recovered from big numbers early on the back nine and cleaned it up on the gauntlet of a back nineto stay in the mix. Fajkus, like King, remained steady, rattling off 11-straight bogey-free holes to claim the final spot in Sunday's finale.
Heimburg torched Hornet's Nest to the tune of a 10-under, 1081-rated 54 — the only bogey-free round of the semifinals and just the third of the event. He grabbed birdies on three of the five toughest holes, according to UDisc, on holes 1, 4 and 14.
World Champion and Disc Golf Network commentator Nate Doss described it best.
"He's doing whatever he wants out there," Doss said.
Back-to-back DGPT Tour champion and newly-minted USDGC champion Chris Dickerson recovered from a slow start for a 5-under 59, enough to keep him out of the cut-line discussion for the most part.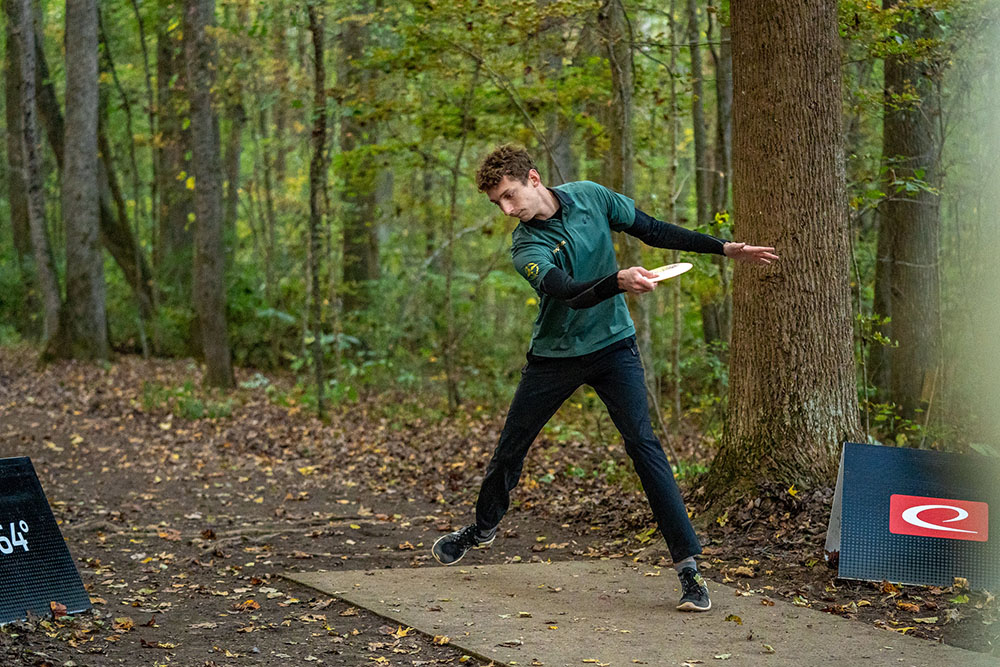 All Austin Hannum could do was wait. His 4-under 60 was right on the line down the stretch and a number he posted over an hour before the final card came in.
That card included Paul McBeth and Ricky Wysocki, who were in the mix until the final five holes. A bogey on 14 and a par on 15 spelled the end for McBeth. For Wysocki, it came down to the 18th after Kevin Jones put his fate in the two-time world champion's hands.
Jones was cruising — 6-under through 10 holes before two bogies in a three-hole stretch. He bounced back with birdies on 14 and 15 before a triple bogey eight on hole 17 made things interesting. On 18, with a birdie securing his spot in Sunday's final, Jones opted to lay up his 60-foot putt to put his fate in Wysocki's hands. A birdie from Wysocki put him in the final four but an errant drive sealed his own fate to send Jones forward.
All eight players will grace the ESPN2 coverage of the event, which is expected to hit the airwaves in late November, according to DGN's Jamie Thomas.
Now, the scores reset to zero and a record purse with a $20,000 first-place prize is on the line.
Buckle up, 2020 is in for a wild finish.
Catch all of the action live on the Disc Golf Network at 9:30 ET for the FPO and 2:30 ET for MPO.