The Drive for Five
The Drive for Five
McBeth, Pierce may be Worlds favorites, but defending champ Barsby says it's 'anybody's game'
Tuesday, August 13, 2019 - 00:16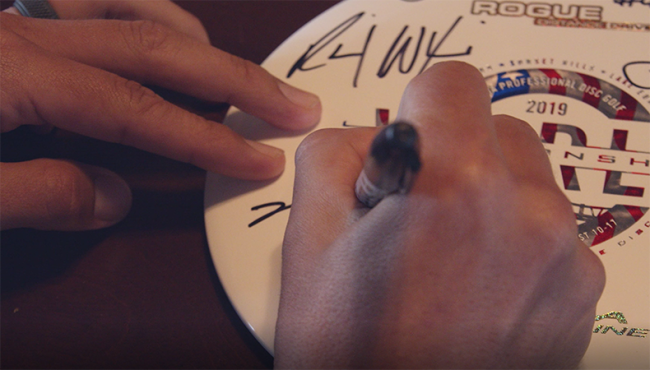 PEORIA, Ill.—The modern era's two most dominant disc golfers weren't exactly their dominant selves last year at the PDGA Professional Disc Golf World Championships in Vermont.
They still both finished in second place.
So as both Paul McBeth and Paige Pierce enter the heartland for this year's iteration of Pro Worlds, they do so once again in search of their fifth career world titles. And they do it with their games peaking at the right time.
Pierce has won seven tournaments in a row. Her lowest finish this season came all the way back in February, when she placed seventh at the Las Vegas Challenge.
McBeth has turned any doubts about an offseason sponsorship change completely on their head, logging 10 victories—including the year's first pro Major with a comeback at the European Open—and breaking his own record for highest player rating by climbing to 1057.
The combination of their recent play and historic performances puts the duo as the odds-on favorites for this week's five-round affair at Sunset Hills, Lake Eureka, and Northwood Park. But neither has carried themselves with the air of a player desperate for another win or particularly motivated any more than usual. Instead, among practice, field events, and media obligations, they've been all business.
"I just want to win this week," McBeth put it simply. "I think it's a great fitting tournament for me—the courses fit very well...This one will be big for me to play well at."
"As it's gotten closer and closer to Worlds I've been more and more motivated," Pierce said. "Just preparing like I haven't done at all this year, and it's continuing on an upswing."
That doesn't mean it's always been easy. 
"There's been a lot of different feelings as 360ish days have gone by," Pierce admitted. "It started out, obviously, like heartbreak and trying to be critical of what happened, what went wrong or just kind of steps I could take to make sure I don't have a disappointment like that again...Just to get myself feeling ready so if I lose at least I did everything I could."
With McBeth and Pierce entering the week as favorites, that necessarily casts a long shadow on the reigning champions, Gregg Barsby and Paige Bjerkaas. The latter started 2019 off with a bang, crashing the chains with a magnificent step putt to oust Catrina Allen in a playoff at the Las Vegas Challenge. After following up with a runner-up showing at the Waco Annual Charity Open, though, her name has fallen down the leaderboards and out of the day-to-day talk about the sport's top competitors—which she said is fair.
"I'll be honest: I have noticed my name isn't really coming up in conversation, and it's legitimate," Bjerkaas said. "It's been Paige [Pierce] and Cat [Allen] all year, so I can't expect [people to say] 'Oh, Paige is gonna magically come out and win Worlds,' you know?"
That said, she is motivated less this week by proving herself to doubters—"Just because I won one Worlds doesn't mean I need to win another to prove it," she said—and more by the chance to make some personal history.
"I'd love to defend the title, and I think one thing that puts the most pressure is I could be two in a row," Bjerkaas said. "Paige and Cat—people I look up to most and the best people in our sport—haven't won back-to-back ever, so I really do have this cool opportunity."
Barsby, meanwhile, hummed a similar tune as Bjerkaas. With more than 25 years in the game, he is more looking to push himself instead of worrying about what fans or other players may think. And yet, he had no problem offering a reminder that he wasn't widely considered a threat for last year's title, either.
"I think they're talking about me thinking that I don't have a chance, which is pretty short-sighted," Barsby said. "It's anybody's game when it comes to disc golfing, especially on courses like this. You have your favorites and guys that consistently show up, but it's anyone's game...It's nothing new to me being an underdog. That's part of the gig."
Barsby added a new staggered-stance putt to his arsenal of veteran tricks as a way to combat the wind, just one of the ways he's prepping for a run at the repeat. He also worked in most of his practice in Peoria two weeks ago, as he's nursing an injury to the middle finger on his throwing hand. He's one of several competitors not playing at 100% physically—Eagle McMahon, Ricky Wysocki, and Madison Walker have all recently battled a variety of maladies (and 2016 United States Disc Golf Champion Jeremy Koling was forced to withdraw due to back problems)—while competitors like Bjerkaas and Allen both said the five-round affair this week would be more taxing mentally and emotionally.
If McBeth and Pierce both end up where they're expected to on Saturday afternoon, it'll be a chance to further cement their standing in the sport. But McBeth only sees it as the beginning.
"It's still a young career here—I'm still in my 20s, so it's not even halfway through my career yet," he said. "This is still stepping stones to where my career will finish. The more I can win early, the better, because I feel like I'm just getting better with age. I think the best is yet to come in my career, so it's a good head start ahead of the rest of the field."
And while Pierce is also nowhere near finished, she knows the opportunity to put her name alongside disc golf's most decorated women—five-time world champions Elaine King and Juliana Korver—is hers for the taking.
"It's a huge goal of mine," Pierce said. "Juliana and Elaine are obviously the best to have ever played the game, so to join them would be an incredible feeling."
Still, while McBeth and Pierce rate as the most likely to succeed, this Worlds field is deep. Josh Anthon, for example, took down the 2017 Ledgestone Insurance Open at Lake Eureka and is a four-time runner-up at Worlds, while players like Kevin Jones and Chris Dickerson are all trending toward signature victories and Garrett Gurthie would, without a doubt, love to add a world championship trophy to the Bob West Memorial Sportsmanship Award he took home from Monday's opening ceremony. And an international talent pool representing 14 countries may be most fearsome on the Open Women's side, where Eveliina Salonen, Henna Blomroos, and Kristin Tattar could all make a run.
In that sense, Barsby is truly the sage veteran: This week, it really is anybody's game.