Disc Golf Takes Off In China
Disc Golf Takes Off In China
PDGA and Prodigy team members introducing disc golf to world's most populous country
Thursday, October 25, 2018 - 12:04
PDGA International Director Brian Hoeniger, Prodigy Disc President Michael Sullivan, and Prodigy team members Will Schusterick and David Greenwell have arrived in the Peoples' Republic of China to begin a two-and-a-half week whirlwind tour that will include demonstration workshops to local students, training of physical education teachers in disc golf instruction, and meetings with local government officials.
Their itinerary has been organized by local manufacturer Yikun Discs and by the China Disc Golf Center, which is the PDGA's affiliated country association partner. Together this team will also host the first PDGA-sanctioned event to be held in this economically booming nation of 1.3 billion people. Funding for this seeding project is being provided by Yikun and Prodigy, as well as the PDGA's Marco Polo and International Programs.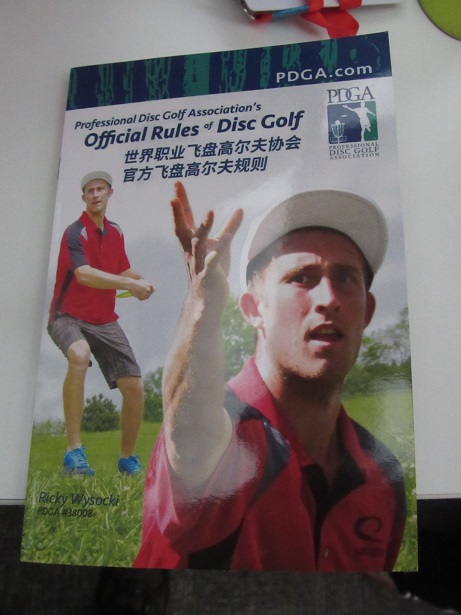 The opening two demonstrations in Ningbo, an ultra-modern metropolis and major port of 7 million inhabitants built on land that 30 years ago was mostly farming villages and fields, were held Wednesday. In the morning the team visited a high school known for its strong sports program. After lunch, with the students in the school cafeteria, they were off to Nottingham Ningbo University, where 35 members of the local ultimate Frisbee team were trained in the subtle differences between throwing big lids and our sport's smaller sized putters, midranges, and long-distance drivers. Schusterick, the three-time United States Disc Golf Champion, wowed the participants with his booming drives, while Hall of Famer Greenwell emphasized the finer skills of putting and approach shots.
Thursday the team will head 300 miles north to a national park in Jiangsu province, around the mega-city of Shanghai, where the two pros will design China's first course installation while Hoeniger trains the CDGC in how to stage a PDGA Tour event.
While the growth of disc golf is just starting in China today, it may only be a few short years before this global superpower becomes a major player in the evolution of our sport. Time will tell. In the meantime, stay tuned for more stories and photos from the visiting team and their groundbreaking initiative on the other side of the world.
Comments
How COOL and EXCITING is THAT!!! #discgolf #growthesport
This a great first step, and should be followed up next Spring with another promotional trip there. :)
Right, on!
Yikun have been making disc golf discs for several years (and Ultimate discs for a few years before that) and this is the second year of the CDGC/Yikun/Prodigy Disc Golf Tournament. Last year was a very basic foundation event. This year's event will be the first PDGA sanctioned event in China.
I'm looking forward to that tournament this Sunday and also the development workshops on Saturday with Will Schusterick and the other team Prodigy guys too! I'm also very much looking forward to meeting Brian Hoeniger as well.
The Yikun Disc Sports company is based in Ningbo City (just southwest of Shanghai) and they have fostered Disc Golf in Ningbo and also planted seeds more widely across this huge nation. Now, they are beginning to establish China's first permanent Disc Golf courses on private land in various parts of China. They also conduct clinics and other development activities. It's good they set-up the CDGC and, with the PDGA's assistance, are now taking things to the next level.
That CDGC tournament, on this weekend, is not far from where I live in Suzhou (just northwest of Shanghai), so I'm really looking forward to it. I've been throwing Disc Golf discs casually for 3 or 4 years, but really got into it on my last holiday back at home in Australia in July-August, and as soon as I got back to China I started the Suzhou Disc Golf Club to try to spread the word here. Luckily Suzhou is fortunate among Chinese cities to have quite a few quiet parks and accessible green space areas, so I've planned out a couple of 9-hole pop-up courses here and already had visitors from other cities and even overseas visitors. Earlier in October, I even organised a very small 12 player 1-day tournament and some people travelled 1000kms from other Chinese cities to be there! That shows you the motivation that exists to play this great sport! :)
The other main centre of Disc Golf development in China is in Shenzhen (right next to Hong Kong), where the LeAo Disc Sports Club is also getting ready for their 2nd annual tournament too. As with CDGC's, last year's LeAo tournament was just a small foundation event, but the LeAo people have been visiting overseas tournaments since then and this year's tournament is looking very well organised and will be the first 2-day tournament in China. It will be held on Sat-Sun, 17-18 Nov. I hear that a couple of Top 5 Asian players are coming including a Japanese player with a 1033 PDGA rating. I look forward to learning from him! :)
Besides Ningbo, Shenzhen, and Suzhou, I know of other nascent clubs, player groups, and individuals in Beijing, Guangzhou, Shanghai, Chengdu, Changsha, Fuzhou, and Changzhou. Plus Hong Kong too, which is a bit ahead of the mainland, and Taiwan, which is way ahead.
Overall, it's fantastic to be part of mainland China Disc Golf as it hits the upswing of the development and expansion J-curve.
While CDGC is currently basically run by the Yikun company, who are basically the pioneers of Disc Golf in China, I know from talking to them that they plan to diversify the CDGC Committee in the not too distant future as Disc Golf develops here to make it a more widely representative and player run organisation. I fully support these goals. It makes sense as the player base should grow more quickly now and more Chinese companies are getting into the Disc Golf sport business here as well and the PDGA affiliated national representative organisation obviously needs to be independent and diverse in its management.
Now, we just need more courses! :)
So, I hope that as well as developing their own courses on private land that CDGC also develops resources to help grassroots community disc golf sports groups/clubs to approach local governments and parks authorities about installing permanent courses on public land in quiet parks and green spaces. Bystander safety is a major issue, of course, as due to China's huge population, most city parks are very well used, and many public spaces are paved rather than grassed.
Nevertheless, the future of Disc Golf in mainland China is looking bright!
*China & Asia Disc Golf Events Calendar 中国大陆和亚洲地区飞盘高尔夫活动表 (19 Oct update) (Note: 3 Feb 2019 tournament in Malaysia and March 2019 tournament in Taiwan have been cancelled, I think)
https://mp.weixin.qq.com/s/1goXc0qpyZpldmCSrWVZhA
*China Mainland Disc Golf group on Facebook (VeePN needed in China).
https://www.facebook.com/groups/289508068449234/
Disc in! Cheers! 👣🌳🌞👍