Dickerson Leads USDGC As Big Numbers Highlight Round 2
Dickerson Leads USDGC As Big Numbers Highlight Round 2
2020 United States Disc Golf Championship Day 2 Recap
Friday, October 9, 2020 - 00:00
Alex Russell saw the cameras arrive on Hole 16 and knew he had something special in the works. Chris Dickerson went into laser mode and torched the course. Somewhat quietly, Eagle McMahon strung together a second-straight, double-digit day.
It was a head-spinning day full of action at Winthrop Arena and we're just now heading into moving day.
Dickerson blasted a 14-under par to grab the lead at the halfway point of the United State Disc Golf Championship at Winthrop University in Rock Hill, South Carolina.
It was the second-hottest round of the day.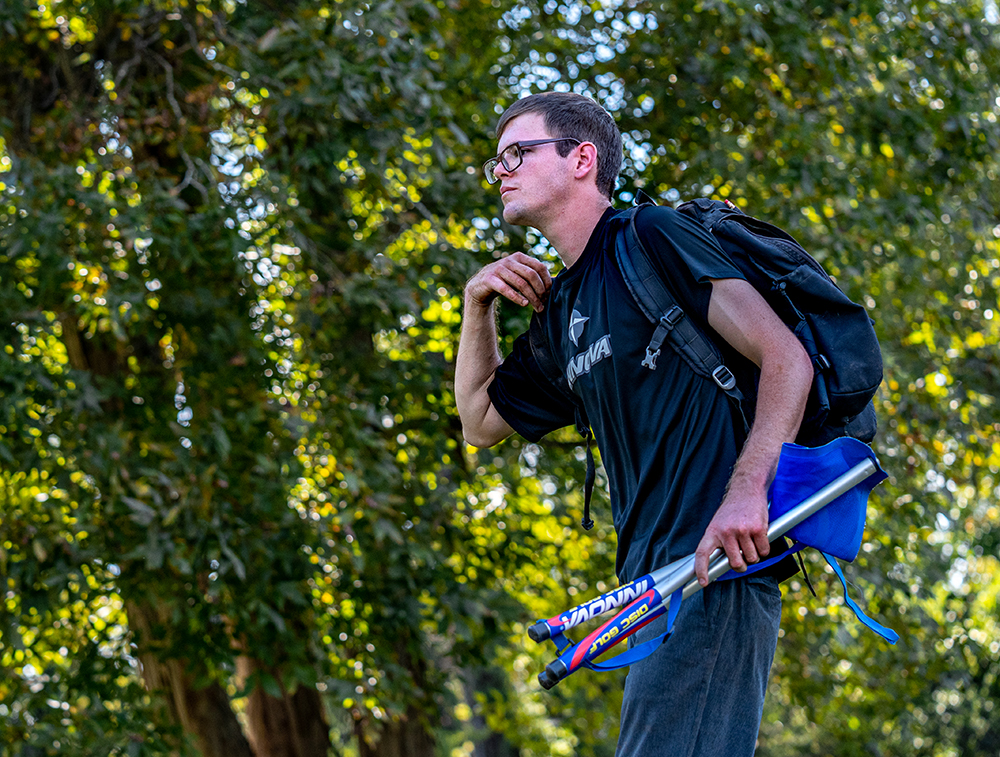 Russell went bogey-free and carded just three pars on the day, one with when cameras arrived, to join elite company with a 15-under round, matching the lowest score at Winthrop. He bounced back with a birdie on the 17th and had a drop in on 18 for a 52 on this version of the hallowed track.
"I was shooting for seven or eight under today and I ended up shooting double that," Russell told Terry Miller and Jamie Thomas on the DGPT's Inside Winthrop Arena show. "It's a round I can't really imaging putting together going into the round but sometimes that's the way golf happens, sometimes it goes worse than you can imagine and sometimes it goes better than you could have imagined.
"(On 17), I had just missed a putt of similar distance. The cameras had just showed up and it was kind of setting in that I was having a solid round. Just stepped up on 17, about the same distance, and just really focused."
Focus was the name of the game for Dickerson, who raced out to an eight-for-eight start. His upshot target hit for a drop-in birdie on the fifth best summed up his round. After his lone bogey and OB stroke on nine, Dickerson went 7-under on the back nine.
McMahon, meanwhile, went to work in a somewhat quiet manner for a 10-under round. After three-straight pars on six-through-eight, McMahon fired off eight-straight birdies before his lone bogey on 18.
The lone mainstay on the lead card from Round 2 going into the final 36, McMahon is two back of Dickerson at 24-under par.
Russell is third at 17-under and Garrett Gurthie rounds out Saturday's lead card at 16-under par.
Russell jumped 30 spots. Ricky Wysocki went 12-under to jump 24 and Calvin Heimburg rose 26 spots.
Gurthie, who enjoyed an 8-under through seven-hole stretch, is tied with Kyle Klein at 16-under. Nathan Queen and Ezra Aderhold are at 15-under. Paul McBeth, who saw a nine-shot difference between Friday's opener and the second round, completes the chase card at 15-under. Aderhold finished with a 6-under par round despite a 10 on Hole 13B, the largest number Winthrop has handed out yet.
But as the rest of Aderhold's scorecard read, as well as low numbers at the top and throughout the leaderboard, it's the players for the most part, at least for now, that are winning the battle so far against Winthrop.
Moving day action kicks off at 10:36 a.m. on UDisc Live and the lead card is set to tee off at 2:30 p.m. ET with live coverage on USDGC.com.