'Confidence' has Clemons on top at USDGC
'Confidence' has Clemons on top at USDGC
Lizotte, Gibson, Queen one shot back while McBeth struggles out of the gates
Wednesday, October 2, 2019 - 22:04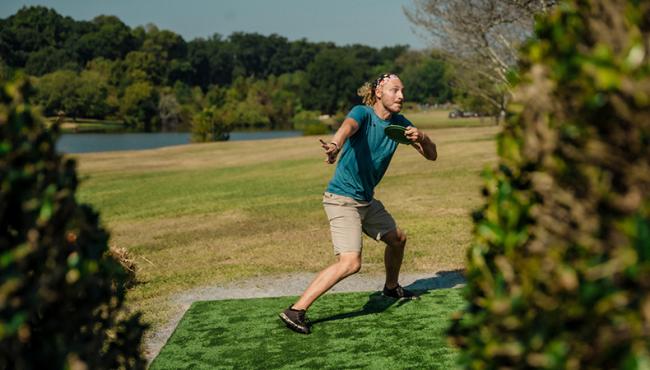 ROCK HILL, S.C. – Chris Clemons appears to have hit his stride at the right time.
The Kansas City product won his first career A-Tier just six weeks ago at the Vacationland Open in Turner, Maine. A runner-up finish at the Green Mountain Championship followed, as he tossed a career-high 1090-rated final round to climb up in the standings.
Now, the long-haired lefthander can add Wednesday's performance at Winthrop University to an increasingly impressive resume.
Fueled by a run of five straight birdies on the back nine, Clemons took the early advantage at the United States Disc Golf Championship with an 8-under par 59 to open play at this PDGA Major. He has a one-shot cushion over Simon Lizotte, Drew Gibson, and 2018 USDGC standout Nathan Queen, who all fired off 7-under par 60s on a sweltering day in the Palmetto State. Six other competitors, including 2017 U.S. Champion Nate Sexton and Estonian up-and-comer Albert Tamm, are tied for fifth place with 6-under par 61s.
The defending champion of the tournament, meanwhile, threw his worst statistical round of the year. Paul McBeth's 6-over par 73 was unofficially rated at 988 and has him in a tie for 83rd place after 18 holes.
Clemons was clean throughout most of the round, but it did take him a few holes to get started. He finally collected his first birdie on the par-5 5th with a circle's edge connection, then he recovered from his sole bogey on 8 with a 40-footer for 3 on the triple-island 9th and a surgical dissection of the par-4 10th.
He was able to scramble for a par save after his tee shot on 11 went out of bounds, and then he was off and running: That five-birdie run came on holes 12 through 16, three of which ranked in the upper half of scoring difficulty per UDisc Live tracking.
"Holes 1 through 7, they're pretty tough – you can find trouble pretty easily," Clemons said. "But for me, I feel like the more open style with the ropes, the par-4s, they set up well for me, so I feel comfortable on those holes – 9 through 15 or whatever. I just started feeling it, started making some circle 1 putts and was throwing the disc really well."
The hot scoring also came on one of the hottest regions of the course, as shade comes at a premium out near Winthrop Arena. And as the mercury hit 95 degrees with almost 65% humidity, Clemons remained a cool customer.
"I honestly love playing in these conditions rather than, like, 50 degrees," he said. "I think growing up in like Missouri and Kansas I would practice in the summers, just like this out in a field with no tree cover. So yeah, I'm used to it. I love it."
As Clemons was assaulting the leaderboard, Lizotte was attacking hole 18 to close out his own strong performance. He debated between a midrange and a DD3 on the 647-foot par 4 and opted for the latter, then put it on the perfect angle to leave him nearly 500 feet up the fairway and safely in bounds. He chipped up for the easy birdie, which gave him a turkey to finish his day.  
"For me it's easier to throw a driver 100% over a midrange, and I thought if I go OB as far as I can up the hill I'll still get a par, and that felt just more comfortable to me when I was checking it out on the tee-off and checking the wind," Lizotte said. "The midrange didn't feel right, so you've gotta go with your gut."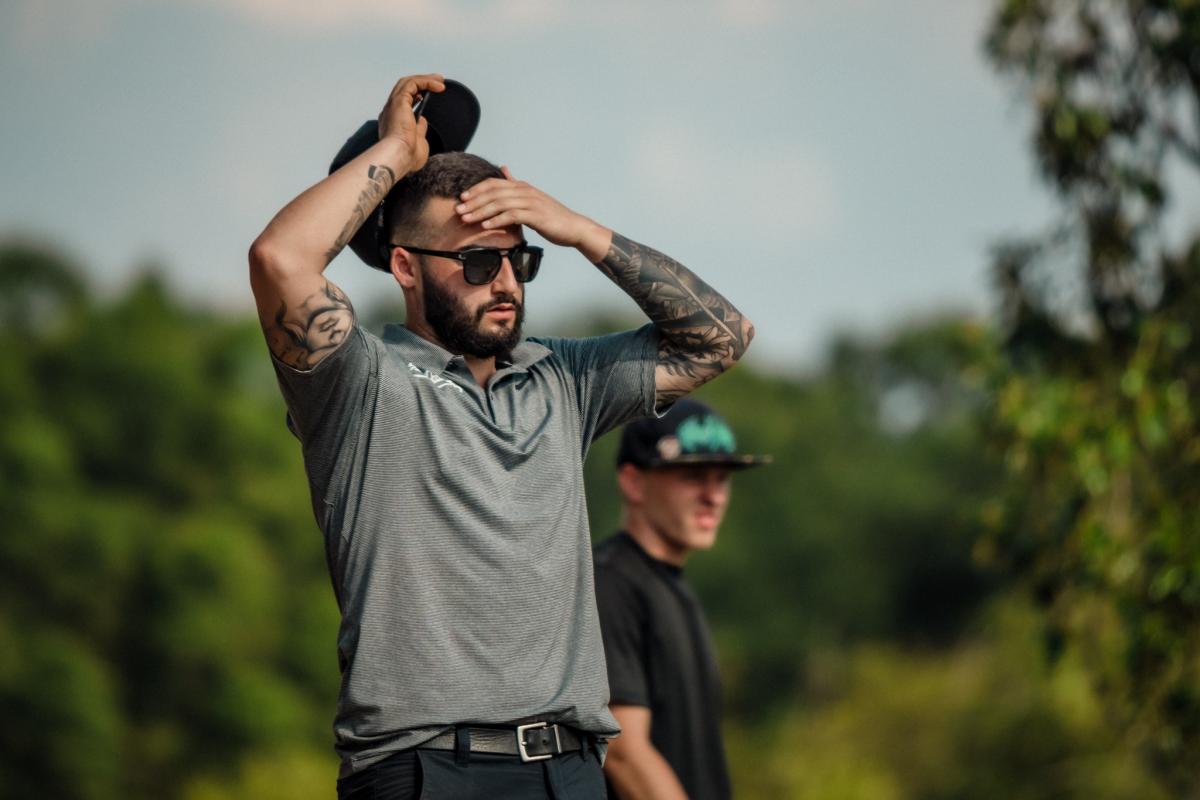 His Thursday lead cardmate Gibson – who is also known for his big arm – got much of his work done on the putting green, jamming consecutive 50-footers during his own back-nine turkey. He had a look from 60 to close the round with four straight, but instead chose to play it safe after some sage advice from his caddie.
"He talked me out of running it," Gibson said. "If it was just me I would have run it and tried to share the lead with Clemons, but he was like, 'Just lay it up, you played good. There's no reason to give strokes away, you're already here.' …It was kind of a give and take. I wanted to run it, but he had better plans for me, so we're sitting pretty good."
The California pro has battled injury this season and, outside of his playoff victory at the Portland Open in June, has logged plenty of inconsistent showings. He's now hoping he can apply the lessons he's learned from his successes in 2019 as he chases after the ultimate success this week.
"I think that if I keep my mental game strong – that's the thing that fails me the most I feel like," Gibson admitted. "If I'm out here mentally strong, promoting myself and doing well on the course and in my right mental state, I play well. At Portland – I think I told you – I just believed I was the best every throw. This week I come out here with that same mentality. I just have to believe I throw it better, putt it better, upshot better. Even if that's not the case, you just have to believe that."
It's that same quality that has driven Clemons' recent run of strong play.
"Just confidence," Clemons said. "I feel like last year I lacked confidence sometimes and I wouldn't quite commit on some shots, and when I would throw a good round I'd be like, 'Man, you really, like, committed to everything. You didn't worry about going out of bounds.' And this year I really try to play more aggressive, attack more. So I think just confidence in general – trusting in my abilities – is really paying off."
Elsewhere on the leaderboard
McBeth's 988-rated showing was one point lower than his second-round performance at this season's Santa Cruz Masters Cup and is only the sixth sub-1000 rated showing he's logged since 2016. But the worst part of the day might have been how the strokes added up: He had just eagled the par-4 10th before following it up with a double-bogey 6, a quintuple-bogey 9, and a triple-bogey 8.
Paige Pierce is tied for 58th place after her 2-over par 69 Wednesday, and she has one goal in mind this week.
"I'm gonna cash this week," Pierce said. "That's not just my goal, but that's what I'm manifesting."
Pierce's women's counterpart in the tournament, Kristin Tattar, started her tournament with a 13-over par 80.
There was only one DNF during the round, and that came from 12-time PDGA World Champion and five-time U.S. Champion Ken Climo. He was sitting at 5-over before picking up his final putt on 18 and will now move into a role in the commentary booth for the event's live broadcast the rest of the week.
That means McBeth is the lowest-placed former U.S. Champion in the current standings. Barry Schultz (2001, 2003, 2006), Steve Brinster (2013), and Jeremy Koling (2016) are tied for 11th place at 5-under par, while Nikko Locastro (2009) and Dave Feldberg (2005) are in 14th place with 4-under par 63s. Three-time winner Will Schusterick is tied for 39th place at even-par.
One-time for first-timers
A pair of first-time USDGC competitors made big splashes Wednesday.
First, it was Southern California native Nick Newton. With his first competition throw at Winthrop he smashed the chains on the downhill, 389-foot 1st with a Legacy Ghost to land an ace. Newton's disc used to belong to A.J. Risley, who used to play for Legacy and who lives about 15 minutes from Newton during the offseason.
Near the end of the day, Canadian pro Thomas Gilbert tossed one in on hole 17's island. It was a bright spot in an otherwise difficult day for the 21-year-old, as he's tied for 108th place at 11-over. Newton is tied for 23rd at 2-down.