Chitwood, Antosca Lead NCDGC Individual Competitions
Chitwood, Antosca Lead NCDGC Individual Competitions
Crowley takes home First Flight title
Thursday, March 28, 2019 - 23:10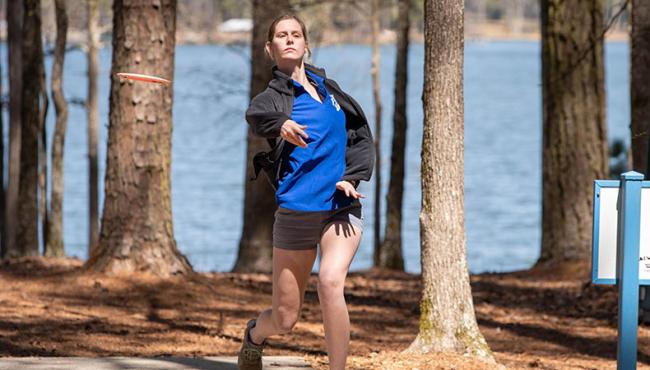 It's been a mere 363 days since Madi Chitwood played in her first career PDGA-sanctioned tournament.
On day 364 she can win a national championship.
The junior nursing major from Southern Arkansas University is nine holes away from winning the Women's Flight individual title at the National Collegiate Disc Golf Championships, as her 5-over par 72 at the International Disc Golf Center's "Steady" Ed Headrick Memorial course Thursday gave her the lead in the individual competition. Oregon's Reily Warren tossed a 7-over par 74 to land in second place, while defending champion Alex Lambert is tied for third place with Liberty's Hannah Trotz at 12-over. Chitwood's SAU teammate Whitney Brown rounds out the top five after her 18-over par showing.
Chitwood's performance was rated at 901, a whopping 110 points over her player rating.
Though she may lack for overall tournament experience -- the 21-year-old boasts just four events on her PDGA player page -- Chitwood did bring some important background knowledge with her to Georgia this week: This is her second NCDGC, and having that in her back pocket helped her feel more confident on Headrick's hair-raising fairways.
"Really, I just wanted to play better golf than I did last year," Chitwood said. "I was comparing myself to myself. I definitely think, nerves-wise, it was good for me to have the experience I did last year."
Despite her lack of tournament play, Chitwood said she and her fellow SAU teammates -- she's one of four women on the squad -- aim to emulate competitive rounds twice a week to hold each other "accountable." So when it came time to step up against fellow women's players for the first time this year, she was able to stay in the moment and play the safe game she's accustomed to.
"It is very easy to get off the fairway on the Headrick course, so my goal for the day was to stay on it as much as possible, and I'd like to think I succeeded at that," Chitwood said. "...I did well at scrambling today, which helped a lot."
It also helps that she has a forehand and backhand at her disposal. That came in particularly handy on the par-4 5th, which forces players to choose their own adventure over Clarks Hill Lake.
"There are so many water holes, which is what I was the most nervous about," Chitwood said. "...I feel like I'm a lot more accurate with my forehand, and I took that one and I was very happy to par that hole."
In the Championship Flight individual division, a familiar name continued his ascent to the top of the college ranks, as University of Massachusetts-Amherst senior Joey Antosca headlines a four-player logjam in first place. He's joined at 1-under par by Minnesota's Derek Huntley, North Carolina State's Clay Edwards, and Oregon's Jacob Velasco, as the quartet all tossed 1000-rated rounds. Six players, including Ferris State stalwart Sam Mrdeza and Toledo's Chris Wojciechowski, sit at even par, while the entire top 20 is separated by only four shots.
Antosca won the 2018 First Flight individual title, then went on to win a B-Tier and a C-Tier in the Open division later in the year.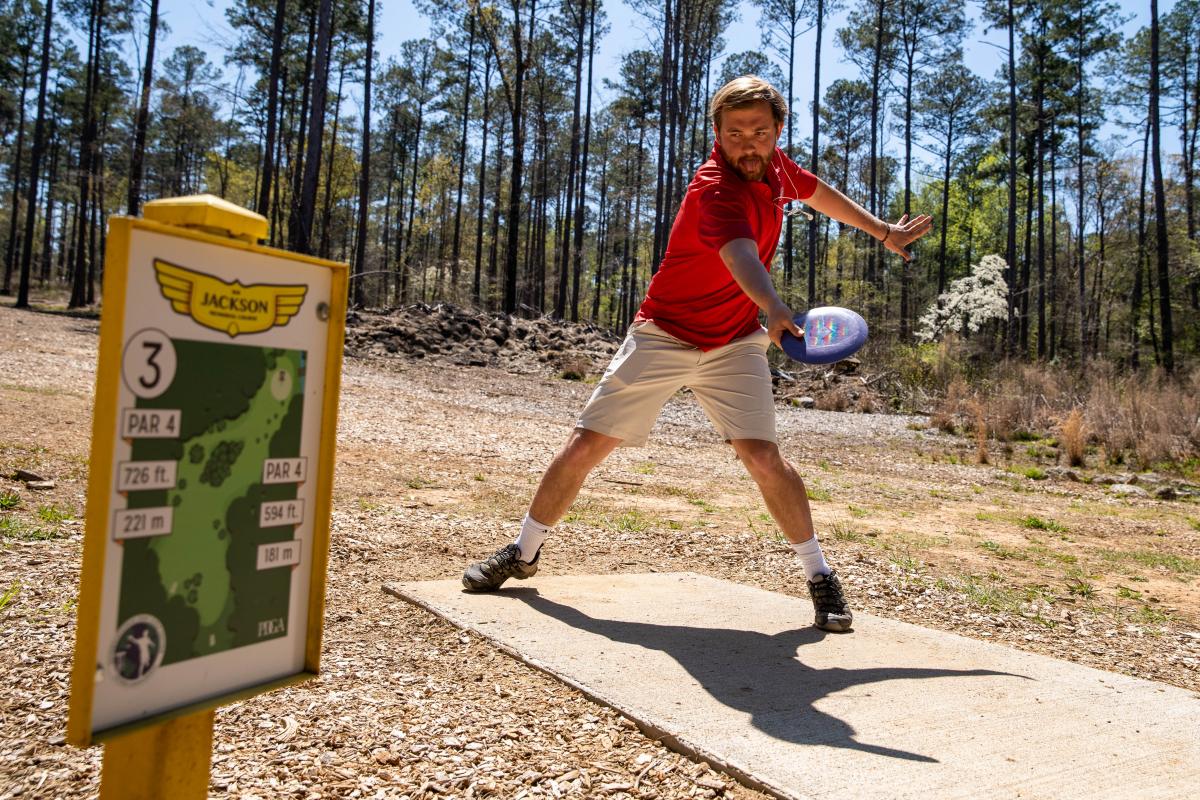 Mrdeza's score helped Ferris State jump to the top of the Championship Flight team leaderboard with a 7-over par total, while NC State takes up second place at 8-over. Day one leaders Colorado Mesa and Oregon State dropped to ninth and 11th place, respectively.
Though the individual winners of the Championship and Women's Flights will be settled by a final 9 Saturday morning, the First Flight crowned its champion after today's tee times on the Headrick course. University of Wisconsin-Plateville's Mitchell Crowley took home top honors after a 987-rated 7-under par 60, which was good enough to oust East Carolina's Adam Durham, who took the runner-up slot after a 5-under par 62.
With another full day of team doubles on tap Friday, Chitwood wasn't thinking about the singles title on Saturday. Instead, she was all-in on helping she and Brown add to their seven-shot cushion over defending champions Liberty during their two rounds, one at Headrick and the other on the Jim Warner Memorial course.
"We're ranked really well right now, and I would definitely -- if I can't win it overall, I would definitely love for SAU to win as a team," Chitwood said. "So that's my focus right now."