Brophy, Calvin Tied at the Top After USADGC's Opening Round
Brophy, Calvin Tied at the Top After USADGC's Opening Round
Four-way tie for third place one stroke behind
Saturday, June 2, 2018 - 10:35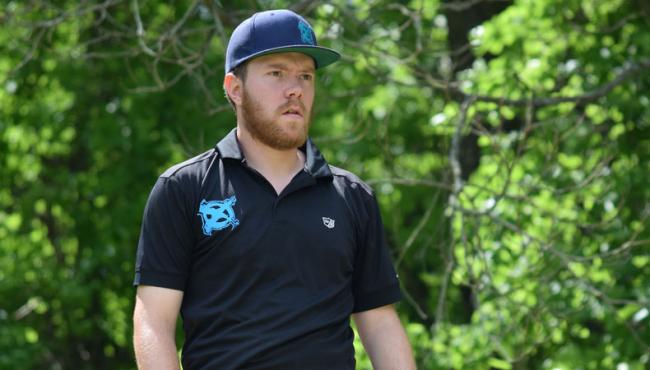 After a few changes to the course for 2018, the Toboggan DGC saw its first official course record on its new and improved layout. Michigan's own Ryan Brophy and California's Clint Calvin each finished the day with 7-under par 56s during the opening round of the 2018 United States Amateur Disc Golf Championship on Friday, putting them one ahead of a four-way tie for third place as we head into round two on Saturday afternoon.
The consensus from the staff and the locals is that the course plays a stroke or two above what it has in years past, and that is reflected in the increased course par. But making the Toboggan tougher wasn't the goal. "The changes we made were about making the experience better for the players, not making the course more difficult," Tournament Director John Minicuci said. "We moved the tee pad back on [hole] 4 and changed it from par 3 to 4, but it's all about flow. We looked at hole score data from the last few years and realized ithat it was playing as a par four anyway, and it was a bottleneck that was causing a lot of backups."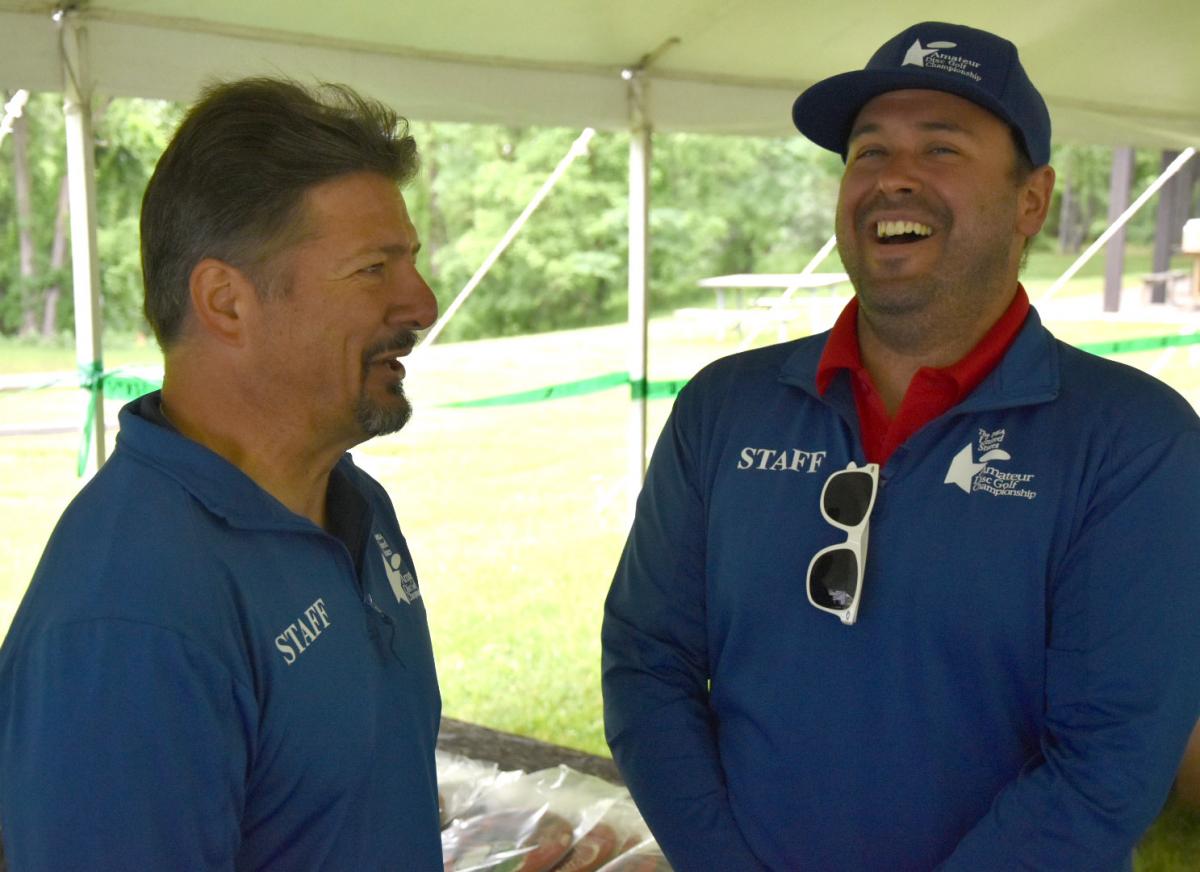 That is no longer an issue, as the staff here not only reshaped hole 4, they also carved out a walking path from the green to the tee of hole 5. These two changes combined means a hole that was known for a 30-plus minute backup in previous years now has no backups at all. Our hats are off to Minicuci and his staff for the dozens of hours of work all in the name of improving an already incredible venue.
Tied at the Top
Unlike his fellow co-leader, Brophy has been here before. After finishing in 64th place in 2017 without shooting a single round under par, he was determined to make a second run at The Toboggan.
"Last year I was very timid on the tee pads," Brophy said. "It was my first big event with one round per day, all tee times, etc., and my nerves showed in the drives. I left so many short and left of my line. This year I wanted to stay relaxed and enjoy the course. My main goal this weekend was to put up one round below 60."
After making the trek from San Diego and not arriving until late Wednesday night, 23-year-old Calvin was apparently unaffected by the jet lag, despite having a tee time on Friday that equated to 4:45 a.m. round back home. As the eighth highest-rated competitor at 974, Calvin teed off without much time to practice. 
"After traveling for nine hours I honestly didn't even have disc golf on my mind when I landed," Calvin said. "On Thursday I played one practice round for about three hours and I felt comfortable on the course. I would like to have had one more practice round to dial in distances for upshots, but I've watched hours of videos on YouTube, so I knew how to approach most of the holes and where I wanted to place my drives on the par 4s."
Calvin's biggest advantage, perhaps, comes from what he decided to focus on before flying out to Michigan. "I worked a lot in the field before coming out here on my stand still approach shots," he said.  "I think it's a huge advantage to have on this course with all the uneven footing."
Anyone that's played this course would agree. You're going to run into that situation at least a few times on the Toboggan, always.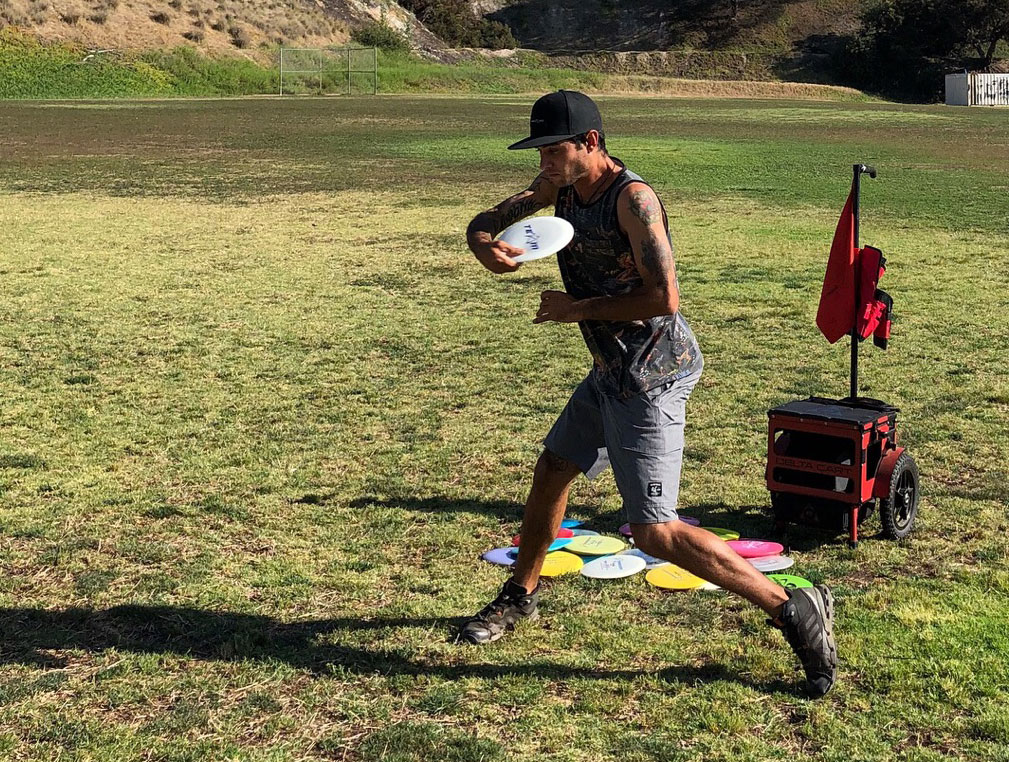 Will 56 remain the hot round for the weekend? Neither of the leaders believe so.
"I doubt it will," Brophy said. "Weather today looks great and if the wind is as calm as yesterday I expect some hot rounds to be posted. There are a lot of good players that can tear this course up."
Calvin not only agrees, but believes he can best the score himself if he makes a few adjustments.
"Today I would like to just go out there and correct on my mistakes from yesterday. I played a smooth, stress-free round with three mistakes off the tee and two bad upshots on par 4s," Calvin said. "If I clean that up, I'm sure I'll shoot even lower today."
Young Guns
The USADGC always seems to bring out a handful of incredibly talented junior disc golfers. In 2015, the average age of the top three opening round competitors was just 15.3 years old. This year is no exception, as we're already seeing some of the youngest players in the event making big moves. Sitting just three strokes off the lead with a 4-under par 59 and locked into a seven-way tie for 12th place are 14-year-old Zach Arlinghaus, from Kentucky, and 16-year-old Kyle Klein, of Michigan -- but it doesn't end there. Finishing with a 5-under par 58 and in a five-way tie for seventh place is 15-year-old Silas Schultz of Baton Rouge, Louisiana, another future superstar on the rise. 
The lead card will tee off at 2:42 p.m. EDT on Saturda,y with Brophy and Calvin joined by Kentucky's Joel Bibble and Texas' Luke Humphries. There are 16 players that, with just three strokes, could have their name at the top of the leaderboard, and the Toboggan can make that happen at any given time.
Stay tuned for more coverage of the exciting second round of the 2018 USADGC presented by Discraft and make sure to follow the scores and updates on pdgalive.com.