Young Guns Dominate Day One of the 2015 USADGC
Young Guns Dominate Day One of the 2015 USADGC
Friday, June 5, 2015 - 13:27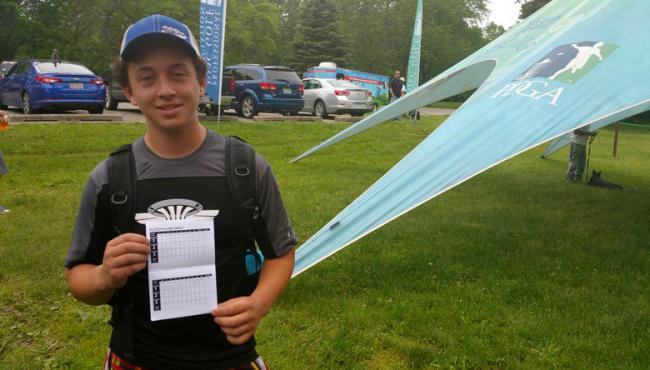 "That was the best round I've ever seen anyone play here." That's what Jeff Kaluk, father of Andrew Kaluk #35027, said after watching 15 year old Anthony Barela #44382 hit a birdie putt from 30 feet on Hole 18 to finish Round 1 of the 2015 USADGC with a nine under par, 53. That's a bold statement, considering Jeff and Andrew Kaluk are locals and have likely seen and played more rounds on the Toboggan course than most.
Nine under is the all-time course record for amateur disc golfers, and had Barela not chained out on a perfect putt on Hole 17, he would have broken it. Well, actually, nine under was the course record and 10 under would have broken it, but only for about 15 minutes.
Barela, Kaluk, and Mike Conlee #41267 were first to tee off this morning, being the three highest rated players of the 145 in the field. They were followed by the next three highest rated disc golfers in the field: Matthew Kashima #43528, Dylan Rees #60300, and Samuel Smith #49413. 
When Matthew Kashima turned in his card, remnants of Barela's round of nine under still filled the air.  That all stopped as soon as Assistant Tournament Director Chris Leo #40952 shouted, "51?!?!", from the scoring table. Kashima, a 17 year old from Baltimore, MD, busted the amateur course record by two. He finished bogey free with 11 birdies, with eight of those birdies coming on the back nine. The only hole on the back nine he didn't get was Hole 12, arguably the second hardest birdie on the entire course next to Hole 4. 
After the round, we overheard Kashima saying, "I'm not sure what my rating is. 974? 976? I don't know. I haven't played much in the last year really." His PDGA Player Profile backs that statement up. This is Kashima's first sanctioned event of 2015 and his most recent PDGA event being the Scarboro Scorcher on August 23rd, 2014. Nine months and a handful of days later, he returns to tournament play and sets the course record on his first round at one of the most difficult courses in the country. You can't complain about that!
Technically, 51 is also the course record for professional players. We say technically because the course that is being played this year and that was played last year is drastically different from years prior. The layout is mostly the same, but the punishment of discs thrown into the rough is far less. Kensington Park, home of the Toboggan DGC, until recent years was plagued by an invasive weed called the Russian Olive. Months of work and hundreds of thousands of dollars later, all of it has now been removed.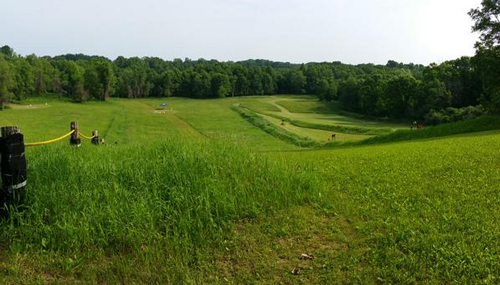 At the 2013 Discraft Great Lakes Open, Ricky Wysocki #38008 shot a lights out 50, 12 under par, that will never be defeated. Someone may in the future shoot a 49 or better, but they'll never do it while also having to manage the treacherous Russian Olive filled rough that Wysocki did. Wysocki went on to win the tournament by a landslide, finishing nine throws ahead of second place finisher Garrett Gurthie #13864.
A 51 from a 17 year old is impressive. A 53 from a 15 year old is too. But what about the guy in third place? That would be Izak McDonald #49631 from Illinois. Izak finished the round just four throws off the lead with an impressive 55. Izak, currently rated 972, is 14 YEARS OLD! The average age of the top three finishers for Round 1 is...wait for it...15.3 years old! It's mind blowing to watch these kids come out and shred the Toboggan and one can only wonder how good they'll be a year from now, three years from now, five years from now, or even ten years from now. 
At the rate disc golf is growing today, imagine where this sport will be in 2025, when someone like Izak McDonald will be the same age that Paul McBeth #27523 currently is, 24.                   
The weather is looking good for tomorrow just as it was for today, with the only difference being slightly more wind. When you're throwing huge downhill and uphill drives like the players are forced to on a majority of the holes here at the Toboggan, a slight increase in wind can make a big difference. Only time will tell.
The lead groups will have the last tee times of the day for the rest of the weekend, with the final card tentatively scheduled to tee off at approximately 1:30pm EDT. We'll have several cards of live scoring going on pdgalive.com tomorrow just as we did today. Make sure to follow the PDGA on Twitter and Facebook for the latest information including updates, pictures, and videos. High resolution pictures from Round 1 can be seen and/or downloaded on the PDGA Flickr page. 
See you tomorrow bright and early, right back here at the Toboggan, for Round 2 of the 2015 United States Amateur Disc Golf Championship presented by Discraft!