Bjerkaas Avoids Worlds Hangover With Early Delaware Lead
Bjerkaas Avoids Worlds Hangover With Early Delaware Lead
Hokom one back as National Tour hits the First State
Friday, September 14, 2018 - 19:06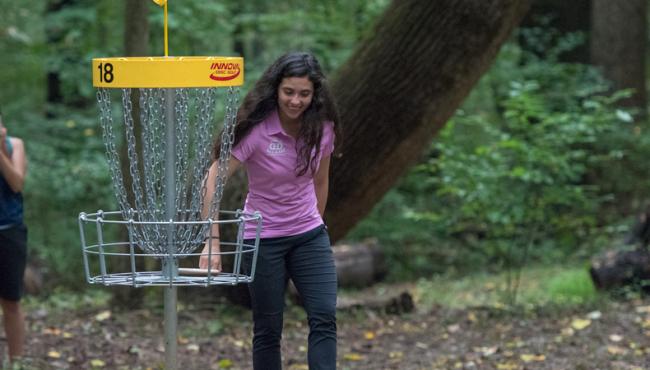 On the same land that was once the site of The Battle of Iron Hill, the 1777 Revolutionary War engagement between 800 American and 2,000 British soldiers, a different kind of battle has begun.
With only a day or two of rest following the final round of the 2018 PDGA Professional Disc Golf World Championships in Vermont, many of the top competitors that wore themselves out for a week at Smuggler's Notch made the trek down the coastline and began to practice on one of the most difficult courses in the country for the fifth event on the PDGA National Tour, the Delaware Disc Golf Challenge at the infamous Iron Hill Disc Golf Course.
Coming into the event as the 2018 Pro Worlds Open Women's Champion after finishing six or more ahead of the rest of the field, Paige Bjerkaas has nothing to prove. Had she decided to take a week off before heading to the United States Women's Disc Golf Championship -- which, once again, begins just a few days after this event comes to an end -- no one would blame her.
Fortunately for the fans on site and the thousands following along online from afar, the current world champ is here, and, to no one's surprise, she is once again at the top of the leaderboard. And she never even considered taking the weekend off to recuperate.
"No. Not at all," Bjerkaas said without the slightest hesitation. "I played this tournament back in 2014 and I sucked on this course, and I wanted revenge."
She got that Friday with a 3-under par 69 to take the lead at the Delaware Disc Golf Challenge. Sarah Hokom currently sits in second place with a 2-under par 70, while Estonian Kristin Tattar is in third after her even-par performance. Elaine King, Catrina Allen, and Holly Finley are tied for fourth place at 2-over, with King getting the nod for Saturday's lead card by way of her lower PDGA number. 
Like the majority of the competitors here in Newark, Bjerkaas had little time to practice despite making it down to Delaware on Wednesday after a quick post-Worlds celebratory day trip to Maine. After tapping in for par on hole 18, she seemed stunned to learn that she was leading the pack.
"I'm not letting my performance there [at Pro Worlds] affect my performance here, but I am surprised to be doing so well here," Bjerkaas said. "[Iron Hill] is just so tight and wooded and long. This first round I was able to really stay on the fairways and stay confident off the tees, which I was a little nervous about yesterday during practice."
In addition to their calendar-based proximity, Pro Worlds and the Delaware Disc Golf Challenge have another notable common ground in the rising star that is Estonia's 26-year-old Kristin Tattar. In 2018 alone, Tattar has competed in seven A-Tiers, one B-Tier, seven C-Tiers, and two PDGA Majors, only one of which took place in the United States, Pro Worlds. The rest of Tattar's 2018 schedule has included seven events in Estonia, two in Finland, two in Sweden, and one in Norway, Croatia, Czech Republic, Latvia, and Lithuania.
After spending some time on the lead card and in the limelight at Pro Worlds, Tattar went on to finish in 8th place overall. Now in Delaware, in her second USA-based event of 2018, she is just a few strokes off the lead at a PDGA National Tour event on one of the most challenging tracks in the country.
The Open Women's lead card tees off bright and early on Saturday on what should be a slightly drier course and a slightly warmer day. Follow the live scores and stats at UDisc Live and stay tuned for Open Women's round coverage videos from The Disc Golf Guy on YouTube.