Allen Pulls Away For Third Straight Win
Allen Pulls Away For Third Straight Win
Bjerkaas, Weese tie for second at Utah Open
Monday, June 25, 2018 - 07:50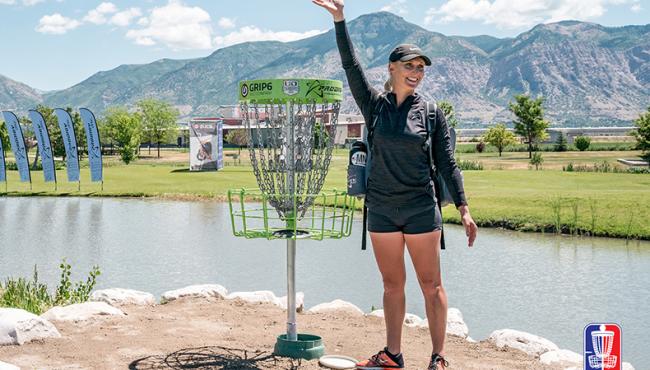 In order for Catrina Allen to start winning more, she said she had to start caring less.
Allen is now on a three-tournament streak after pulling away Sunday at the Utah Open, as her final round 2-over par 60 took her 54-hole total to an 8-over par 182 and netted her $1,165 in prize money. Paige Bjerkaas and Jessica Weese played to a second-place stalemate at 11-over for the weekend, with Lisa Fajkus taking fourth place after a 13-over par 187 and Kona Panis rounding out the top 5 at 16-over.
For Allen, the run has come from a shift in her mental game. Her player rating dropped to 949 in the most recent update, her lowest in six years, as she struggled on the putting green and let the difficulties snowball. After tying for 15th place at the Glass Blown Open – "It was bad," she said – she had a breakthrough at the San Francisco Open: Instead of running for putts she thought other people might attempt, or that fans or competitors thought she should make, she simply started to lay up when she wasn't feeling confident.
Since then, she has steadily trended upward, averaging 962.8-rated golf during her three victories.
"Obviously I went through that, but there was a point where that was affecting affect my whole game," Allen said. "I just decided, 'Who gives a s--- if I should go for this putt or not?' …Any type of putt that has any type of trouble, I'm not gonna go for it."
That approach was on vivid display in Utah, where the baskets are often perched on mounds, near bunkers, or on the edge of ponds. So while taking it easy caused her circle 1 putting percentage to plummet to 71 percent in the final round, it was clear from her average throw-in distance – 7 feet – that it was a calculated move. The approach also had another desired side effect: Allen has often been known to scrawl a 7 or 8 on her scorecard, but she carded no worse than a 5 for the tournament.
"I probably had four or five putts today – no more than that – that were like touching the paint, that were on the edge of the circle," Allen said. "…No one's putting to beat me on the hole. Why run for that?"
It may not be a strategy that pays off long-term, but Allen still showed an ability to hit the big putt when needed: Her 40-footer for birdie on hole 2 was all the insurance she needed to hold off Bjerkaas, who entered the round trailing by one shot. Allen also kept the course composition in mind when deciding if she needed to push the pace.
"It's wide open, of course, but there's water, there's bunkers, there's greens," Allen said. "…The first round I didn't start that great, and then I finally told myself, 'Nobody's birdieing. You don't need to score. Just relax…and play for par and take the birdies as they come.'"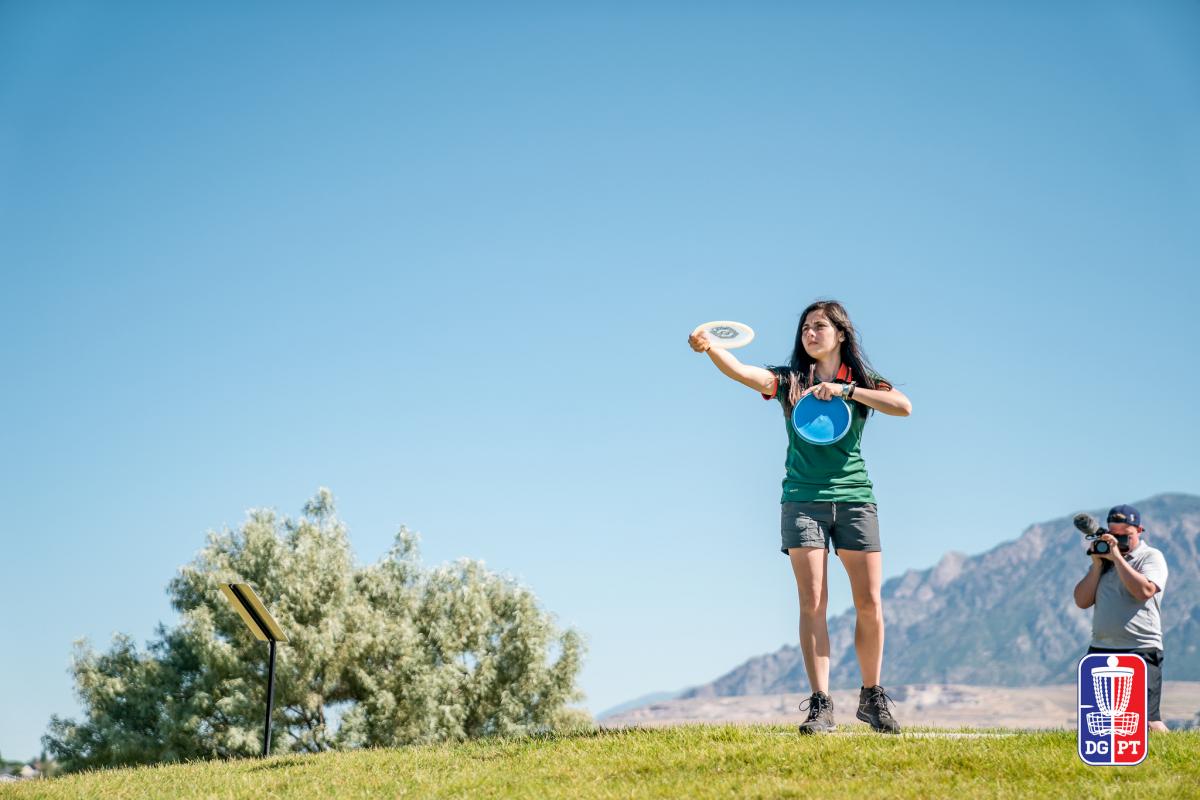 Bjerkaas echoed a similar refrain. She had the lowest out-of-bounds rate in the field for the weekend, as she only strayed beyond the lines six times, and was second in fairway hits at 48 percent. That accuracy allowed her to keep pace with Weese, who birdied the most holes at the event but erased all of them with 11 penalty shots.
"A lot of it was just super conservative play, whether it's discing down to a putter or choosing to hyzer out left – that was probably the key," Bjerkaas said. "I was pretty scared of most of the OBs."
The second-place showing was the Kansas pro's best on her early summer mini-tour, and she was pleased to bounce back from a final round at the Zoo Town Open where she carded a 10 and fell to fifth place. Plus, she was able to keep up with a friendy foe she usually sees from a further distance.
"I'm feeling great," Bjerkaas said. "The good thing about it is that it was so close. Typically at big events Cat has me by several strokes. It was awesome going into to that final round being back by one."
There will be even more distance between them in the weeks to come, though. Bjerkaas is staying stateside for the Disc Golf Pro Tour's next event, the Great Lakes Open, while Allen is jetting overseas in preparation for the Konopiště Open.
No matter where she is, Allen will try to keep the momentum rolling.
"Just trying every weekend to build on that confidence," Allen said. "I feel like it makes me a little more confident each weekend…Obviously I had that rough stretch, but I think that's what makes the good play even better."