Allen Outlasts Pierce In Beaver State Fling Flashback
Allen Outlasts Pierce In Beaver State Fling Flashback
Shades of 2016 after another memorable playoff
Monday, June 11, 2018 - 13:14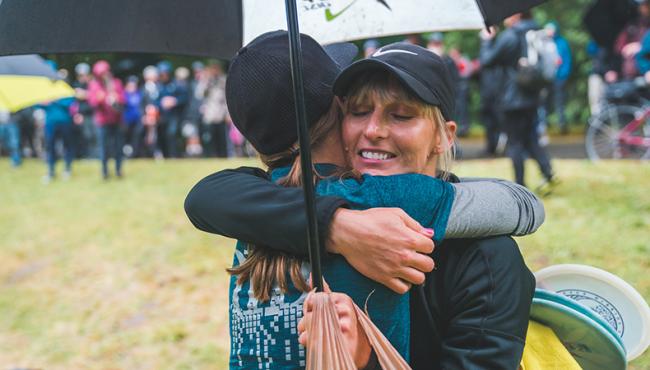 ESTACADA, Ore. – Time travel may not be possible yet, but try telling that to Catrina Allen.
A late-round hot streak and a one-hole playoff had Sunday's final round of the Beaver State Fling feeling a lot like the same tournament here in 2016. Just like two years back, Allen emerged victorious, knocking off Paige Pierce in extra frames to rack up her first National Tour victory of the season.
Allen's final round even-par 61 brought her three-day total at Milo McIver State Park's Riverbend Disc Golf Courses to a 6-over par 250, while Pierce's 3-over par 64 took her to the same score in regulation. Valarie Jenkins finished in third place after a 9-over par 253 for the weekend, with Sarah Hokom and Vanessa Van Dyken tying for fourth at 16-over.
The victory was Allen's first at an Elite Series event since last October's Ed Headrick Disc Golf Hall of Fame Classic and the 15th National Tour title of her nine-year pro career. It was also the third BSF victory on her resume and the fourth overall at the Portland area track. She pocketed $2,100 for her spot atop the podium, while Pierce netted $1,200 for her runner-up finish.
As she leaned on hole 1's basket and jokingly asked if the bright red top band had her name on it yet, Allen also struck a reflective tone: "Obviously I haven't started the season that great, and so it was just nice to prove to myself and all my fans and family that I'm still here and still trying through all the ups and downs."
Though there were clear parallels to the 2016 Fling, it wasn't all the same. For example, Allen took a lead into the final round that year and Pierce ran her down before the playoff. Allen flipped the script this time, working her way back from a three-shot deficit under a constant drizzle. Again toting a plastic grocery bag around the course to hold a saturated towel – which could only be described as making a thwup every time she dropped it to the tee – Allen went into a climactic final stretch down three and still in need of some Milo magic.
She got her first bit of it when she put her drive to the edge of the circle on the 250-foot 16th before canning the long bid for deuce. Pierce, meanwhile, landed in circle 2 off the tee but couldn't make the connection, and the gap was down to two.
That margin was quickly whittled in half, as Allen laid down not only her towel but also a gorgeous roller on 17 that veered left before carving a curlicue on the wet grass that left it 15 feet from the pin. The play was a deviation from Friday's round, when Allen tried a low-canopy air shot, as she tweaked her game plan to battle the increasingly damp conditions.
"I noticed that for some reason in the rain it's in my head that I'm gonna slip," Allen said. "I normally feel like a hyzer flip shot there, and in the rain I normally come over a disc, which is really random, which is just how it is. I was like, 'Well, this is gonna give me a look no matter what.'
"I threw it in practice and parked it before, so I knew it was gonna give me a look inside of 40," Allen continued. "But it was nice to be parked, for sure."
She cleaned up the easy birdie, while Pierce couldn't sneak through the trees and settled for a second consecutive par. That left Allen one shot behind and first on the tee for another roller on 18. This time her gray Prodigy D2 finished too early and turned into the right-side foliage, but she wasn't ready to give up.
"I was just thinking, 'Wherever I'm at, I'm gonna try to scramble,'" Allen said. "My scramble game had been really good this week, so I'm like – if I have a window or an out I felt confident I was giving myself a look. I didn't think it was over by any means, even before she threw her tee shot."
Pierce also rolled into the bushes, but she safely pitched out her second shot and placed a jump-putt approach 20 feet deep of the pin. Allen needed a patent-pending stance to loft a high anhyzer out of the rough, and it floated and flexed before landing pin high and with a look to save par – and force a playoff – from 35 feet.
With her back up against more greenery, Allen took a straddle stance and just missed the putt low off the front cage, and it appeared that the comeback was over. But Pierce's bogey save slid off the right side of the chains, and the two were set for another classic showdown.
Allen said she "of course" thought back to 2016, but when she hit an early tree to start the playoff Sunday she knew she was not going to get up and down for a birdie. Pierce threw another roller, this time clean, down the right side of the fairway, but her second shot sailed high and hit a branch before she smashed her third shot over the road and 30 feet past the pin.
Allen recovered well from her poor drive, placing a safe approach that left her with an open drive to the basket on her third throw. She put it to 20 feet, and an electrified gallery buzzed as the battle continued to the green.
Pierce took a moment to collect herself, walking up a dirt path and turning her back to the basket before stepping up to her lie. With a signature overhead flick of the wrist, she spun a line drive putt to the chains, but again it didn't stick. Allen's did, and she was left not only with some hardware, but also with the mindset she needed to get her season back on track. She admitted that she dealt with a case of the yips earlier in the year, and it's taken some dedicated inward focus and willpower to overcome the struggles.
"I noticed that ever since I stopped doing anything but what I want to do, or what I'm feeling, that I've got confidence," Allen said. "Oh yeah, maybe the whole entire rest of my division would go for this putt, but I don't feel confident and I don't want to sit here and seven-putt. So I'm gonna lay up and move on to the next hole and play my game.
"I feel like I'm getting closer to listening to that little voice inside," she continued. "I feel like once you do that and it works, you start building more and more confidence."
And more and more memorable McIver moments, too.