5 Questions With Jennifer Allen
5 Questions With Jennifer Allen
A chat with the 20-year pro ahead of the Las Vegas Challenge
Monday, February 11, 2019 - 00:27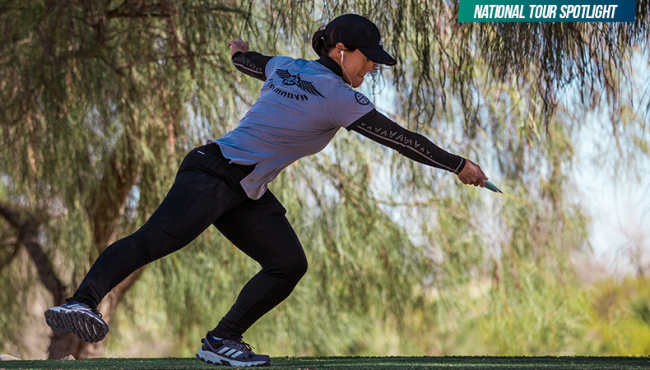 Believe it or not, Jennifer Allen is entering her 20th year as a professional disc golfer, and she's got the resume to back it up, boasting 116 career victories and a distance world record title. The Oklahoma native has long been a threat for the top of the podium at any event she enters, and now she's armed with a change of scenery and the resulting boost in her ratings, bringing her into the Las Vegas Challenge poised to improve on 2018's fourth-place showing at the PDGA National Tour opener.
We caught up with the veteran pro to talk about her new home in Arizona, the temptations of Sin City, and that leg kick. Our interview has been edited for clarity and length.
You've won five tournaments and are averaging 957-rated golf since moving to the Phoenix area last August. Your 946 rating is a career high. The numbers say the move benefited your game. Do you feel the same?
I don't know if it's the move so much as more of I took a break by packing and moving. I didn't play any of the tournaments at the end of the year I typically do – I didn't go to Ledgestone, I didn't go to Worlds. I took a pretty big break, and honestly I think that did my game a little bit of good even though that sounds backwards.
The weather when I moved was the same in Oklahoma, so it wasn't like I came here and started practicing with nice weather…New mindset. I was playing small events with fun people, just having a good time, and that's when I typically play my best golf. But I've enjoyed nicer weather this winter, and less wind has been really nice. Although for Vegas, if I do recall, I do need to be practicing in that wind, huh? [Laughs]
Taking a break and great atmosphere of people probably has to do more with my ratings lately.
What's the biggest challenge at the Las Vegas Challenge?
Staying in bounds. Two of my major problems: staying in bounds and my mental confidence with my putting. As long as I can focus and stay comfortable with my putts…
Being able to throw far certainly comes in handy out there.
Distance is great. But as you can see with Paige [Pierce] and I, it usually gets us into more trouble than players who don't throw as far.
What's your mindset like heading into this first big event of the 2019 season?
Controlling my game, staying confident with my game. I can manage that with nice, relaxed events where you're not under the pressure, so making sure I can say focused under pressure is my focus.
I always feel like my focus is a little different than touring players…I consider disc golf a hobby – a professional hobby that I try to play as much as possible – so I always find my goals are a little bit different than the other ladies…I don't go into a tournament with a mindset of winning as much as other players do. I feel like I go in and I am satisfied playing an event if I play at my best. If I do play my best, I do have a good chance of winning.
A lot of players go in saying, "I'm going to win." I don't tell myself that. I tell myself to go out, play my best, do what I can. And if I do, it usually works out.
Honesty time: Are there any lingering temptations down on the Las Vegas Strip?
[Laughs] Absolutely not, none. I am not a gambler, so I've been however many years now – I've never put a penny in any kind of gambling till. And this year I'm very excited my kids will be going as well. I'll take them to see the strip, but we won't be doing anything crazy. No late-night temptations for me.
I think – I don't know, for a lot of us who have been [to Las Vegas] every year, I would think it's not as big a deal, but maybe? But for the top men and women, I think we treat this very seriously, so I would think that they would lose it too much out there – unless you're playing bad. Then you go have a good time, right? [Laughs]
One last question: The leg-kick follow through on your putt – where did that come from?
I don't know, honestly. It's just something that's always been in my putt. I actually try to focus on not kicking it up as high. But Ledgestone – not last year, it might have been two years – Ledgestone a year or two ago I played with an amazing card of Lesli [Herndon] and Des [Reading], and we're like these old school golfers. And I think it made me realize, watching Lesli putt and looking back at film of Juliana [Korver] as well, all of us have a dancer background, and I think that's how I saw putting when I started. Not that I realized I was doing it – I don't think I consciously said, "I need to kick my leg up like they're kicking their leg" – but it just happened.
The Las Vegas Challenge presented by Innova Champion Discs runs from February 21-24 in Henderson, Nevada.