2019 PDGA Major, NT, DGPT, & A-Tier Schedule Released
2019 PDGA Major, NT, DGPT, & A-Tier Schedule Released
2019 Tour Standards and Sanctioning Form Available
Wednesday, October 31, 2018 - 21:47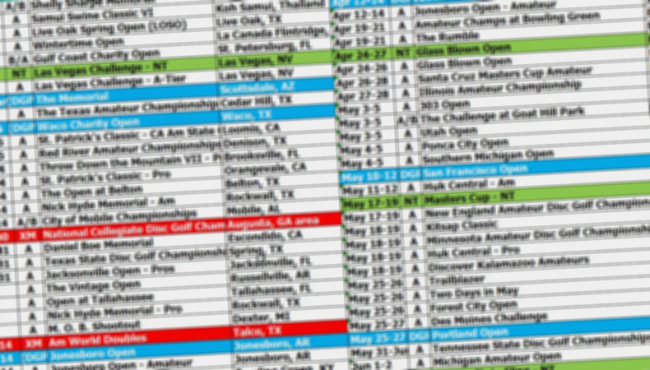 The schedule for the 2019 PDGA Majors, National Tour, DGPT, and A-Tiers is now available, along with the 2019 PDGA Tour Standards that will go into effect on January 1, 2019.
PDGA state and provincial coordinators may now start accepting requests for approval of dates for 2019 B-Tier and C-Tier events.
The 2019 PDGA Event Sanctioning Form is now enabled, so tournament directors for pre-approved 2019 A-Tiers and State/Prov Coordinator-approved 2019 B & C-Tiers, may now submit their sanctioning.
Reminders:
Tournament directors (TDs) need to be current 2019 PDGA members and must be a PDGA-certified rules official through their event date(s) to sanction an event.
For an A-Tier to appear in the upcoming winter issue of Discgolfer magazine, the event will need to be fully sanctioned prior to Monday, November 26, 2018.  All A-Tiers are required to be fully sanctioned by December 1, 2018.
The PDGA Tour schedule for 2019 consists of eleven PDGA Majors, six PDGA National Tour events, eleven DGPT events, and 106 other A-Tiers, including four in Canada, one in Thailand, and the WFDF World Team Championships in Estonia. For 2019, there is one international major event, the European Open in Nokia, Finland, preceded the day before (July 17) by the eighth rendition of the President's Cup, a competition that features Europe's best players pitted against the best players from the U.S.
The PDGA National Tour will start at the end of February with the Las Vegas Challenge in Las Vegas, Nevada, and conclude with the Hall of Fame Classic NT Finale at the International Disc Golf Center in Appling, Georgia, in mid-October (along with the 2019 Disc Golf Hall of Fame induction ceremony). The Disc Golf Pro Tour will start at The Memorial in Arizona and conclude with the DGPT Tour Championship at a location yet to be determined in the Mid-Atlantic or Southeast region of the U.S. a week after the NT Finale.
The table below displays all of the scheduled PDGA Majors, National Tour, DGPT, and A-Tier events for 2019. You can also download this schedule in its entirety, which also includes a column with the Tournament Director's name for each event.
| Dates | Days | Tier | Class | Event | Location |
| --- | --- | --- | --- | --- | --- |
| Jan 11-13 | 3 | A/B | Pro/Am | Shelly Sharpe Memorial | Scottsdale AZ |
| Feb 6-9 | 4 | A | Pro/Am | Samui Swine Classic VI | Koh Samui Thailand |
| Feb 15-17 | 3 | A | Pro | Wintertime Open | La Canada Flintridge CA |
| Feb 16-17 | 2 | B/A | Pro/Am | Gulf Coast Charity Open | St. Petersburg FL |
| Feb 21-24 | 4 | NT | Pro | Las Vegas Challenge - NT | Las Vegas NV |
| Feb 21-24 | 4 | A | Pro/Am | Las Vegas Challenge - A-Tier | Las Vegas NV |
| Feb 28-Mar 3 | 4 | A (DGPT) | Pro | The Memorial | Scottsdale AZ |
| Feb 28-Mar 3 | 4 | A | Pro/Am | The Memorial (Pro Masters & Amateur) | Scottsdale AZ |
| Mar 9-10 | 2 | A | Am | The Texas Amateur Championships | Cedar Hill TX |
| Mar 14-16 | 3 | A (DGPT) | Pro | Waco Charity Open | Waco TX |
| Mar 15-17 | 3 | A | Am | St. Patrick's Classic - CA Am State Championships | Orangevale CA |
| Mar 22-24 | 3 | A | Pro | Throw Down the Mountain VII - Pro | Brooksville FL |
| Mar 22-24 | 3 | A | Pro | St. Patrick's Classic - Pro | Orangevale CA |
| Mar 22-24 | 3 | A | Pro | The Open at Belton | Belton TX |
| Mar 23-24 | 2 | A | Am | Nick Hyde Memorial - Am | Rockwall TX |
| Mar 23-24 | 2 | A/B | Pro/Am | City of Mobile Championships | Mobile AL |
| Mar 27-30 | 4 | XM | Pro/Am | National Collegiate Disc Golf Championships | IDGC - Appling GA |
| Mar 29-31 | 3 | A | Pro/Am | Daniel Boe Memorial | Escondido CA |
| Mar 29-31 | 3 | A | Pro/Am | Texas State Disc Golf Championship | Spring TX |
| Mar 29-31 | 3 | A | Pro | Jacksonville Open - Pros | Jacksonville FL |
| Mar 30/31 | 2 | B/A | Pro/Am | No Foolin' Tournament | Dexter, MI |
| Apr 5-7 | 3 | A | Pro | The Vintage Open | Russellville AR |
| Apr 5-7 | 3 | A/B | Pro/Am | Open at Tallahassee (Pro & Advanced) | Tallahassee FL |
| Apr 5-7 | 3 | A | Pro | Nick Hyde Memorial - Pro | Rockwall TX |
| Apr 6-7 | 2 | A | Am | Southern Michigan Open | Ypsilanti MI |
| Apr 6-7 | 2 | A | Am | Red River Disc Golf Championships | Denison TX |
| Apr 11-14 | 4 | XM | Am | Am World Doubles | Talco TX |
| Apr 12-14 | 3 | A (DGPT) | Pro | Jonesboro Open | Jonesboro AR |
| Apr 12-14 | 3 | A | Am | Jonesboro Open - Amateur | Jonesboro AR |
| Apr 18-20 | 3 | A | Am | Amateur Champs at Bowling Green | Bowling Green KY |
| Apr 19-21 | 3 | A | Pro/Am | The Rumble | Moline IL |
| Apr 24-27 | 4 | NT | Pro | Glass Blown Open | Emporia KS |
| Apr 24-26 | 3 | A | Pro/Am | Glass Blown Open | Emporia KS |
| Apr 26-28 | 3 | A | Am | Santa Cruz Masters Cup Amateur | Santa Cruz CA |
| Apr 27-28 | 2 | A | Am | Illinois Amateur Championship | Pekin IL |
| May 3-5 | 3 | A | Pro/Am | 303 Open | Federal Heights CO |
| May 3-5 | 3 | A/B | Pro/Am | The Challenge at Goat Hill Park | Oceanside CA |
| May 3-5 | 3 | A | Pro/Am | Utah Open | Ogden UT |
| May 4-5 | 2 | A | Pro/Am | Ponca City Open | Ponca City OK |
| May 4-5 | 2 | A | Am | M.O.B. Shootout | Dexter MI |
| May 10-12 | 3 | A (DGPT) | Pro | San Francisco Open | San Francisco CA |
| May 11-12 | 2 | A | Am | Huk Central - Am | Central SC |
| May 17-19 | 3 | NT | Pro | Santa Cruz Masters Cup - NT | Santa Cruz CA |
| May 17-19 | 3 | A | Am | Santa Cruz Masters Cup - Pro A-Tier | Santa Cruz CA |
| May 17-19 | 3 | A | Am | New England Amateur Disc Golf Championship | Manchester NH |
| May 18-19 | 2 | A | Pro/Am | Kitsap Classic | Port Orchard WA |
| May 18-19 | 2 | A | Am | Minnesota Amateur Disc Golf Championships | South St. Paul MN |
| May 18-19 | 2 | A | Pro | Huk Central - Pro | Central SC |
| May 18-19 | 2 | A | Am | Discover Kalamazoo Amateurs | Gobles MI |
| May 25-26 | 2 | A | Pro/Am | Trailblazer | Clermont FL |
| May 25-26 | 2 | A | Pro | Two Days in May | Spotsylvania VA |
| May 25-26 | 2 | A | Pro/Am | Forest City Open | London ON Canada |
| May 25-26 | 2 | A | Pro/Am | Des Moines Challenge | Des Moines IA |
| May 25-26 | 2 | A | Pro/Am | Norman Pro/Am | Norman OK |
| May 25-27 (Sat-Mon) | 3 | A (DGPT) | Pro | Portland Open | Portland OR |
| May 31-Jun 2 | 3 | A | Pro/Am | Tennessee State Disc Golf Championships | Morristown TN |
| Jun 1-2 | 2 | A | Am | Michigan Amateur Open | Holly MI |
| Jun 7-9 | 3 | NT | Pro | Beaver State Fling - NT | Estacada OR |
| Jun 7-9 | 3 | A | Pro/Am | Beaver State Fling - A-Tier | Estacada OR |
| Jun 7-9 | 3 | A | Pro | Discover Kalamazoo Open | Gobles MI |
| Jun 7-9 | 3 | M | Am | USADGC | Milford MI |
| Jun 14-16 | 3 | A/B | Pro/Am | Kansas City Wide Open | Kansas City MO |
| Jun 14-16 | 3 | A | Pro/Am | Treebash Open | Flagstaff AZ |
| Jun 15-16 | 2 | A | Am | Charlotte Amateur Championship | Charlotte NC |
| Jun 15-16 | 2 | A | Pro | The Majestic | East Bethel MN |
| Jun 15-16 | 2 | A/B | Pro/Am | The Twin Falls ClasSIC | Twin Falls ID |
| Jun 15-16 | 2 | A/B | Pro/Am | Zoo Town Open | Missoula MT |
| Jun 15-16 | 2 | A | Am | Ohio Amateur Championships | Wellington OH |
| Jun 21-23 | 3 | A | Pro/Am | High Plains Challenge | Fort Morgan CO |
| Jun 21-23 | 3 | A (DGPT) | Pro | Ledgestone Open | Eureka IL |
| Jun 21-23 | 3 | A | Pro/Am | Ledgestone Open - Pro Masters & Ams | Eureka IL |
| Jun 22-23 | 2 | A | Am | Brent Hambrick Memorial Open - Amateur | Westerville OH |
| Jun 22-29 | 8 | M | Pro | PDGA Pro Master Worlds | Jeffersonville VT |
| Jun 27-30 | 3 | A | Pro/Am | Tynni | Sipoo, Kerava, Tuusula, Finland |
| Jun 28-30 | 3 | A | Pro/Am | King Of The Hill | Anchorage AK |
| Jun 28-30 | 3 | A | Pro/Am | St. Louis Open | St. Louis MO |
| Jun 29-30 | 2 | A | Pro/Am | CCR Open | Lansing MI |
| Jun 29-30 | 2 | A | Pro/Am | Titan Open | Cedar Rapids IA |
| Jul 5-7 | 3 | A | Pro/Am | BC Open | Langley BC Canada |
| Jul 5-7 | 3 | A (DGPT) | Pro | Great Lakes Open | Milford MI |
| Jul 6-7 | 2 | A | Am | Great Lakes Open - Am | Milford MI |
| Jul 9-13 | 5 | M | Am | PDGA Junior Worlds | Emporia KS |
| Jul 12-14 | 3 | A | Pro/Am | Silver Cup XIX Pro-Am | Two Rivers WI |
| Jul 13-14 | 2 | A | Pro | Brent Hambrick Memorial Open - Pro | Columbus OH |
| Jul 18-21 | 4 | M | Pro | European Open (Wed 7/17 is Pres. Cup) | Nokia Finland |
| Jul 19-21 | 3 | A | Pro/Am | River City Open | Grand Rapids MI |
| Jul 20-21 | 2 | A | Pro/Am | Charlie Vettiner/Wendall Moore Open | Louisville KY |
| Jul 23-27 | 8 | M | Am | PDGA Amateur Worlds | York County PA |
| Jul 26-28 | 3 | A (DGPT) | Pro | Idlewild Open | Burlington KY |
| Jul 27-28 | 2 | A | Pro/Am | Ft Steilacoom Open | Lakewood WA |
| Aug 2-4 | 3 | A/B | Pro/Am | Mid America Open | Columbia MO |
| Aug 2-4 | 3 | A | Am only | United States Junior Disc Golf Championships | Jeffersonville VT |
| Aug 2-4 | 3 | A | Pro/Am | Music City Open | Nashville TN |
| Aug 3-4 | 2 | A | Pro/Am | Mad City Open | Madison WI |
| Aug 9-11 | 3 | A | Am | Midwest Amateur Championships | Smithville MO |
| Aug 9-11 | 3 | A/B | Pro/Am | Championnat Oasis | St-Jean-Baptiste QC Canada |
| Aug 10-11 | 2 | A | Pro/Am | Madisonville Open | Madisonville KY |
| Aug 10-11 | 2 | A | Pro/Am | Cedar Creek Open | Fairmont MN |
| Aug 13-17 | 8 | M | Pro | PDGA Professional Worlds | Peoria IL |
| Aug 17-18 | 2 | A | Am | Next Adventure Amateur Championships | Fairview OR |
| Aug 21-24 | 4 | XA | Pro/Am | WFDF World Team Championships | Alutaguse Ida-Virumaa Estonia |
| Aug 23-25 | 3 | A | Pro/Am | Vacationland Open | Turner ME |
| Aug 23-25 | 3 | A | Pro/Am | Magic City Mega Bowl | Birmingham AL |
| Aug 23-25 | 3 | NT | Pro | Delaware Disc Golf Challenge | Newark DE |
| Aug 24-25 | 2 | A | Pro/Am | Lake Superior Open | Superior WI |
| Aug 24-25 | 2 | A | Pro/Am | Seviren Lang Memorial | Georgetown IN |
| Aug 29 - Sep 1 | 4 | A (DGPT) | Pro | MVP Pro Side | Leicester MA |
| Aug 31 - Sep 1 | 2 | A | Pro/Am | End Of the Trail (SJVC) Classic | Visalia CA |
| Aug 31 - Sep 2 | 3 | A | Am | Southeastern Amateur Championships | Orlando FL |
| Aug 31 - Sep 2 | 3 | A | Pro/Am | Colorado State Championship | Colorado Springs CO |
| Sep 5-8 | 4 | M | Pro/Am | Tim Selinske US Masters | Worcester MA |
| Sep 6-8 | 3 | A/B | Pro/Am | Canadian National Championships | Bonshaw PE Canada |
| Sep 12-15 | 4 | A (DGPT) | Pro | Green Mountain Championship | Jeffersonville VT |
| Sep 14-15 | 2 | B/A | Pro/Am | "Matt ""HOMIE"" Lovasko Fall Celebration" | Crown Point IN |
| Sep 14-15 | 2 | A | Pro/Am | Augusta Disc Golf Classic | Langley SC |
| Sep 14-15 | 2 | A/B | Pro/Am | Seth Burton Memorial | Pleasent Valley WV |
| Sep 19-22 | 4 | M | Pro/Am | USWDGC | Spotsylvania VA |
| Sep 20-22 | 3 | A | Pro/Am | The Greater Hartford Disc Golf Open (No Female Divs) | Manchester CT |
| Sep 27-29 | 3 | A | Pro/Am | The Carolina Clash | Charlotte NC |
| Sep 27-29 | 3 | A | Pro/Am | San Francisco Safari | San Francisco CA |
| Sep 27-29 | 3 | A/B | Pro/Am | Farragut Open | Athol ID |
| Sep 27-29 | 3 | A | Pro/Am | The Piney Woods Open | Tyler TX |
| Sep 28-29 | 2 | A/B | Pro/Am | Four States Open | Joplin MO |
| Sep 28-29 | 2 | A | Pro/Am | Kentucky State Disc Golf Championships | Bowling Green KY |
| Sep 28-29 | 2 | A | Pro | Stafford Open | Magnolia NJ |
| Oct 2-5 | 4 | M | Pro | USDGC | Rock Hill SC |
| Oct 4-6 | 3 | A | Pro/Am | The Maine State Championships at Pineland Farms | New Gloucester ME |
| Oct 4-6 | 3 | A/B | Pro/Am | The Harvest | Bailey CO |
| Oct 5-6 | 2 | A | Pro/Am | Show Low CRAZE | Lakeside AZ |
| Oct 11-13 | 3 | NT | Pro | Hall of Fame Classic (NT Finale) | Appling GA |
| Oct 11-13 | 3 | A | Pro/Am | Hall of Fame Classic - A-Tier | Appling GA |
| Oct 12-13 | 2 | A | Pro/Am | The Iowa Cup Finals | Dubuque IA |
| Oct 12-13 | 2 | A | Pro | The Warwick Disc Golf Championships | Warwick NY |
| Oct 12-13 | 2 | A | Pro/Am | Utah Disc Golf State Championships | Salt Lake City UT |
| Oct 17-20 | 4 | A (DGPT) |   | DGPT Tour Championship | TBD (Mid-Atlantic to Southeast) |
| Oct 18-20 | 3 | A | Pro | Firefly Hollow Open | Bristol CT |
| Oct 19-20 | 2 | A | Pro/Am | Norcal Series Championship | TBD Northern CA |
| Oct 19-20 | 2 | A | Pro/Am | Oklahoma Open | Tulsa OK |
| Oct 19-20 | 2 | A/B | Pro/Am | Le PheNOMININGUE | Nominingue QC Canada |
| Oct 25-27 | 3 | A | Pro | Veterans Park Open - Pro | Arlington TX |
| Oct 25-27 | 3 | A | Pro/Am | The Hollows Fall Classic | Manchester NH |
| Nov 1-3 | 3 | A | Pro/Am | Buffalo Run | McAlester OK |
| Nov 15-17 | 3 | A | Pro/Am | Lake Claiborne Championships | Homer LA |
| Dec 13-15 | 3 | A | Pro/Am | The South Florida Open | Royal Palm Beach FL |