Mom and Old Man Join "Steady" Ed as Honorary Eagle Club Members
Mom and Old Man Join "Steady" Ed as Honorary Eagle Club Members
Thursday, September 21, 2017 - 21:11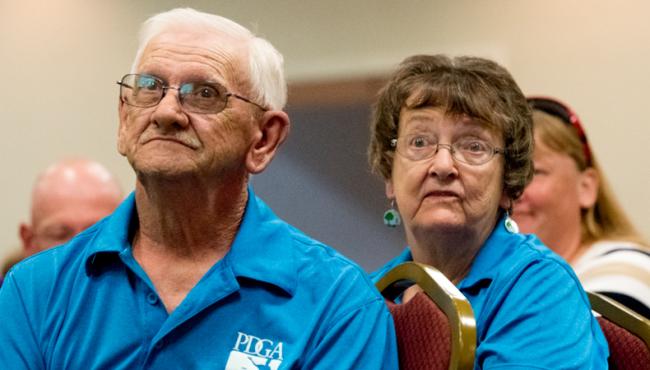 At tonight's US Women's Disc Golf Championships Players Meeting, surrounded by the largest women-only field of competitors in the history of the sport, two of the most cherished representatives and volunteers of disc golf, Bill and Mary Ann Wallis, known by most as simply "Old Man and Mom" became PDGA Eagle Club members. An Eagle Club membership typically means a donation of $2000 or more to the PDGA but in the case of Mom and Old Man, no amount of money was needed, nor would it have ever been accepted.
Just to put it into perspective, an honorary Eagle Club membership has only been awarded a few times in PDGA history, the most notable being "Steady" Ed Headrick, PDGA member #001.
For those that have never had the opportunity to be in their presence, try to think back to some moment in your life where someone you may not have known so well or may not have even known at all showed a level of love and care for you that you didn't think possible from a stranger. That's because, despite them not knowing you and you not knowing them on a personal level, when you walk up to their table at some random disc golf course in some random part of the country, you are not a stranger to them. You are family. Hence the names, Mom and Old Man.
Mom and Old Man's children are also heavily involved in the sport as Tournament Directors, volunteers, coordinators, etc. Their oldest son, Wilbur Wallis, was tasked with writing something up to honor them, to their total surprise, at the USWDGC Players Meeting. The words were enough to choke up the man responsible for reading them, PDGA Events Manager Mike Downes, who has been working with Mom and Old Man for many years now. Just as anyone does that has been around them enough, he too considers them family and it was truly an honor for him to have had the opportunity to surprise them this evening.
Mom and Old Man had no words when they were brought up to the podium in front of a standing ovation. And believe me when I say that it's one thing for Mom to not have much to say, but to do something that leaves Old Man speechless…that alone shows just how much it meant to him.
As another very fortunate person that has been blessed with many years of love and care from Mom and Old Man, I am forced to break the journalism rule of avoiding writing in the first person.
Mom and Old Man – I travel so much for disc golf that I often see you more during the summer months than my actual parents. I can't thank you enough for everything you've done for me, for the players at the events we've attended together, and for the sport and organization that makes sure I can put food on the table for my family. I love you both and I cannot tell you what it means to me to have been even a small part of this surprise for you tonight.
And Mom, no, I have not eaten dinner yet. I promise I will though. Jeez!