Disc Golf Story Submission Guidelines
The PDGA receives dozens of communications every week about things happening in the disc golf world that could be worthy of an article or story for the front page of PDGA.com. As much as we would love to publish everything that comes on our way, there simply isn't enough time and aren't enough resources to do so. We do our best to get interesting stories published from outside sources while also making sure we are bringing fans of disc golf quality and timely content covering the PDGA Majors and National Tour events.
If you have a piece you'd like to have considered to make the front page of PDGA.com, please read through the information below before submitting your content. These guidelines were put together by our Media Manager in an effort to streamline the process of publishing a story from 3rd party content providers.
Story Requirements
Title
We're big fans of fun story titles. Be creative, but make sure to keep the title relatively short.
Subtitle
This is optional, and only shows up in the cover image on PDGA.com's home page. It will not be displayed in the article itself when published.
Cover Image
The cover image is what appears on the home page of PDGA.com with the title (and optional subtitle) on top of the image. It also appears at the top of the story's page below the title and authoring information. Because of the way the title and subtitle displays on top of the image, a cover image that already has text in it is generally not accepted.
Please include the original full size image. We will make sure it is cropped to the correct size and optimized for fast loading on PDGA.com.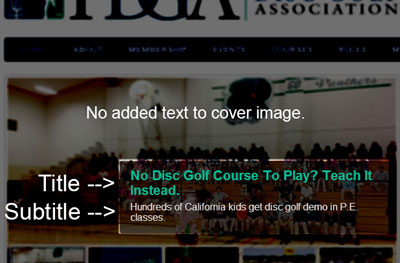 Body
Stories submitted should read like stories, not advertisements. They should avoid the over-mentioning of any company, club, manufacturer, etc.
Stories should be a minimum of 350 words.
Always include the PDGA number of any PDGA member mentioned in the story.

Example: "During the final round, Paul McBeth #27523 teed off…"

Anything that can or should be linked to should include the URL in parenthesis in the story so that we can set the link quickly when publishing the story.
Additional Media
If you have additional pictures to include with the story, please zip them up and attach them using the Additional Images field on the PDGA Media submission form. We can also embed YouTube videos and Instagram videos into a story so feel free to include a link in the Description and/or Comments section.
Ready to submit a story? Please complete the PDGA Media submission form.