McCray Goes 28 for 36 on Saturday to Take US Masters Lead
McCray Goes 28 for 36 on Saturday to Take US Masters Lead
Sunday, May 6, 2018 - 09:37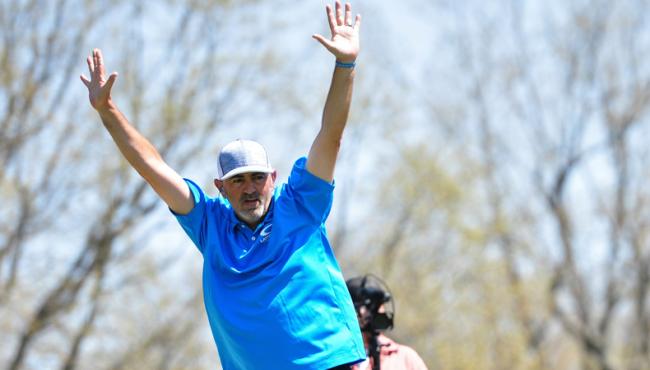 Three courses and 54 holes into the 2018 Tim Selinske US Masters and JohnE McCray has yet to card a single bogey. Add to that the 37 birdies he's picked up since the opening round and it's easy to see why he's now sitting at the top of the leaderboard with a five-stroke cushion with only one round remaining.
One last shotgun start will kick off the final round for all divisions on Sunday morning, with the Pro Masters 40+ taking on the Gold course and the Pro Masters Women 40+ on Silver. Courtney McCoy's opening round lead of four over Leslie Todd has been reduced to just two after Saturday's rounds on the Blue and White courses. It's been a nonstop battle between the two of them and anything can happen considering the difficulty of the long and heavily wooded Silver course.
Several other divisions are running close races as well heading into the finals on Sunday morning. Jim Oates leads by just a single throw over Eric Rainey in the Pro Masters 50+ division and Barrett White is looking to hold on to her two-stroke lead over Susan Stephens on the women's side. Ron Robertson and James Elkins are tied up in the Advanced Masters 50+ division as are Fred Needham and Mark Hauser in the Amatuer Masters 60+ division. The list goes on and on, and it will all come to an exciting finish on Sunday morning in Crown Point, Indiana.
Follow the live scores and updates on pdgalive.com and make sure to follow the PDGA on Facebook for live video of the Pro Masters 40+ division towards the latter end of the round this afternoon. We wish all of the competitors good luck on Sunday morning as the 2018 PDGA Tim Selinske US Masters comes to a close!