McCray-Day at the Masters Cup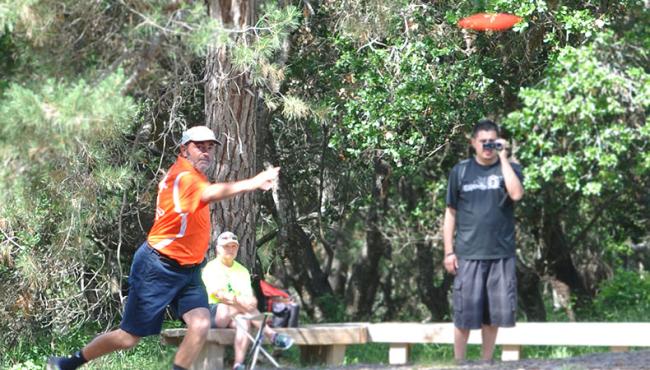 The first day of a PDGA National Tour disc golf event is always interesting. Today was no different, as the first of three rounds of the "Steady" Ed Memorial Masters Cup took place on the DeLaveaga Disc Golf Course here in beautiful Santa Cruz, CA. Playing DeLaveaga is a seemingly endless battle on the mind and body. The easy holes aren't easy and the difficult holes can be devastating. A tournament played on this course means there is no favorite. It can and will make or break competitors in any and every division.
Defending Masters Cup champion Catrina Allen #44184 is tied with 3X PDGA World Champion Val Jenkins #17495 for the lead in the Open Women's division after they both finished the round at four over par, unofficially rated 977. Paige Pierce #29190 is sitting in third just a few throws behind and California native Ohn Scoggins #48976 will join them on the lead card tomorrow morning. They will be the last to tee off, scheduled for 1:40PM PDT, and we'll have live scoring and throw-by-throw commentary for their entire round.
The Open division is as close as close can get. JohnE McCray #9852 is in the lead after shooting nine under par, unofficially rated at 1066. Sitting just one behind him is Portland pro Tim Skellenger #26269, who had the hot round all day until JohnE turned in his card late this afternoon. Check the results page and you'll find a cluster of players tied for third, five in total. The two players of the five tied for third place that will join the lead card is determined, as usual, by lowest PDGA number. Avery Jenkins #7495 and Dave Feldberg #12626 have that honor. Paul McBeth #27523 went into the final hole, AKA "the top of the world", at eight under par which would have tied him for second had he taken a par, but an unfortunate approach left him with a 2-meter rule penalty and a double bogey.
If you hear the name JohnE McCray and it doesn't ring a bell, you obviously haven't been paying attention to disc golf this year. JohnE McCray's story is extremely unique, and his out-of-nowhere domination on this year's National Tour is enough to make you wonder why he's just now making a name for himself at the national and international level.
JohnE dominated the Florida disc golf tour for over a decade and after a brush with death caused by Lyme Disease in 2007, he decided to finally pursue his dream. Joined by his wife and his two daughters, JohnE has been on tour all year going from city to city in their newly purchased RV. He's won eight tournaments already this year, placed second at The Memorial Championships and at the Tim Selinske US Masters Championships (PDGA Major), and now he's in the lead at yet another PDGA National Tour event. Did we mention he's old enough to play in the Masters division?
Unlike the weather in the days to come, the competition will be fierce. Head to PDGALive.com tomorrow for live scores and coverage of round two of the "Steady" Ed Memorial Masters Cup and check the PDGA Flickr page is every night for high-resolution photos from each day.