McBeth, Pierce March to Top of Memorial Leaderboard
McBeth, Pierce March to Top of Memorial Leaderboard
Conrad matches hot round to move into sixth
Thursday, March 1, 2018 - 09:00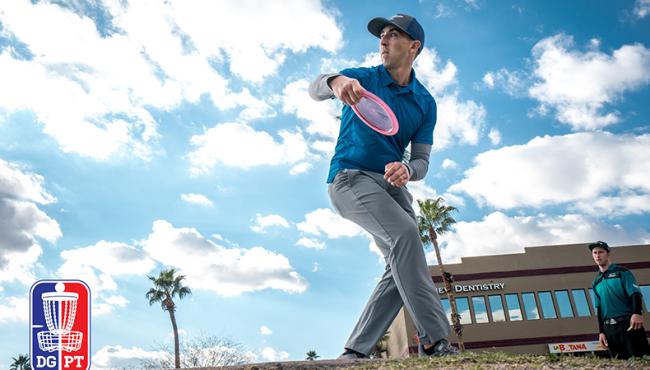 There's a reason fans refer to this week's tour stop in Arizona as the "Mc"morial.
After a relatively sluggish start at the tournament he's won five times this decade, Paul McBeth recaptured the form that has made him so dominant in the desert. The four-time PDGA World Champion has carded birdies on 21 of his last 27 holes, including a 13-under par assault on the fairways of Vista del Camino Park yesterday to climb eight spots on the leaderboard and into sole possession of first place at the Memorial Championship's halfway mark.
McBeth sits at a 21-under par 95 through two rounds, but a veritable Murderers' Row of contenders in second place is ready to give chase. Simon Lizotte, Eagle McMahon, Ricky Wysocki, and Nikko Locastro are all tied at 20-under, with McMahon shooting the cleanest round of the group with a bogey-free 11-under par 49 Thursday. James Conrad, meanwhile, matched McBeth's hot round to move up 21 spots on the leaderboard and into a sixth-place tie with K.J. Nybo at 19-under.
The 1081-rated 47 was McBeth's best at Vista del Camino since 2012, when he shot an 1105-rated 45 on the 8,562-foot par 60 layout. But, in typical McBeth fashion, he wasn't entirely content with the performance.
"It was weird," McBeth said. "I don't feel like I played that great, but I kept birdieing, apparently."
Since recovering from some early hiccups at Fountain Hills in day one, McBeth said he's been able to score well by leaving himself with shorter putts. He currently leads the Open field in success at hitting both circle 1 (75 percent) and circle 2 (86 percent) in regulation.
"I was getting my shots about 10 feet closer today than I was yesterday, and they were just easier to make," McBeth said.
He still hasn't been 100 percent comfortable with his putting stroke lately, but did make an adjustment on Wednesday – he switched to a straddle stance for one hole instead of his preferred staggered stance, he said, which helped to get his release point locked back in – that has yielded more conversions in the circle. He only missed one from close range during his Thursday scorcher, on hole 5, but made up for it with a 60-foot jump putt for deuce on the 482-foot 9th and peppered in three more connections from just inside 30 feet. Both of his putting percentages, from circle 1 and circle 2, are up compared to his performance at last week's Las Vegas Challenge.
Conrad, who finished in a tie for 20th place in Vegas, started his scoring early at Vista, canning a 40-footer for birdie on the 284-foot opening hole. That kickstarted a normally strong long-range putting game that suffered at the National Tour opener: Conrad missed on all 14 of his attempts from beyond the arc at the LVC, but has already connected on five at the Memorial. "That's always a great momentum boost to hit a bonus putt at the beginning of the round," he said.
Conrad kept a clean sheet for the second straight round and has only strayed out-of-bounds twice during the tournament. Known as a woods technician, the Virigina pro focused on improving his open-field play during the offseason and is already reaping dividends. He is third in the Memorial field in fairway hits and leads with an 86 percent success rate at landing in circle 2 in regulation.
"I didn't prove [I'd worked on] it in Vegas by any means, but today felt good," Conrad said. "…Definitely spent some work trying to get a little more dialed in on landing zones, not just hitting a line off the tee."
Though few blemishes were found on top players' scorecards, an odd moment temporarily hampered the flow of the lead card when Locastro called Wysocki on a foot fault after he released his second shot on hole 11. Locastro said Wysocki was too far behind his lie, but no other players on the card verified the violation and, after exchanging some words, both Locastro and Wysocki connected on plus-sized putts for birdie.
"There was no maybe about it – it happened, it's on camera," Locastro said in a post-round interview with Terry Miller. "I'm not mad at Rick, he's one of my best friends. I love Ricky Wysocki, and if we see it it should be the same rules for everybody, and it's just that."
Though there are two rounds still to play, Paige Pierce gave herself some breathing room in the Open Women's division. After entering the round knotted up with Catrina Allen and Sarah Hokom, Pierce putted her way to a 995-rated 6-under par 54 showing that gave her a five-shot buffer over her closest counterparts. She's now at 8-under through the event, while Jessica Weese and Jennifer Allen moved into a tie for second place with Hokom at 3-under.
Pierce two-putted seven times during Wednesday's opening round at Fountain Hills but rebounded with a strong showing at Vista. Though she missed a few "shorties," as she called them, she said her she was able to put pressure on her cardmates with a 50-footer for birdie on hole 9. She parked five holes on the day and didn't miss a putt after hole 13, with her final hot stretch including another 50-footer on 16 that found her running the hillside basket.
"There it landed 45 feet pin-high right, and when I saw where it landed I had the thought, 'Should I lay this up?'" Pierce said. "And I said, 'No, I'm not laying up'…I just told myself, 'If you're gonna miss, at least hit the chains.'"
Vista featured six shortened holes on the women's side, and Pierce embraced the changes and their ability to deliver some scoring separation. She highlighted hole 9, which is almost 150 feet shorter than the men's tee, and hole 11, which is still plenty long at 549 feet.
"Hole 11, it's a really hard three, and I don't know how many times I've even gotten it," Pierce said. "But with the change, it was definitely a gettable three. And if you get a three, you're probably picking up strokes on two people on the card."
Play now returns for a second run at Fountain Hills, where five years ago today McBeth recorded the highest rated round ever with his 17-under par 39 that clocked in at 1132. And while it would have been easy for McBeth to get lost in the past on the eve of that milestone, he was simply looking to make adjustments from his Wednesday performance there.
"Tomorrow I just need to make my putts," McBeth said. "If I can throw the disc anything like I did the first day then my score's only gonna be better, because I had some really bad putts the first round."
Live coverage of the Open lead card, which will feature edited coverage of the women's division, will air beginning at 4 p.m. ET on the Disc Golf Pro Tour YouTube channel. Real-time scoring and statistics will be available on UDisc Live when players first tee 10:04 a.m. ET.