Masters Cup - Day 2
Round two of the Steady Ed Memorial Masters Cup was played today in unseasonably warm weather for Santa Cruz, California but the weather wasn't the only thing that was hot.
Gregg Barsby and Ken Climo both carded a 77 (-7), which were the best rounds of the day and propelled them into the lead group for Sundays final 28 holes. Nate Doss continued his strong play with a 78 (-6) to remain in a tie for the lead with Barsby at -13 for the tournament. Ken Climo and Nikko Locastro, who are both at -12 and just one stroke off the lead, will round out the lead card.
In the womens division, Valarie Jenkins extended her lead to four throws over Des Reading by posting an even par round of 84. Reading shot an 86 (+2) to sit in second and four throws ahead of Carrie Berlogar, who posted an 88 (+4). Kathy Manley bested her first round score by three throws with a 92 (+8) to round out the lead group for the finals.
Patrick Brown matched Ken Climo and Gregg Barsby's round of 77 (-7) to take a two throw lead over Robert Ryan in the Masters divsion. Steve Lonhart and Jim Oates are four off the lead pace and will play in the Masters division final grouping.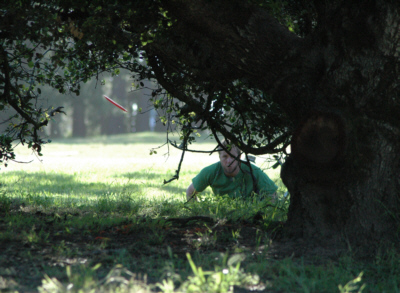 Hall of Famers, Marty Hapner and Snapper Pierson are battling it out in the Grandmasters division with the local favorite Hapner maintaining a single throw lead. Hapner and Pierson are eight throws clear of Randy Beers and Billy Lane with 28 holes left to play.
In the Senior Grandmaster race, Bruce Sisson is holding off Dr. Rick Voakes with a four throw lead. Michael Travers is just five off the lead with local legend Tom Schot rounding out the lead group.
The weather for the final round on Sunday is expected to be even warmer than today with temperatures expected in the 90's. Log into PDGA.com at 12:20pm PST for live scoring of the Men's Open division lead group.
---
PDGA Leader Board:
http://www.pdga.com/tournament-results?TournID=8765
Photo Galleries:
http://www.flickr.com/photos/[email protected]/collections/72157618215025534/