Local Limelight: Las Vegas
Local Limelight: Las Vegas
Steve Berger champions the city and its lifestyle
Tuesday, February 20, 2018 - 01:41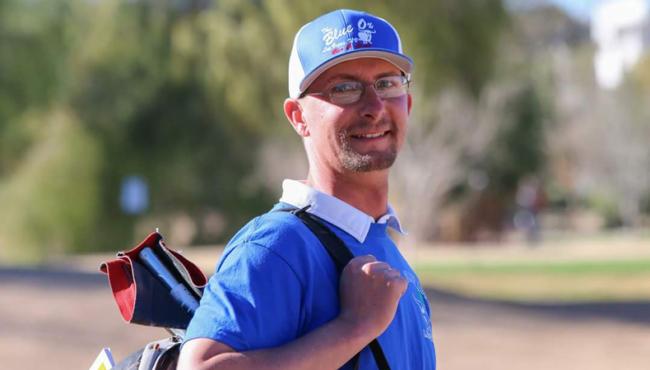 It's three weeks before the Las Vegas Challenge, and one of the city's top-rated pros, Steve Berger, has just dropped to his club's number 19 tag. The timing for an interview, then, could be a bit better.
"You had to ask me today and not yesterday?" the 33-year-old says with a laugh. "I was sitting on tag one yesterday, but I lost it last night."
Still, the 992-rated left-hander isn't about to let one loss get him down. After 19 years in Sin City, he's developed a temperament more akin to the indomitable spirit of Fremont Street than the glitz and glamor of The Strip; he may not make the same highlight reel throws as his touring contemporaries who will descend upon his home turf this week, but he's got experience and a can-do spirit on his side: "I re-challenged the guy who took it from me, and we've got a round scheduled for Saturday morning out at Wildhorse."
That attitude has made Berger an integral part of a 300-strong club that has continued to help desert disc golf proliferate. After moving from Indiana almost two decades ago, Berger was taken with the city's 24/7 lifestyle and conditions that allowed him to play year-round. Once he started participating in local leagues, though, he realized he needed to dedicate himself to improving if he wanted to keep up.
"I got to the point where I was tired of giving my five bucks away every time," Berger says of the four-nights-a-week doubles rounds and weekend singles play. "That's one of the things that kinda made me want to do better, was having the competition here locally – to have that push."
And while a fellow local like Las Vegas Challenge Tournament Director Jeff Jacquart is quick to sing his praises, even those from out of the area have noticed the hard work Berger has put in to improve his game. Paul Ulibarri, who often travels to the area from his home base in Arizona, said that even if Berger might not make the lead card at an NT, he's grown enough to be the top dog in his region. He proved that in 2017 with the signature performance of his 13-season pro career, a win at the B-Tier Halloween Classic.
"Growing up and playing he was always there over the past few years, and he was always a pretty good player, but I always felt like there were better players in Vegas than him -- Cary Trotter and a few people like that," Ulibarri said. "But it seems like over the years Steve has actually outlasted them, and he's kept getting better over the years. And now I feel like he's their best player in Vegas, which I guess is something he can be proud of, for sure."
Berger's impact has been felt off the course, too. Though Jacquart said he isn't necessarily the most rah-rah, grow-the-sport type, Berger is a "promoter of professionalism from the professional level, and he wants this event to succeed like crazy." Case in point: He was one of the first to help with the installation of 54 new tee pads at Wildhorse, and his day job at Sunkist Graphics has allowed the tournament special pricing on signage, vinyl wraps for baskets, and other promotional materials.
But Berger is more than just an advocate for professional disc golf or the Las Vegas Challenge: He's a champion of the city and its vibrant lifestyle. He still feels the impact of the mass shooting that took place at a music festival on The Strip last October and said that it's readily on the minds of local club members.
"We still talk about it quite a bit," Berger admitted. "It did have a huge effect on the city, and we're all kind of waiting for something to change. I've always thought, like, now we're gonna walk into a casino – there's gonna be security there checking people, patting people down, metal detectors – but nothing has really changed yet on that. It's kind of surprising to me."
One place he did notice a difference, though, was his favorite local course, a semi-private track known as Peccole Ranch. A memorial for those lost to the shooting was erected there, with a bench, plaque, and trees providing a remembrance every time he traverses its fairways. "It does make me feel good that there are so many people out there who care and want to do something to honor the victims in a positive way and build something out of it that we can all look to and enjoy for the future," Berger said.
While those roots continue to take hold, Berger looks toward the present. His father recently fell ill, which has meant less time for disc golf and club activities. But he said his local knowledge will suit him well as he tackles Wildhorse's trio of tracks this weekend, as knowing where each sand trap lurks and how far every out-of-bounds line extends is a "huge advantage."
"What I recommend to the people who haven't played on it before: Watch the coverage from last year," Berger said. "You can kinda see what kind of trouble you can be getting into."
And as for that number one tag? Berger's already rescued it from trouble.
"I believe I crushed him by eight strokes."