USDGC Live is Back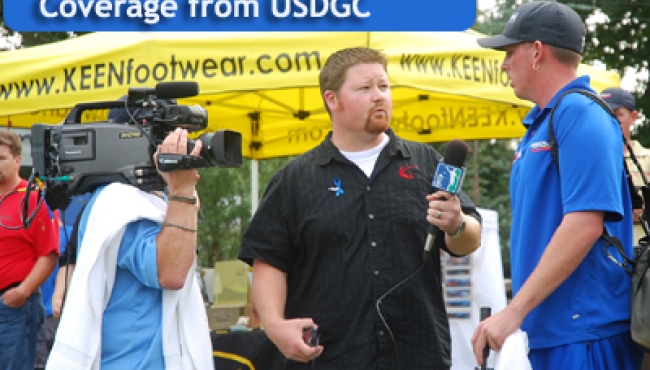 DiscGolfPlanet.tv to Again Provide Exclusive Live Broadcasting from United States Disc Golf Championship
Added Day of Presidents Cup Coverage to Be Included in Tuesday Bonus Pack
For the second consecutive year, DiscGolfPlanet.tv, in cooperation with the PDGA, will be providing live Internet broadcasting of the United States Disc Golf Championship at Winthrop University in Rock Hill, South Carolina.  Widely considered to be the most prestigious competition in disc golf, this national championship will be begin Wednesday, October 6th and continue through Saturday, October 9th, with the winner being crowned after four grueling rounds at the Winthrop Gold course.  
You can watch the entire five days of live broadcasting without leaving pdga.com!  We will have a specially constructed USDGC Media Page available, so that our fans can follow all the action throughout one of the most exciting weeks of competition in our sport!  This broadcast is made possible with significant support from the Professional Disc Golf Association, who invites all our members (and future members) to enjoy the show. 
DiscGolfPlanet.tv, will be providing a live stream from numerous locations throughout the course.  One of the cameras will be providing action through a wireless link, allowing for expanded coverage on the expansive championship layout.  
In addition to the Wednesday through Saturday broadcasting of the USDGC, DiscGolfPlanet.tv will also provide bonus coverage of the 2010 Presidents Cup team disc golf competition that will be held on Winthrop Gold, as well.  Now in its fourth year, the Presidents Cup will be touching down on American soil for the first time, as the top qualifiers from Europe will square off against the talent-laden United States team.  The Americans have captured the Presidents Cup in the first three years and are strong favorites to continue their winning ways.  
The 2010 Presidents Cup will also be the subject of a documentary movie entitled HONOR ABOVE ALL: The 2010 Presidents Cup.  Dave Manzo, who provided a small glimpse of his editorial prowess with his incredible treatment of the Beaver State Fling event earlier this year, will be producing this feature.  
Fans of disc golf can watch the over 25 hours of live coverage starting Tuesday, October 5th at 12:30 EDT, when the Presidents Cup broadcast will begin.  The USDGC will follow on Wednesday beginning at 1:15 pm, Thursday at 1:15 pm, Friday at 1:15 and Saturday at 1:15 pm.  
And while viewers can watch for free, they are encourage to donate at any of our $100, $20, or $3.95 levels.  
VIP Donor ($100). You'll receive the DiscGolfPlanet.tv VIP Pack...a DGPlanet.tv T-shirt, a DGPlanet.tv Cap, and a DGPlanet.tv golf disc. You'll also receive a VIP Pass to the Documentary Movie...HONOR ABOVE ALL: The 2010 Presidents Cup.
Galaxy Donor ($20). Your name will be mentioned during our broadcast as a Galaxy Donor. You will also receive a DGPlanet.tv Shirt OR DGPlanet.tv Hat OR a DGPlanet.tv Disc, depending upon our available inventory.
Star Donor ($3.95). For your donation, you will become eligible to win a pair of of Keen Shoes. We will be drawing one winner each day during our live broadcast.
All donors will be eligible for our daily drawing of a pair of Keen Shoes that are generously donated by Keen Footwear, one of our principal broadcast partners.