Lighting up Lemon Lake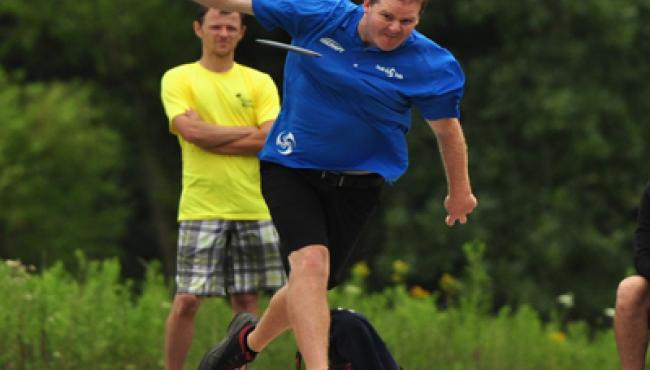 Day one of individual competition is in the books at the 2013 PDGA Professional Disc Golf World Championships. The Open Men had one round today while the majority of the remaining competitors tackled their first two rounds of the week. The leaders have been set after day one and everyone else finds themselves in the hunt for the World Champion title.
Hoping to repeat as World Champion, Paul McBeth stormed the field and slaughtered the Gold Course, but he was not alone. He found himself tied at 12 under par after round one with three-time World Champion Nathan Doss. Both Doss and McBeth sit a mere two throws above their closest competitors and have a long set of days ahead of them. Currently, there are seven players tied at 10 under par tied for third.
Tomorrow the Open Men tackle the Lemon Lake Blue and White courses throughout the day.
After round two on day one Catrina Allen, Paige Pierce and Ragna Bygde stand on top of the leader card tied at five under. They need to watch their backs though because World Champions Des Reading and Val Jenkins are only one throw behind and will press for the lead.
Tomorrow afternoon the Open Women tackle the Gold Course and the difficult challenge it presents.
Another tight race that is developing can be found in the Masters Men division. Here Barry Schultz is holding down the top spot with a two throw lead over John Baldwin and a mere three throw lead over 12 time World Champion and 2012 Masters World Champion Ken Climo.
Tomorrow morning the Masters Men take on the Gold Course. They will lead the day's tee times and will be the first group finished with the gold course on Wednesday, August 7.
All of these races are extremely tight and anything can still happen. Players find themselves ready to go for day two, but competition is not over until the end of the Finals on Saturday, August 10. Only time will tell who the 2013 PDGA Professional Disc Golf World Champions will be.
Check out the PDGA Tour feed on flickr to see some shots of the day's action. Live scoring will be available for our closest divisions and a full list of scores will be posted as every round finishes. Live coverage is also available on Discgolfplanet.tv for everyone to see. Be sure to watch as the 2013 PDGA Professional Disc Golf World Championships continue.