Lhotak, Oleskie Tied Up Heading Into USADGC Final Round
Lhotak, Oleskie Tied Up Heading Into USADGC Final Round
Saturday, June 3, 2017 - 21:25
After 36 holes up, down, and across the massive slopes of Kensington Toboggan DGC, two names now sit at the top of the leaderboard; Dylan Lhotak #41076 and Brandon Oleskie #84911. Both players are heading into the final round tomorrow afternoon having carded just one bogey each and will need to continue that level of near-flawless play to take down the title of 2017 USADGC Champion.
Lhotak and Oleskie have traded scores thus far, with Lhotak throwing rounds of 56/55 and Oleskie throwing rounds of 55/56. Their scores, although impressive, have not given them much room for error as Minnesota's Alec Anderson #46872 and Iowa's Colin Poe #74005 are just two and three strokes behind them, respectively.
Oleskie's back nine was particularly impressive this afternoon, one that he certainly needed after a shaky front nine that left him just one under par on the day. After picking up a difficult birdie on the uphill hole 11, Oleskie followed it up with a huge birdie putt out of the woods on the 535' downhill hole 12. But it didn't stop there.
On the three holes that followed, Oleskie continued to play perfect golf, carding birdie after birdie after birdie. It was the run he needed to maintain his position with Lhotak and Anderson constantly on his heels. "Hole 12 was a huge confidence boost," said Oleskie. "I just took off from there."
SIIICCCKKK PUTT By brandon oleskie for the duece!! Hole 12. #usadgc #under54discgolf #under54 #detroitdiscco pic.twitter.com/I2VB52mE0E

— PDGA Live Scoring (@pdgalive) June 3, 2017
Lhotak, coming off a huge win at the 2017 Bowling Green Amateur Championships just over a month ago, is looking to improve on his 4th place finish at the USADGC last year. In fact, he's heading into the final round tomorrow with the intentions of taking home the gold.
"I'm going to play aggressive, depending on the situation," said Lhotak. "I'm gonna have to be smart and lay up…but for the most part, my plan is to make some corrections and come out hot. I'm ready to come out on fire tomorrow and take this home!"
Alec Anderson has now birdied 10 of the 18 holes on the course between his round of 56 on Friday and 57 today. Had he not picked up a bogey during each of said rounds, there would be a three-way tie at the top of the leaderboard. One thing that might play in his favor more than anyone else is how well he handles the spotlight. With cameras rolling and a gallery following, Anderson seems to feed off the added energy and pressure they provide, cracking jokes and just plain having fun out there.
"I just told myself to take it all in," said Anderson. "I don't know when I'll get another opportunity like it. I love playing disc golf so once I finally got relaxed I just got back to enjoying it. I always try to keep the mood light on the card and that's what I wanted to do today."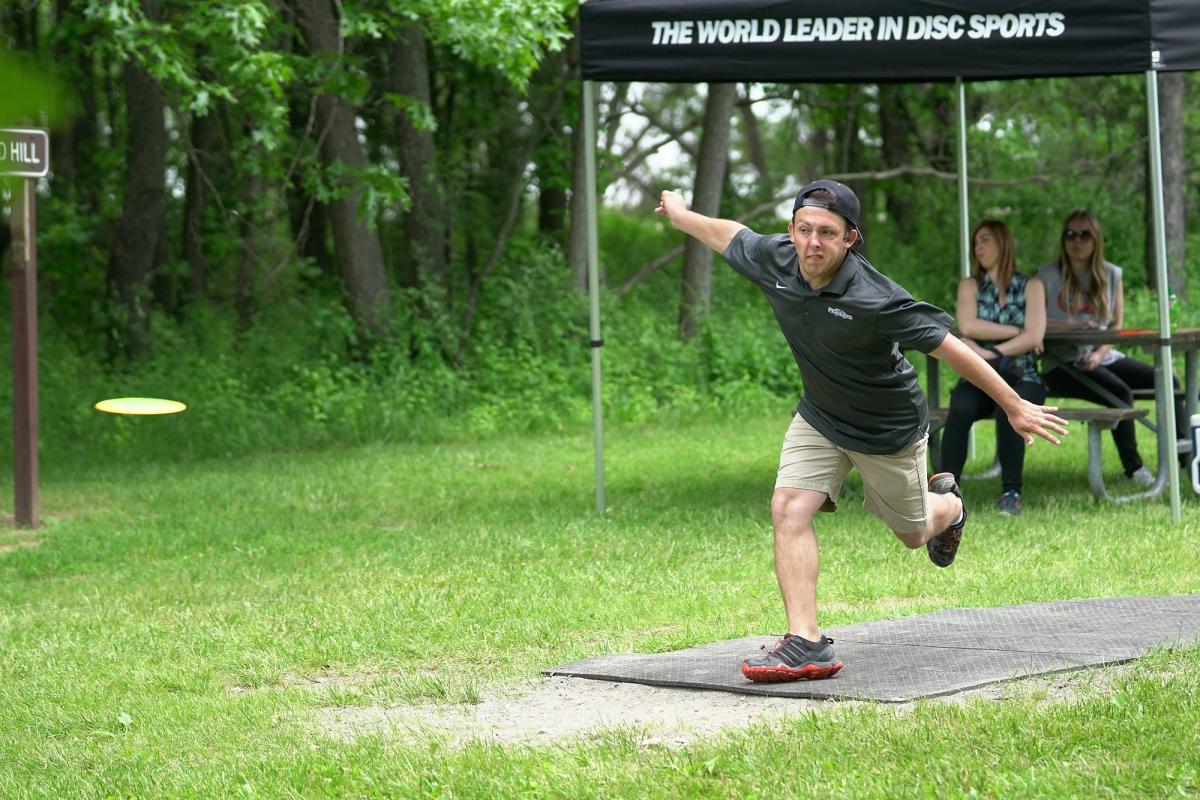 Colin Poe, starting as one of the 10 competitors tied for 5th place after round 1, sealed his position on the lead card with a string of birdies on the front. Starting the round five under par through the first six holes, all he needed to do to grab a spot on the lead card for the final round was avoid offsetting his front nine on the back half of the course. Fortunately for Poe, he did just that, carding three more birdies on the back with one bogey to finish with a 1007-rated round of 55 (-7).
With the level talent on the chase card and the cards beyond, this is still anyone's event to win. The potential of rain tomorrow afternoon combined with the chaotic nature of the Toboggan means there's simply no way to predict who will emerge as the victor.
Follow the action all day tomorrow with hole-by-hole live scores on pdgalive.com and updates with pictures and videos coming on via @pdgalive on Twitter. Last but certainly not least, make sure to follow @BobCarey on Instagram and Bob Carey Photography on Facebook for world-class USADGC photos.
Tee times and results can be found all weekend at pdga.com/usadgc. Only one day on the Toboggan remains!