Koling Weathers Storm, Perkins For Second Straight Waco Title
Koling Weathers Storm, Perkins For Second Straight Waco Title
Wild day in Texas ends in one-hole playoff
Sunday, March 18, 2018 - 13:37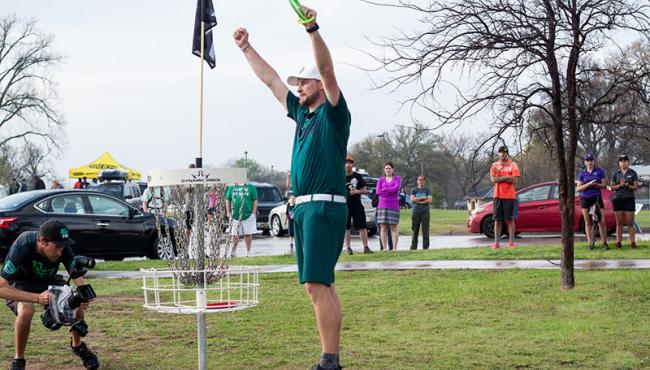 A lightning delay. A rainbow. A playoff. An errant shot that hit a spectator.
And that was all within the last three holes of the Waco Annual Charity Open.
After the weather cleared and the dust settled on a wild St. Patrick's Day in Texas, Jeremy Koling emerged from the fray with his second consecutive WACO title after outlasting Nate Perkins in a one-hole playoff at Brazos East Park. Koling took home $3,000 for his 33-under par 168 showing, while Perkins pocketed $1,945 for bringing in the same score before extra frames. Paul McBeth's 30-under par 171 was good for third place, while Nate Sexton, JohnE McCray, and Garrett Gurthie tied for fourth place with 29-under par 172s.
Ever the comedian, Koling couldn't help but laugh when reflecting on the circumstances that conspired for one of the more memorable final rounds in recent memory.
"Yesterday was nucking futs," he joked.
Dressed head to toe in what he called a "slight shade of green" to commemorate the day, Koling admitted that he got off to a slow start Saturday. He only managed one birdie on the first six holes and fell off of Perkins' pace with two bogeys and two missed putts inside the circle. He finally recovered with a birdie on the 462-foot 13th, then added an eagle on the 519-foot 15th with two precise forehands.
That kickstarted a run of two more birdies and another eagle that found Koling jumping back to the top of the leaderboard and holding a one-shot gap over Perkins heading into Brazos' open home stretch. After the early struggles, Koling said the burst of scoring gave him the confidence boost he needed, even if the classification of two eagles came as a bonus in his mind.
"Those were the plays I go for on those holes," Koling said. "I don't think of those holes as par 5s – I'm playing those for what I consider to be a birdie on a tough par 4...Not even trying to make a crazy move thinking, 'This will get me those strokes.' It's just about executing the game plan."
At that point in the round rain had started to come down steadily, and players quickened their pace as they aimed to squeeze in a full 18 holes before nearby thunderstorms took over. Perkins and Koling lobbed birdies back and forth, and when a horn sounded and players were forced to clear the course due to lightning just before teeing on hole 5, the pair were tied.
If the round had not continued, scores would have reverted to the 13th hole played per PDGA guidelines regarding mid-round cancellations. That would have given Koling a one-shot victory thanks to his second eagle, but, after collecting his 2016 United States Disc Golf Championship in abbreviated fashion, he said he was happy to ride out the storm and finish the round.
"That would have been crazy, and I honestly do not want to deal with that scenario again in my career," Koling said. "I've already got a pretty good title from that, so I can't be too greedy."
Instead, he battled Perkins to a draw on the final two holes of The Beast and circled back to the course's 558-foot 3rd to start the playoff. The whole situation left Koling feeling like it was 2017 all over again, when he battled James Conrad to a draw in regulation.
"To be honest with you, it was just déjà vu," Koling said.  "So many things were almost the exact same...I think I had two eagles during the last round of last year's event, and I had a bunch of putts missed in the circle, and I had a great guy storming and playing great golf."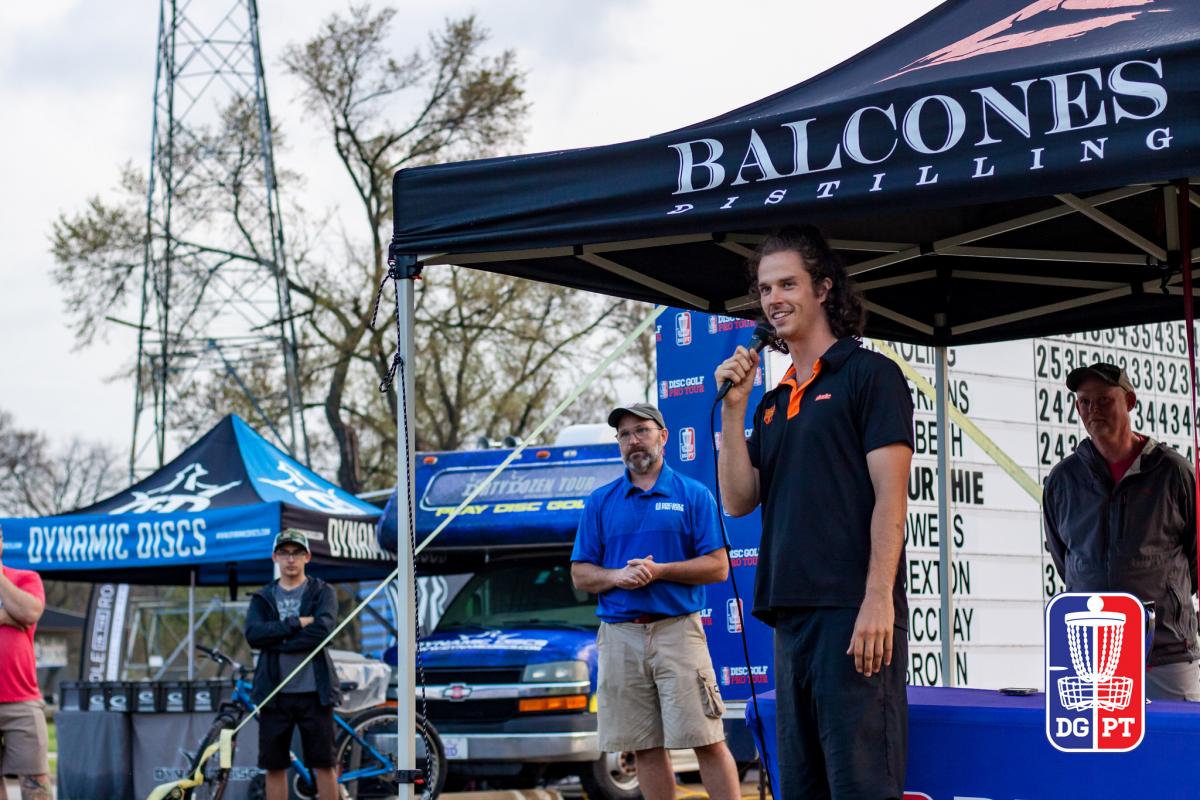 Indeed, Koling said he and Perkins have grown close over the last year. The young Texas pro stayed at his house during the USDGC, and the two cemented their bond when they traveled overseas for the Samui Swine Classic V in January. So when Perkins took the box and launched a forehand that slipped out of his hand and veered quickly into the gallery – the shot ended up hitting a woman who could not get out of the way quickly enough, but she was not injured – Koling couldn't help but feel disappointed.
"It was really bittersweet in many ways," Koling said. "When it came out of his hand, it was clear he had a little discomfort on the tee...but I also felt really bad for the lady he hit because she didn't see it coming...I wanted to have a nice battle of at least three or four holes with my buddy and really appreciate the moment."
Perkins admitted the shot was errant, as the disc felt a bit sticky on his hand before he teed. He also wasn't sure if it would have come back in bounds, as he's seen plenty of similar shots skip safely off the road.
"A bummer for it to go down that way, but who knows?" Perkins said. "…I shouldn't have thrown it that direction anyway."
Perkins composed himself well, though, and put his inbounds shot to about 45 feet before making an admirable bid to save par. It hit low off the cage, leaving Koling to pitch up for an easy par and the title. Still, Perkins was proud of how he handled the situation and at his overall comfort level throughout the weekend.
"There's nothing but positives coming from this tournament," he said. "It's my highest cash ever. It's the biggest stage I've played on along with Idlewild, and people were rooting for me out there and I really felt the love. Going forward I am going to take nothing but positives from this event."
Coming out on top of a four-time world champion wasn't so bad, either. "To beat Paul [McBeth] straight up for my first time ever was a pretty big deal," Perkins said.
Aside from the battle at the top that found Perkins firing off his second straight bogey-free round, there was plenty of other scoring during the final. Sexton used his 11-under round to move up two places on the leaderboard and into first place in the Disc Golf Pro Tour's points competition. Emerson Keith notched the same score to jump up five places and into a tie for seventh with Drew Gibson and Devan Owens, while Peter McBride's 13-under par hot round vaulted him into a 10th place tie with Bradley Williams and Seppo Paju.
"My putting felt good all weekend, but my drives finally clicked," McBride said. "On a course like that you need to hit your lines off the tee or you're not gonna score."
Koling said he hoped he could parlay the victory into more consistent play as he heads to next weekend's Open at Flat Creek before the Pro Tour moves to Jonesboro, Arkansas, in early April.
"I've never won back-to-back weeks on tour," Koling said. "Basically, all my wins are spread out, like one big win per year. I'm hoping maybe I can put together some run of confidence from this and take this and hopefully turn it into my best season yet.
"All it comes down to is the belief in myself," Koling continued, "and as long as I can trust myself and trust the process and believe I can be there, I'll be there, I feel like."