The Jet Stream of South Florida
The Jet Stream of South Florida
The Making of Ft. Lauderdale's Premier Disc Golf Course
Friday, September 26, 2014 - 16:18
Snyder Park, located a disc's throw from the Ft. Lauderdale International Airport in Florida will be home to the fifth course installed in Broward County. The county is comprised of 1200+ square miles of land and encompasses Ft. Lauderdale, Weston, Pompano Beach, Hollywood, and many other cities and towns. With a combined population of over 1.8 million, it's certainly primed and ready for a new disc golf course. The contract to install the park was awarded to Allen "AC" Colp #60619, owner/operator of Ace Disc Golf, Inc., fresh off his recent visit to the International Disc Golf Center (IDGC) where he attended the Disc Golf Course Designers Conference.
AC had been scouting various parks in the tri-county area for close to a year as part of his quest to venture into the world of disc golf course design. Upon his return from the course designer's seminar, he was driven to let his creativity, tutelage, and passion bring his vision to light. He finally settled on Snyder Park, 93 acres of beautiful land lacking any real activity outside of a small dog park.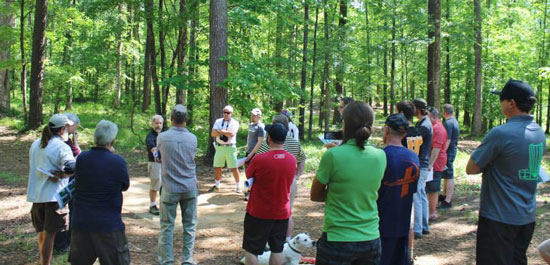 Construction for the course officially broke ground August 8th of this year, and AC couldn't be more excited about the project, demanding as it may be. "This course is monumental for the sport of disc golf in our area. Up to this point, all of the South Florida courses have been placed and maintained by the local clubs. In this case, the City of Fort Lauderdale bought into the concept that the sport is growing and opened their wallets to have a course placed in the underutilized Snyder Park."
AC goes on to state, "First and foremost, unlike many of the county parks in the area, this park doesn't have much commingling of other activities to worry about. I love the fact that because of this, I can be a bit more aggressive with my design. The park provides a great blend of live oak trees, open areas, water hazards (lakes), and significant elevation changes, all of which are uncharacteristic for South Florida. The Park Manager was happy to hear how the course would enhance the overall appearance of the park and create a revival for patrons visiting this gem of a property."
AC will be implementing many of the design concepts he learned at the Disc Golf Course Designers Conference back in May, including but not limited to some of the ideas introduced to the sport by the likes of John Houck #1688 and Chuck Kennedy #4949. When seeing the course layout, it's evident that risk versus reward shots are the premise of its design. One thing that separates it from other courses in the area is that a majority of the holes are par 4, instead of the far more common par 3. There will be an eclectic blend of technical shots, holes with optional routes off the tee, and designated landing areas on the fairways that players will need to hit before approaching the greens. Add to that a good amount of holes that cater to the big arms, and you've got yourself a championship-level course in the making.
"Much like what Houck does with some of his courses, I wanted to create a finishing hole that was one of the more difficult on the course. If you've ever played hole 18 of the W.R. Jackson Memorial Course at the IDGC, you'd understand just how challenging Houck's finishing holes can be. I added my own additional flavor to the course in Snyder Park, making the 18th hole not only challenging, but the signature hole as well. It will have a green with an elevated moat surrounding it, with the green accessible only via a bridge that backs up to an active water fall. It's just a little something that's not too common for our area…" AC explains with a wink.
Ultimately, this new course, dubbed The Jet Stream Disc Golf Course at Snyder Park, will cater to all levels of players. For those that are new to the game or that have never played, AC is implementing a concept taken from the "Steady" Ed Headrick Course at the IDGC, designed mostly by Kennedy.
The intro-level player can enjoy the scenic walk that the park offers, but they won't be asked to throw over water or face any other similar perils off the tee. Instead, multiple tee pads on each hole will be installed from different and often shorter locations providing safer routes and an overall more fun round of golf. These same tee pads will ultimately be drop zones for the more advance players throwing from the longer tees. The goal, as always, is and should be to encourage people new to disc golf to keep coming back for more.
Construction and installation of The Jet Stream Disc Golf Course at Snyder Park is scheduled to be completed here in the next couple of weeks. The official opening day ribbon-cutting ceremony put on by the City of Fort Lauderdale is tentatively scheduled for November 11th. For more information about designing and implementing a disc golf course of your own, check out the Disc Golf Course Designers website.