Hokom's Hot Putting Widens Waco Gap
Hokom's Hot Putting Widens Waco Gap
Pierce chasing from six shots back heading into final round
Saturday, March 17, 2018 - 01:33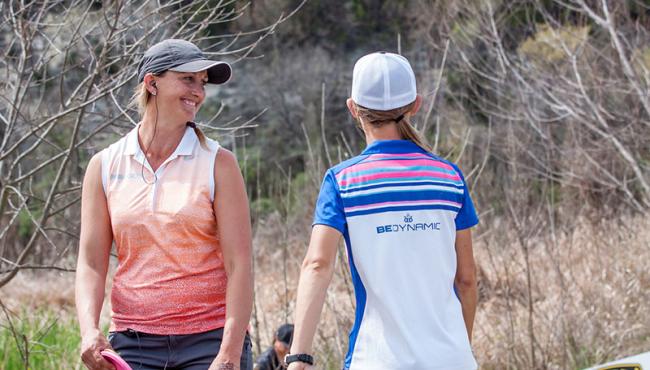 If scores and stats aren't enough to prove that Sarah Hokom put in a relentless performance Friday at the Waco Annual Charity Open, look no further than the words of Paige Pierce, who described Hokom's play with a tone that mixed awe and exasperation.
"Even when she was outside the circle and I was feeling good about picking one [stroke] up because my putter's under the basket, she hit a 35-footer," Pierce said. "…It was, like, 'Aggggh!'"
Indeed, Hokom's putting was the driving force behind a 6-under par showing that brought her two-day total to a 7-under par 127. Pierce, now at a 1-under par 133, trails by a half-dozen despite her own 3-under par round that represented a five-shot improvement over her Thursday score. Catrina Allen slipped one spot on the leaderboard and into third place with a 2-over par 136 total, while Lisa Fajkus (+6) and Ellen Widboom (+7) round out the top 5.
Hokom now leads Waco's Open Women's field in circle 1 putting (89 percent) and is second from circle 2 (27 percent). Those longer shots were where she cleaned up on Friday, as she made 75 percent of her attempts from beyond the arc, a vast change from her season-long rate of 11 percent from beyond 10 meters. Combine those numbers with her continued accuracy at Brazos East Park – she still leads in fairway hits, parked shots, and landing in circle 1 in regulation – and it resulted in a 987-rated showing.
The performance found Pierce, who is often the aggressor in the Open Women's division, simply trying to keep up.
"Any time it's tight she's a lot more precise than we are with her angles," Pierce said. "Even if I'm hitting my gaps I might not have as good of an angle as she does on the ground play…I was just trying to maintain, really, and get to the back where I have an advantage with my distance, for one. And, for two, I think I have a little more of an advantage on the putting green in the open."
Though Pierce was no slouch in the woods – she was 1-under for the round through The Beast's first 12 holes – the last third of the course did treat her well. She landed in the circle on five of the last six holes, including a park job for birdie on the 558-foot 3rd, and went 2-under through that stretch. Pierce could have had more had she avoided a disastrous hole 5, where she went out-of-bounds off the tee and on her approach before settling for a double bogey 6.
Those larger numbers have been another difference for Hokom, in that she hasn't collected any. She hasn't carded worse than a bogey through 36 holes, whereas Pierce has two double bogeys; Allen has a double and a triple; and Fajkus has scrawled a pair of 7s and a 9 on her scorecards.
Hokom's success wore off on Widboom, a Florida native who recently left her career in the Air Force to pursue life as a touring professional. After she kicked off the tournament with a 6-over par showing on Thursday, Widboom saw Hokom's score and was inspired.
"I was like, 'She throws sidearm, and I throw sidearm,'" Widboom said. "So I was like, 'I can do this.'"
That confidence is something Widboom will take into the final round as she aims for her stated goal of a top 7 finish. "I think tomorrow I really just want to play solid, almost par golf and get the birdies where I know I can get them and see what happens," she said. "…So here we go. Fifth place, top of the chase card tomorrow – I'll take it."
Pierce, meanwhile, is in an unfamiliar position as far as 2018 goes: This is the first time she's trailed entering the final round this season. Still, she was relishing the opportunity to play hunter instead of prey.
"I think it's fun," Pierce said. "To me, it's never over till it's over, so the way I look at it is she has a head start. I feel like I have the skills to birdie most of the holes I walk up to, it's just gonna be a matter of how many I can get…If I'm within three [going into the open section] I think I can still win it. I just have to stay close, and I think she's gonna feel that pressure."
The Open Women's lead card tees off at 9:40 a.m. CT, with real-time scoring and statistics available at UDisc Live.