Glass Blown Open Notebook: In Emporia, They Grow Baskets
Glass Blown Open Notebook: In Emporia, They Grow Baskets
Catching up on leftover storylines from the week in Kansas
Wednesday, May 2, 2018 - 16:44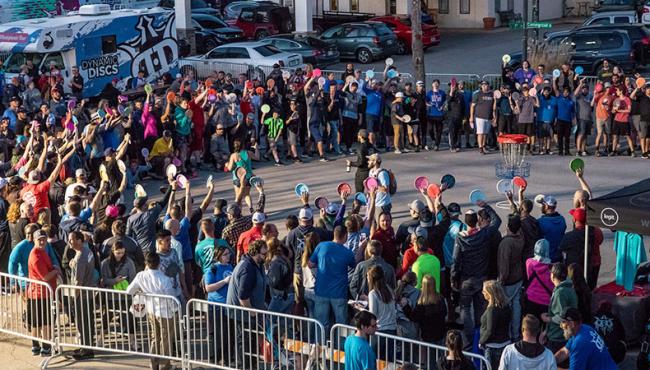 The Dynamic Discs Glass Blown Open, just like every year, was an event unlike any other. From the time my wheels hit the pavement on Industrial Road on Wednesday until I left via I-35 South on Sunday morning, Emporia rolled out the red carpet for disc golf, with marquees, storefront windows, and electronic roadside signs all welcoming the 1,602 competitors who flocked to Central Kansas. Walking around Saturday night's downtown block party, I spoke with locals who were mystified at how many people had come to enjoy their hospitality. Restaurant employees handled the extra workload with endless smiles. And Mother Nature, who hasn't always been kind to the GBO, brought her own sunny disposition.
All in all, it was a phenomenal week replete with stellar competition and intriguing storylines. With that in mind, how about some leftover news and notes from Midwest?
In Emporia, They Grow Baskets
According to the Kansas Department of Agriculture, the Sunflower State's top 5 homegrown products include cattle, wheat, soybeans, corn, and sorghum.
In Emporia, they should add disc golf baskets to the list. And it would probably come in at the top.
Seriously, there are baskets everywhere in that town. Head in one direction and you'll come across nine targets a Flint Hills Technical College. Take a short morning run and you're suddenly surrounded by metal and chains at Jones Park. Stop in for a Maui Wowi sandwich at Do-B's, and try and run some 60-footers on the edge of the parking lot.
At a minimum, there are 117 baskets in the ground in Emporia, just based on its five 18-hole courses and another three 9-hole tracks. Add in the surrounding cities of Olpe, Elmdale, and Cottonwood Falls and that number grows by 81. Round it all out with the baskets at the nearly dozen Emporia State University fraternity and sorority houses; a handful in each of the city's elementary schools; and random practice targets that dot backyards (hello, palatial estate off the Emporia Country Club's 14th) and front porches throughout town, and that number easily pushes 300.
The Ambidextrous Trend Continues
It started with Jessica Weese, who came back from a 2016 shoulder injury with an extra tool in her arsenal. Dustin Keegan joined the trend this offseason after his own shoulder setback, and at the Glass Blown Open it was Zoe Andyke and Emily Beach sharing their secret weapon.
More and more players are becoming ambidextrous as a means to stay on the course as they rehabilitate from injury.
Beach, who finished in fourth place in her first career National Tour event, is a lefty who employed her right arm for various approaches throughout the tournament. She said she learned the trick a few years back when she broke her throwing arm and couldn't bear the thought of staying at home.
Andyke, meanwhile, injured her right wrist after playing an unsanctioned event in Maui back in January. The GBO was only her second proper tournament since, and she advised followers not to be surprised if they saw her go lefty since she is still working on strengthening her dominant hand.
"I'm feeling pretty confident in left-handed drives, but certainly not the putting," she said.
The setback has given her a chance to have a friendly battle with fellow Oregonian Keegan, though.
"We have little mini competitions all the time, and I would like to let the world know that I have outdriven Dustin Keegan multiple times left-handed," Andyke said with a laugh. "He's a way better lefty putter than me, though."
Elder Natesmen
Nate Sexton will turn 33 this Friday, just 13 days before Nate Doss does the same. Both finished in the top 10 at the GBO – Doss moved two spots on the final day to capture 7th place, while Sexton slipped down to 9th – but were surrounded by a bevy of young talent:
The average age of those competitors? 22.875. That makes Sexton and Doss, at just a shade over 10 years older than the group, the elder statesmen of the GBO. Or should I say elder Natesmen?
Jordan Castro Is A New Man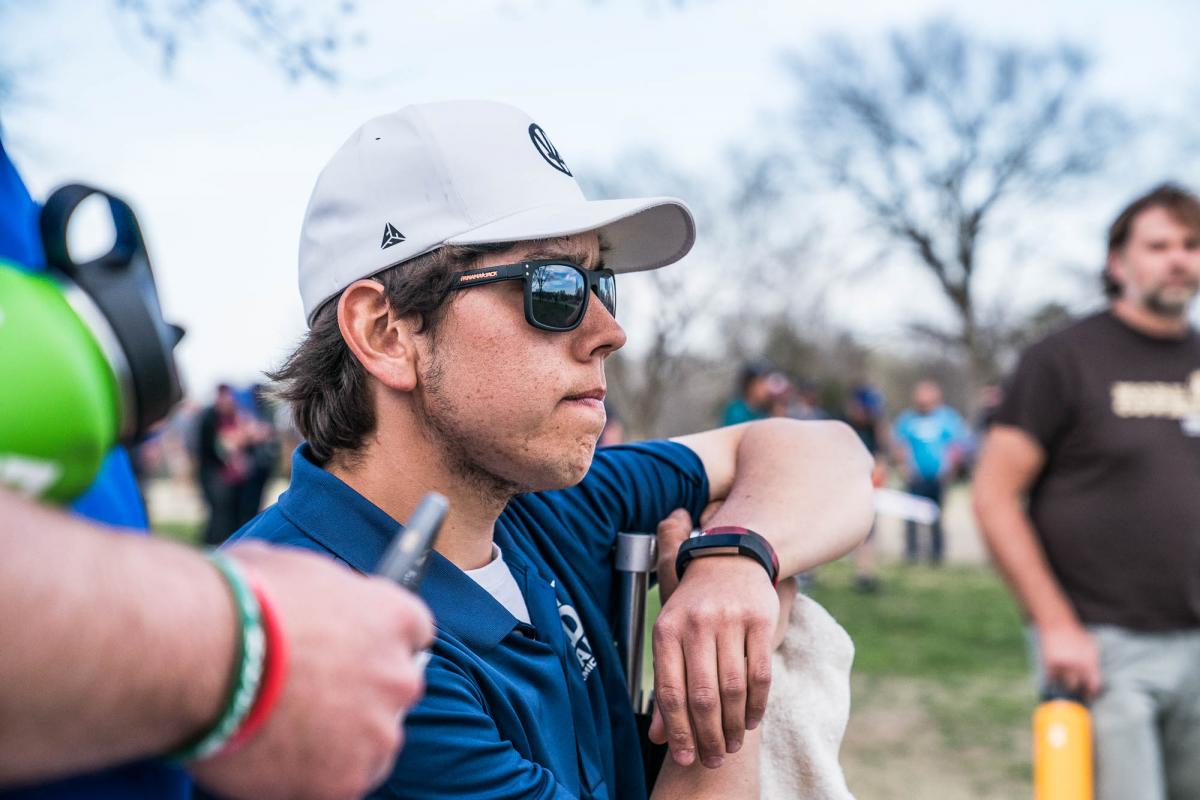 Two years ago, Jordan Castro weighed in around 365 pounds. Now, the 24-year-old Minnesota pro is down to 197, and his newfound fitness helped keep him near the top of the field in Emporia. Even on the road he's sticking to his training, and he said that hitting the gym for running and weights before each round was instrumental to his performance.
Before his 14th place finish this week, Castro last trekked the Emporia Country Club's 10,000 feet of fairways during the 2016 PDGA Pro World Championships, where he came in 94th. It goes without saying, then, that he could feel a difference.
"[It's] the cardio, honestly," Castro said. "Walking up and down these hills it was tough on me because I was struggling. Being a big guy, it's tough. Now, it's just like, 'I'm ready, let's go. Let's start running up and down these hills.'"
Castro has a busy summer ahead of him. He'll be back on the National Tour at the Beaver State Fling before hitting a good portion of the season-ending East Coast circuit.
Flower Pants? Not A Chance.
Ever since he unleashed some flower-patterned pants at the Veterans Park Open last November in Arlington, Texas, Eagle McMahon and his bold fashion statement have garnered semi-cult status. The Glass Blown Open Champion debated bringing the blossomy bottoms back for the final round at the Emporia Country Club if he was down one to three strokes on Saturday, he said this week on PDGA Radio. He never found himself in that position, but it sounds like he would have (sadly, in this writer's opinion) been talked out of it, anyway.
"I told my dad that and he's like, 'No. You don't want to go make a fool out of yourself on the course,'" McMahon said. "'We're trying to make disc golf a professional sport and it would cause too much talk. You'd bring unwanted attention.' And of course when I hear that I'm like, 'Oh gosh, Dad. Come on.' But I don't know. There's some truth to it. I'll probably leave it out for maybe – they might be A-Tier pants. I don't know about NT pants."
We'll be sure to keep you posted on when they finally make their comeback.
Waffle Withdrawals
Southern California native and all-around good guy A.J. Risley notched a ninth-place tie at the GBO, his career-high on the National Tour circuit. At one point during the final he was looking at a top 5 slot, but some late-round OB strokes saw him slip in the standings and left him with mixed emotions about the event on the whole.
"It's been a lot of different things that I've felt because, for starters, I definitely exceeded my expectations by a lot," he said on Monday while driving through Kansas. "It was a huge field, and it was a really stacked field, too. There were a lot of really good players. Honestly, like the last time I played a tournament round there [at the Emporia Country Club] it was [2016] Worlds, and the two tournament rounds I played there kinda pushed me out of the cash. I wasn't too confident going into that week about playing only there.
"…That's what I thought about it going into it, and then afterwards, obviously, Saturday's round kinda had some up and downs, too," Risley continued. "I was super nervous on the first tee, super nervous because it kinda hit me after I walked over and we were getting ready to tee off…It just hit me that I was on the chase card and I was in the top 10 at this huge tournament.
"…To sum it all up, it's been a great experience," he said. "There's a lot of different things to reflect on and a lot of really good things, and then obviously some that I learned from."
If he is going to take time and meditate on the event, he won't be able to do it in his favorite haunt. Risley is an avowed follower of the church of Waffle House, and the restaurant has become sort of a trademark for the 26-year-old. But with the professional circuit moving back toward the West Coast, where there are precisely zero Waffle Houses, he's was planning on going through some withdrawals. He determined it would be 12 weeks until he was once again experiencing the euphoria of hashbrowns that are smothered and covered, and he was debating making a detour for one last hurrah on his way back to California.
I might try to do that. It kinda depends on on how the rst of this day goes, how far I can get and how far I'll be out tomorrow
"Really, there's some in Arizona, but they're kind of in Tucson and Phoenix – but not too far out of the way, so who knows?" he said. "I might try to do that. It kinda depends on how the rest of this day goes, how far I can get and how far I'll be out tomorrow.
That was Monday. This was Tuesday:
Mileage Competition
While most of the pro field ventured 460 miles south to Rockwall, Texas, for this weekend's Nick hyde Memorial, second place Open Women's finisher Lisa Fajkus was heading north – way north.
Fajkus is playing in the Christie Lake Spring Fling in Ontario, Canada, where she'll be the highest rated player in the women's field. At 1,108 miles from Emporia, you'd think she was heading the furthest out of the way compared to the rest of her touring compatriots.
Risley, though, has her beat. He made the 1,490-mile drive back to his hometown in San Marcos, California, to help his dad, Allen, run The Challenge at Goat Hill, a B-Tier in Oceanside.
There are plenty of international players logging miles this week, as well, as the GBO sported players from nine countries outside the U.S. Safe travels to all.