A Time to Shine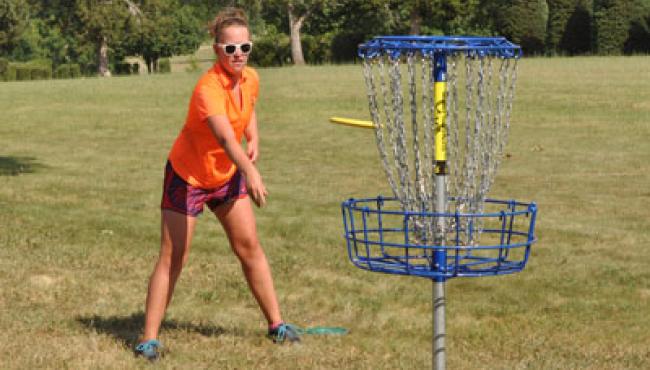 The week has been a scorcher for every competitor present at the 2013 PDGA Amateur and Junior World Championships and most competitors have battled the heat through Friday. This tournament is a test of both mental and physical endurance from beginning to end. With the title of World Champion on the line pressure of competition adds a new intensity to every round. The Fairways tighten. The air thickens. Decision making in every situation, on every shot becomes the most important matter in their lives. With this immense weight of the moment on their shoulders some crumble, but some prevail above all.
After four days of competition our first individual World Champions have been crowned.
In the Junior Under 16 Girls division Alex Liebman stands proudly as the 2013 World Champion. During the competition she nearly swept her division. She won every round but the last resulting in a score of +14 and defeating her closest competitor by four.
In the Junior Under 16 Girls division Alex Lambert came out of the gate on fire and never gave her only competitor Emily Van Vranken a chance. She is clearly a 2013 World Champion.
In the Junior Under 13 Girls Division Michelle Nave stormed her competitors and won her division every round earning her the title of 2013 World Champion.
They have earned themselves a place in history for the great accomplishment they have achieved. Congratulations to them and we will see them again soon.
For the rest of the competition base play continues. Friday was the day to make the cut and keep playing or become a spectator. There will be a semi-final round in the morning at 8:00 a.m. for those who made the cut. This will be followed by the final round if necessary at Emporia Country Club by tee time. Live scoring will be up and running for the Advanced Masters, Advanced Senior Grand Masters, Advanced Women in the morning.
In the Advanced Women division Kimmy Jones held off her competition and maintained top spot. She shot a division high 61 that round matched only by second place holder Nicole Cazares. The top spot in the Advanced Women division is held by a six throw separation from first to fourth. Anything can still happen with two rounds remaining.
In the Advanced Men division Steven Jacobs held his spot. His lead of six still stands as well. Jacobs  has been playing consistent golf all weekend and does not look like he will slip. He still has two rounds to hold off the cavalry but his lead seems comfortable.
On Friday morning Keith Walker woke up holding first place in Advanced Masters. On Friday night, he found himself in a tie for first. His round was rough as he slipped and James Gorman raced to catch him. This round alone shows how quickly a six throw lead can disappear.
In the Grandmasters Women division SueB Lande is still holding first, but she is in a tight race to win it. She holds the lead by to throws and distanced herself from second place by one during her final round Friday. She has one more round to determine if she will find herself on the pedestal or beside it.
For More information on scores, results or information visit the event page or pdga.com. To view pictures of the day's action check out the PDGA Tour Flickr feed. Tommorrow we discover each and every 2013 Amateur and Junior World Champion,