A Fitting End
A Fitting End
The RFDO and PDGA NT Elite Series Finale
Sunday, September 7, 2014 - 22:54
ROCHESTER, NY – In 1974, Jim Palmeri #23 created and ran one of the most important events in the history of disc golf, the American Flying Disc Open. That was 40 years ago, and we're all still here in Rochester playing the same tournament, although with a slightly different name. What's even better, Palmeri is still here as well, still competing and doing what he loves. Now referred to as the Rochester Flying Disc Open, the RFDO is arguably the longest running event in disc golf's short history. It's a fitting event for the finale of the 2014 PDGA National Tour Elite Series as we draw nearer and nearer to the end of one of the most incredible years of disc golf the world has ever seen.
At the players meeting a few nights ago, Palmeri stood in front of the crowd and adlibbed one of the greatest speeches we've heard on tour in years. He talked about the history of the sport in a way that very few people can and he could have went on for hours without losing a single member from the audience. He finished the speech and put on a mint condition t-shirt from the inaugural American Flying Disc Open in 1974 to celebrate the anniversary of one of disc golf's most important events.

Photo Credit: Gene Beaumont #34791
Palmeri has been working on a book documenting the history of disc golf and other flying disc sports. There are very few people more qualified, if there is anyone at all. He's hoping to have it published before the 2015 PDGA Pro World Championships. We'll post more information about the book on our website and on our social media accounts as soon as we get more information about it in the months to come.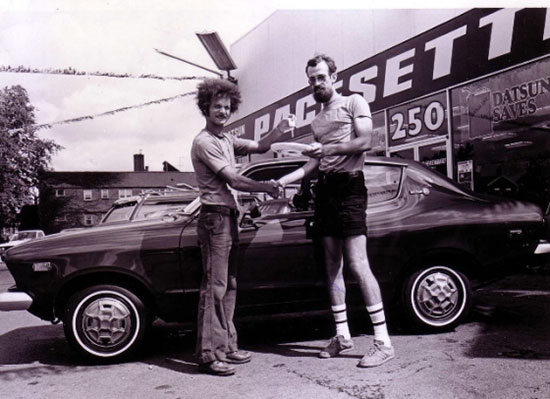 Palmeri (left) at the 1974 American Flying Disc Open,
awarding a new car to the winner, Dan "Stork" Roddick #3 (right).
2014 Rochester Flying Disc Open
Open
The 2014 Rochester Flying Disc Open is the final event of the PDGA National Tour this year. Points earned here in Rochester are added to the points that the players have earned in the seven events leading up to it. Before we get into that, let's talk about what happened during the final round at the beautiful Chili DGC located at Widener Park.
After three days and four rounds of intense competition, Dave Feldberg #12626 emerged as the 2014 RFDO winner in the Open division. This was no easy task, however.
The lead card on Sunday featured the same four men that it had on the day prior: Dave Feldberg, Simon Lizotte #8332, Nate Doss #11794, and Jeremy Koling #33705. The key matchup for both days was Feldberg and Lizotte. Feldberg started the final round in the lead by one but it wouldn't last long. Lizotte started the round out by shooting seven under par on the front nine and it seemed as if there was no way he would be caught. Lizotte can do things that no one else on tour even dreams of. Having potentially the biggest arm on tour, he consistently parks 400 foot tee shots…with his putter. It's amazing to watch someone with that kind of power play with such precision at the same time. It's mind-boggling really, even to other top disc golfers in the world.
With just three holes to go, even Feldberg was beginning to believe it was over. After Lizotte nailed a huge birdie putt from an awkward stance on hole 15, Feldberg said to the cameras, "There's nothing you can do when a guy is on fire like he is right now."
Lizotte's birdie putt on 15 put him ahead by three. He would have to lose a stroke to Feldberg on the remaining three holes to allow a tie. Unfortunately for Lizotte, that's exactly what was about to happen. Feldberg parked the uphill hole 16, taking the only birdie of the group. They both left themselves with birdie putts on 17, but Lizotte chained out his opportunity from 25 feet with a spin putt that hit high and left.
Hole 18 at Chili is the signature hole of the course, a 715 foot par 4 dogleg left that finishes to a basket elevated on a small but dangerous grass mound. After both Feldberg and Lizotte had unfavorable upshots, it would all come down to a 75 foot uphill miracle putt from Feldberg to tie it up. Lizotte's disc was buried under the brush and branches of a pine tree 50+ feet away. It was clear that Lizotte's only option would be a pitch out to save par.
With the gallery at his back, Feldberg stepped up to his lie. "One time…" he said softly as he took his stance. When he let go, it was one of those moments where everyone had a feeling it was going in. The line looked right, the height looked right, the speed looked right. Boom! Chains! The gallery went nuts and Feldberg sprinted up to the basket to get his putter from the cage as they cheered. It was an epic moment, and more importantly, it was playoff time.
The sudden death playoff ended quickly. A perfect drive from Feldberg meant he would be able to tap in for birdie. Lizotte's drive was right on the mark as well, leaving himself with a hole-high putt just inside the circle on the right side of the green. When he let his putter go, he knew he had missed. He hit the same spot in the chains with the same amount of speed as he had done a few holes earlier on 16, high and left. He was already picking up his mini before his putter hit the ground. Dave stepped up, quickly tapped in, and threw his hands in the air to celebrate his first National Tour win since the Kansas City Wide Open in 2012.
Open Women
A familiar story can be told about the Open Women's division. One that we've heard many times this year already. Paige Pierce #29190 took the lead on Friday afternoon and never looked back. She outplayed the competition on three of the four rounds, averaging an unofficial rating of 997 for the weekend. She tapped in for par on the final hole and won the tournament by a whopping 10 strokes over 2nd place finisher Catrina Allen #44184. Pierce's performance on tour this year was nothing short of phenomenal. She competed in seven of the eight events on the 2014 National Tour and finished with five wins, a 2nd place, and a 4th place. A great year on tour deserves a great finish,
Masters & Grandmasters
Jonathan Baldwin #18114, in much the same manner as Pierce, steamrolled his way to victory in the Masters division, beating the competition by seven or more. Bobby Jones #3087 came back to win in Grandmasters after starting the day in 3rd place, but down by only one to Leroy Jenkins #5085 and Gary Crowley #15889, both of which were tied for 1st.
PDGA National Tour Elite Series
During his 6th place acceptance speech at the awards ceremony, Jeremy "Big Jerm" Koling might have put it best.
"The National Tour gives us [touring pros] incentive to come out and play new events. It's amazing that after a year of disc golf, so much can come down to one or two throws on the last day of the last event."
Koling went into the 2014 Rochester Flying Disc Open with a half point lead over Nate Doss. Because Doss finished in 3rd and Koling finished in 4th at the RFDO, Doss would earn three points more than Koling in the NT Standings to surpass him in the rankings. There were several other close calls as well. JohnE McCray #9852 edged out Paul Ulibarri in the NT Standings by just a half of a point. Val Jenkins #17495 jumped from 4th place to 3rd place during the final round of the RFDO, giving her the extra points she needed to best the 2014 PDGA Women's World Champion, Catrina Allen, in the NT Standings by just a single point. The list goes on and on.
Although it was obvious by the start of the final round on Sunday that neither Paul McBeth #27523 nor Ricky Wysocki #38008 were going home with the win, they were still in fight to the finish for 1st place in the National Tour Elite Series. When the RFDO began, only six points separated them, meaning Wysocki could still overcome McBeth's lead if he finished a few places ahead of him. Wysocki shot the hot round of the day with an absurd 12 under par, unofficially rated at 1078, but would only finish one place ahead of McBeth. With only three points earned by Wysocki, Paul McBeth became the 2014 NT champion.
As you might have guessed by now, Paige Pierce was the National Tour champion in the Open Women's division, finishing with a total score as close to perfect as possible. Her grand total was 595 points, comprised of five wins worth 100 points each and one 2nd place finish worth 95. Even if Val Jenkins would have won the RFDO, Paige would've still had enough points to win the overall NT Standings as long as she ended up in 5th place or better at the RFDO.
Congratulations to all of the 2014 PDGA National Tour Elite Series competitors. Each of the eight events brought with it a new challenge, a majority of which were played in horrendous weather. To compete in all or even most of these events in a task all its own involving seemingly endless treks across the country, dozens of hours of practice, and dozens of hours of grueling competiton. To compete and do well consistently is something special. We can't tell you how amazing it's been to watch, even when it was from under an umbrella.
The 2014 National Tour Standings are all published on PDGA.com with payouts included, as are the results and payouts from the 2014 Rochester Flying Disc Open. With each passing year, this sport gets bigger and better. We can't wait to see what 2015 brings!
We'll see you all at the United States Women's Disc Golf Championships right in the PDGA's back yard at the International Disc Golf Center starting on Friday September 19th!
Photo Credits: Cover: Jonathan Baldwin #18114