Eagle McMahon Matches McBeth and Locastro and Jumps into Second Place at GBO
Eagle McMahon Matches McBeth and Locastro and Jumps into Second Place at GBO
Saturday, May 2, 2015 - 01:14
Wow. What a day here in Emporia, KS for Round 2 of the 2015 Dynamic Discs Glass Blown Open (GBO). Once again, the ever-present wind that typically plagues the courses in this part of the country was nowhere to be seen. The players competing in the PDGA National Tour event made their way to Jones East DGC today to take on a par 62 layout that measures in at just under 8,000 feet. We always expect a few players to shoot unbelievable rounds, but the scores that ended up coming in were simply mind-blowing.
The Course
Before we talk about the competiton itself, let's take a quick look at the course that was played today. Below is a map of the course, courtesy of the official GBO website. Compared to the course played by the National Tour divisions yesterday, Emporia Municipal Golf Course, Jones East is much more technical, bringing in more trees, narrower fairways, and more obstacles in general.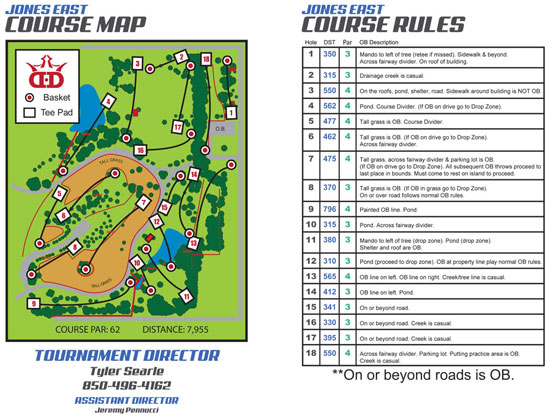 Grandmasters and Masters
The Open Grandmasters division remains extremely close, but with a new name leading the pack tomorrow morning. Marcus Roberts #7729 of Lubbock, TX started the day in the lead but would be overtaken by the current leader, Ken Shepperd #4980 of Austin, TX. Shepperd's round at Jones East today was four strokes better than any other player in the division, turning in a final score of seven under par (55), unofficially rated at 1012. He'll be teeing off tomorrow morning with a one throw lead over the others, all three of which are tied for second place.
Some familiar names rose to the top of the Open Masters division today: Ken Climo #4297 and Patrick Brown #25713. Climo had the hot round, carding an 11 under par (51), unofficially rated at 1047, moving him to the lead coming from a tie for 4th place. Not to be outdone, Brown finished the day just one throw off of Climo at 10 under par, unofficially rated at 1038. They'll be joined by George Smith #4034 and Chris Smith #19983 at the Emporia Country Club course tomorrow, two throws and five throws off the lead, respectively.
Open Women
The day started with a Paige vs Paige battle (Pierce vs Bjerkaas), but as any episode of The Highlander would suggest, there can be only one. Yeah, that's right, a Highlander reference. Paige Pierce #29190 played amazing disc golf today and quickly pulled away from the entire Open Women's division to finish the round at six under par (56), the hot round, unofficially rated at 1004.
Current Women's World Champion Catrina Allen #44184 got off to a rough start. Some uncharacteristic mistakes costed her a few strokes in the early stages of the course, but she pulled it together mentally and finished strong, turning in a round just one throw behind Pierce at 57. By doing so, she jumped from 4th place to 2nd place leaving herself with a five throw gap between herself and Pierce at the Emporia Country Club tomorrow.
Jennifer Allen #15354 played a great round as well, finishing the day as the only other woman outside of the aforementioned to shoot under par. Jennifer will be joined by Hannah Leatherman #45396 on the lead card tomorrow morning, teeing off at approximately 11:00am CDT. Leatherman is currently tied for 4th place with Paige Bjerkaas #33833, who will be heading up the chase card.
Open
Eagle! No, no, no. Not the score that Paul McBeth #27523 carded on Hole 5 (although that was pretty incredible too). Eagle is the first name of the 17 year old from Boulder, CO that started the day on the chase card and ended up playing, presumably, one of the best rounds of disc golf of his life to jump all the way to 2nd place for the final round tomorrow.
Eagle Wynne McMahon #37817 played a bogey-free round at Jones East today, all while birdieing 14 of the 18 holes. "I play a lot of disc golf with Joe Rovere #30306, a 1030+ rated player, so I'm used to being around good golfers. But being on this card, with guys like [Will] Schusterick #29064 was definitely different. I felt like, if I missed, the crowd was going to boo or something", said Eagle while sporting an ear-to-ear smile.
Paul McBeth shot the same score for the day, but did it with an eagle and a bogey. Nikko Locastro #11534  shot the same score as well, but let's be honest, we've seen and can almost expect a round like that out of those guys. It's really amazing to see new faces come out and rock the boat, and we wish all the players the best of luck tomorrow on the lead card. It will feature Paul McBeth (-25), Eagle McMahon (-24), Dave Feldberg (-23), and Will Schusterick (-22). 
Top Ten
2015 is arguably the most significant year of growth for disc golf as it continue down the path to becoming a true mainstream sport. On top of the record PDGA membership and sanctioned event numbers, we've now officially had footage from both of the first two PDGA National Tour events featured on ESPN, more specifcally as part of the Top Ten Plays on Sportscenter. The first was an ace at The Memorial Championship by Nate Doss, caught on film by a spectator's smart phone.
What we were able to send to ESPN today, with help from SmashBoxxTV and DynamicDiscs.TV, was an ace on Hole 11 at Jones East by Billy Engel #44458 teeing off on the chase card. Billy grabbed his own piece of disc golf history, becoming the second player in the history of disc golf to be featured on the Top 10 Plays, but the first to have a clip ranked #2 on the list! ESPN featured the ace at 10:55pm CDT on the same day the ace happened, May 1st, 2015.
Final Round Coverage
The lead and chase cards will be streamed live online once again tomorrow for the final round at the Emporia Country Club courtesy of DynamicDiscs.TV (lead card) and SmashBoxxTV on Youtube (chase card). A plethora of other videos will be coming out in the morning featuring coverage from Round 2 today, so be sure to follow the PDGA on Facebook and Twitter for links and updates.
We'll have live scoring and tweeting for the FPO and MPO lead cards as well on PDGALIVE.com. Last but not least, if you're looking for high-resolution pictures from Rounds 1 or 2, they can be viewed and/or download on the PDGA Flickr page.