Course Winners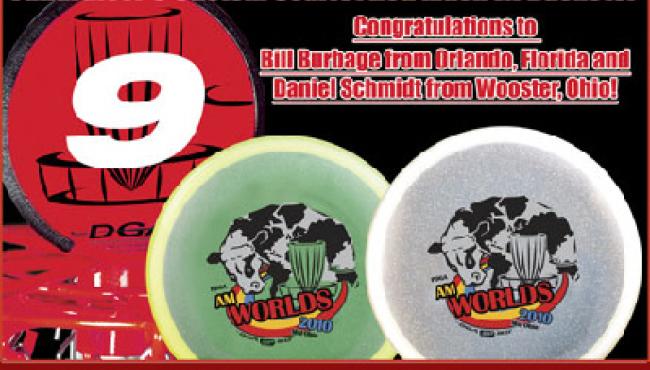 Congratulations to Bill Burbage of Orlando, FL and Daniel Schmidt of Wooster, OH for winning a nine hole course from DGA.
Each year DGA sells fundraiser discs for the Am Worlds with each disc being a chance to win one of two nine hole courses. Karma can be a wonderful thing, just ask Bill and Daniel. Due to their generosity in supporting the Am Worlds by purchasing one of these fundraiser discs, each now owns his very own nine hole course.
Below is the official announcement from DGA.  
We would like to formally congratulate the two winners of this year's 9 hole courses,

Bill Burbage

of Orlando, FL and

Daniel Schmidt

of Wooster, OH.  Though we intended to send this email out earlier, travel schedules and the holiday prevented it until now. The drawing was held last Thursday night at Blue Fusion, in Marion.  This venue hosted the Players Party for Am Worlds. 

Going into the evening, California was leading in total discs sold by two discs.  With eight discs left to be sold at the evening's event, the lead changed quickly.  Once the folks from Ohio learned this, they quickly gobbled up enough discs to take the lead.  This may have proved fruitful, since one of the two winners was from the state.

 
 

Bill Burbage
Winner #1

Scott Keasey with winner, Bill Burbage


Though winners need not be present to win, it is always more exciting when they are.  Only one other time had there been a winner present.  That was the first year in Milwaukee.

When I called Bill's name, I barely had time to look up before I see Bill's arms go up, and his eyes get wide.  He was about 10 feet in front of me.

It was a very exciting moment as he stepped forward, I gave him a high five and then Bill proceeded to kiss the number plate on the basket.

We had a chance to talk quite a bit after the drawing.  He has no idea what he will be doing with the baskets.  He would like to see a new course planted in the Orlando area.  He may offer to donate them to a local municipality and try to talk them into purchasing an additional 9 to round out a full 18. 

There was about a 2.2% chance that someone from Florida would win the baskets.  This was just enough to make Bill's Worlds experience that much more memorable.


Daniel Schmidt
Winner #2

Mikey Stonestreet picking Daniels winning ticket

Each year we've had this promotion, I've always asked one of our younger disc golf players to come up and pick the winning ticket(s).  I'm sure if I were to pick them myself, it would end up being someone I know or better yet, a close friend.  I figure it's best to avoid any potential controversy.  Plus, it's fun to see how excited the young DGer's get when they get to pick. 

This year was no exception.  Mikey Stonestreet Jr., from Canton, OH came up to help.  He did a great job and seemed to be a natural behind the mic.

When we pull the ticket, I generally will first let everyone know where the winner is from before announcing the name.  When I let the crowd know that the winner was from the host state, there was added excitement in the air.  When we announced Daniel's name, there was anticipation that he may be in the room.  After we called out to him a few times, it became apparent that he wasn't in attendance.  Though there were a few joking yelps for me to pick again, I informed everyone that I would be calling him shortly to give him the good news. 

Before calling, Mikey's father Mike, came up to me with a big smile on his face.  He was blown away because Mike plays league with Daniel every week.  I asked Mike if Daniel knew Mikey and he confirmed that he did.

Well, Daniel owes Mikey BIG TIME for picking his winning ticket.  I had a great talk with Daniel shortly after this.  He assured me that he would find some way to repay Mikey for his hot hand.  In fact, Mike and Mikey will be hand delivering Daniel's first of nine baskets.  I generally bring one of the baskets with me to have on site at Worlds.  I asked Mike if he would be willing to hand deliver this one to Daniel.  Mike said he would be honored to.  What a cool story.  It's crazy how things work out sometimes. 

Daniel will be keeping the basket that Mike and Mikey will be hand delivering to him.  What he does with the rest is yet to be determined.  He is considering adding them to the course in Wooster or perhaps approaching a local park agency about a new course.  Regardless, Daniel will be a popular guy in his community now.  Before getting off the phone with me, Daniel mentioned this being the happiest day in his life, aside from the birth of his two children.  Pretty amazing.


Thank you for your support of the 2010 PDGA Amateur Disc Golf World Championships

Once again, this fundraiser has been a fun, exciting and successful way to raise funds for Worlds.  We at DGA would like to thank each of you who supported by buying one of the discs. 

We would like like to thank our online partners, Disc Nation, Prime Discs, Everything Disc Golf, and DiscGolfStore.com for their very generous offer to assist with the sale of the discs.  We can't express our gratitude enough for all their time and donations for making this a possibility.

We would also like to thank our gracious hosts in Ohio: Ken Rollins, Rob Ledwedge and the rest of the Am Worlds crew were amazing all week.  They put on a great show and are an even better group of guys.

We look forward to doing it again next year.


Scott Keasey
Disc Golf Association, Inc