College Rules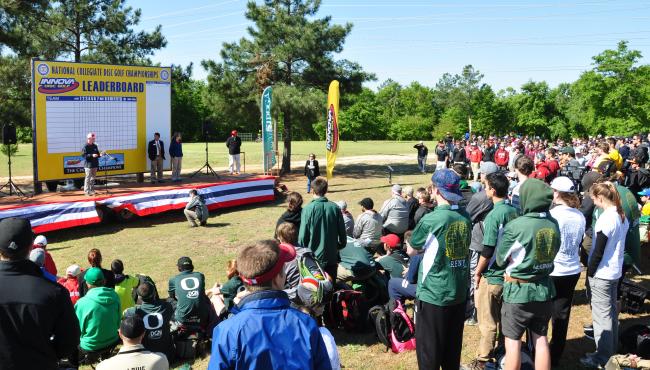 As the sun rose this morning in North Augusta, South Carolina, nearly 400 college students awoke from dreams of being crowned a National Champion. Today marked the start of the National Collegiate Disc Golf Championship, the fastest growing event in disc golf. Along with pioneering different team formats of play and the only type of complex schedule that could accommodate this large field, Tournament Founder Pete May and Tournament Director Alan Kane have created the type of atmosphere expected at a large gathering of college students; a giant party. Side games, free lunches, champions' dinners, clinics and demonstrations and GUTS competitions are only a glimpse into the overall event, and the competition is fierce. The attendance and hype of this event seem to grow at an exponential rate, and it keeps getting bigger. This year, over 90 teams from 63 schools have descended upon the Hippodrome, a multi-sport complex that plays host to a number of equestrian and disc golf events throughout the year, hoping to be crowned a champion.
The true excitement of this tournament comes from watching a totally different breed of disc golf. Team competitions allow for more camaraderie. More cheers, chants, and cries of team spirit. More uniforms. More players. And of course, more disc golf. Schools will not only be competing for a team championship this week, but also for some, the individual opportunity to be crowned an All American Athlete.
After an exciting players meeting, complete with the fanfare that only the NCDGC can provide, the players were finally ready to begin the competition. With so many teams in attendance, it's a good thing the Hippodrome has four beautiful courses at 20 holes a piece. Each course has its own character, and all certainly produce a unique challenge. Moody Woods, Headrick Hills, Hogsback and the feature course, Old Glory were primed and ready for play.
There are almost four different tournaments going on at once. The top seeded teams compete in the National Championship division and will compete for the title, while the First and Second Flight divisions fight to climb the ladder. There are also four women's teams this year, who will be battling for the women's Championship. Last year's winners Tennessee Tech (mens) and Mississippi State (women) are back with hopes of defending their crowns.
After two rounds of play today, the race is on. Local heroes and past champions Georgia Regents University of Augusta (formerly Augusta State University) are off to a hot start, as well as the Wolf Pack of Nevada-Reno, tying atop the leaderboard at 28 below par. Alabama-Huntsville, after a close call last year, sits only one stroke back and is certainly a team to look out for as we approach Championship Saturday. In the women's division, it seems like we have a Cinderella story on our hands. Humboldt State is coming out of the gates fast, shooting a -3 in their first two rounds, 24 strokes ahead of the closest competition.
A total of six aces were recorded during Doubles play on day one of the NCDGC.  In the morning round, three Championship flight teams - Central Oregon Community College, Kennesaw State, and Mississippi State - all hit the 217 foot Hole #6 on the Old Glory course.  The 259 foot Hole #1 on the Old Glory course was also hit by the First Flight team from Oregon much to the delight of the spectators gathered there.  The Hogback course gave up two aces, one in the morning round when the Championship flight team from North Carolina State hit the 218 foot Hole #4.  The second Hogback Ace was recorded in the afternoon round by the Championship flight South Alabama team on the 232 foot Hole 18.
Disc Golf Planet TV is there to bring you live disc golf action and Beach Sports Network will produce a 30 minute program that will be coming soon to a TV near you. As always, you can see a complete listing of results at pdga.com. The winds are likely to pick up tomorrow, which means anything can happen. Tune in to watch as we get closer to crowning our Collegiate Kings and Queens of the 2014.