Big Arms Lead At Small Courses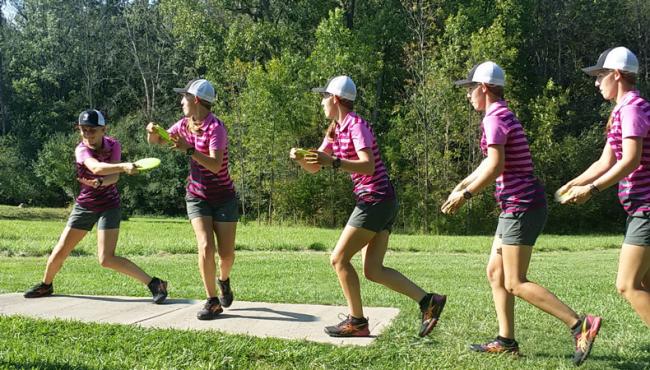 ROCHESTER, NY – The biggest arm in women's disc golf and arguably the biggest arm in men's disc golf are both in the lead after the first day of the 2014 Rochester Flying Disc Open. The funny thing is, these are some of the shortest courses we've played on the PDGA National Tour all year. It just goes to show you that being able to throw far won't always get you to the top of the lead card. However, it's certainly nice to have when it's needed.
"I remembered how to putt this weekend." That's what Paige Pierce #29190 said about half way through the second round today after nailing a nice birdie putt. What she was referring to was the fact that she missed a lot more putts than usual at the PDGA Pofessional Disc Golf World Championships in Portland just a few weeks ago. In her words, she had a "putting meltodown". It sure seems like whatever issue she was having back then is long gone, and she's now moved into the lead in the Open Women's division. She'll start Round 3 tomorrow with a three stroke lead over her disc golf nemesis, Catrina Allen #44184. Liz Dorries #31162 and Sarah Hokom #34562 will join them tomorrow on the lead card.
Pierce's second round was beyond impressive. Of the 90 competitors that played at Chili DGC today, only 10 would shoot a better score than her 53, unofficially rated at 1023. To add to that, she played Chili in the afternoon with more wind and much higher temperatures than the Open division players had to deal with this morning.
Germany's own Simon Lizotte #8332 is the current leader in the Open division after shooting a ridiculous first round of 12 under par at Chili DGC followed by a seven under par at Parma, unofficially rated at 1090 and 1043 respectively. He started the second round with six straight birdies and then cooled down for a bit to finish the day with a total of 18 under. Dave Feldberg #12626, Jeremy Koling #33705, and Nate Doss #11794 will join him tomorrow on the lead card at Parma once again. The Open division's second, third, and even fourth card all have players capable of making huge jumps in the ranks tomorrow during "moving day".
After finishing Round 1 in second place, Jonathan Baldwin #18114 moved into the lead by shooting the hot round in the Masters division at Chili. His round of 57 was also shot by Tony Inzana #15770, who jumped from fourth place after Round 1 to second place going into Round 3 tomorrow morning. Leroy Jenkins #5085 and Bobby Jones #3087 are tied for the lead in Grandmasters after shooting nearly identical scores at Parma and Chili.
Only two rounds remain for the 2014 RFDO, both with tee times. Tomorrow's round starts at 9:00am EDT at Parma, with groups teeing off every ten minutes all morning long. The last group to tee off will be the Open Women's lead card, scheduled for 12:40pm. The final round on Sunday will be back at Chili to finish the 2014 PDGA National Tour. DiscGolfPlanet will be out filming and we'll be right there with them to help with live scores, pictures, and videos on PDGALive.com. Tune in tomorrow for the last moving day of this year's National Tour Elite Series!